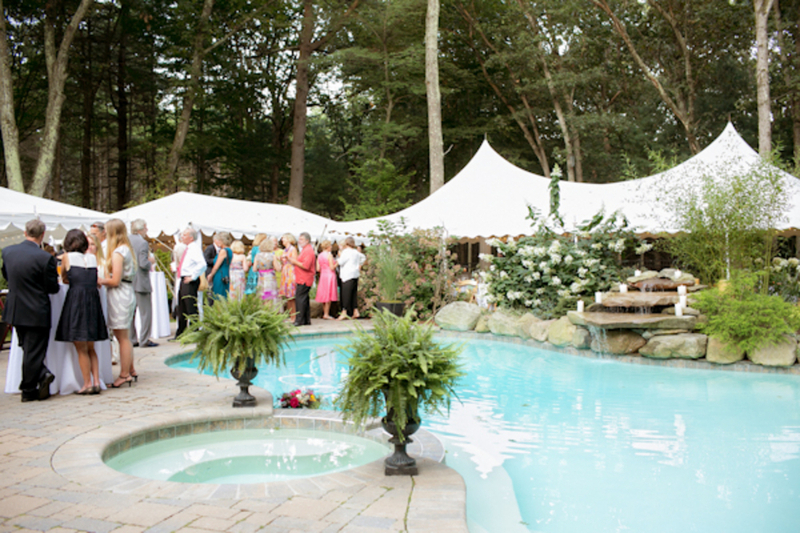 Photo by Stacey Hedman
Getting married in your own backyard has so many benefits – no venue costs, you can pick whichever date you want, and it's totally personal and unique. However, planning a backyard wedding is quite different than planning a wedding at a hotel, country club, or other venue, so we rounded up our top tips for putting together a fabulous backyard wedding.
Know the Rules Your town or county may have rules and regulations when it comes to hosting a wedding at home – from noise ordinances to parking permits, you may have some paperwork to fill out! Call your town or county office to find out what's needed – or hire a wedding planner with experience in this area to help you navigate the procedure.
Have a Plan B Even if you live an area with amazing weather, we hate to break it to you, but it may rain on your wedding day. Whether it's moving the celebration inside your house or erecting a tent, you'll need to make sure you have a clear plan for bad weather. Also make sure that you have climate control – heaters, fans, air conditioners, etc. so that everyone is comfortable.
Avoid a Bathroom Crisis If you're hosting more than just a few guests, we recommend bringing in bathroom trailers. While you may think your home bathroom can handle all of the, er, traffic, if something goes awry, it will be a major issue.
Consider the Kitchen Sure, you may have been able to cook Thanksgiving dinner for 20 in your kitchen but a full wedding meal with cocktail hour for 150 guests? That may be more than your kitchen can handle. Consult your caterer about this one – they may need to create an outdoor kitchen to prep your wedding meal.
Prep the Yard You'll want to make sure that your backyard is in good shape for your wedding day. The lawn should be mowed, leaves raked, and any insect situation under control well in advance of your wedding day.
Check out some of our favorite backyard wedding décor ideas here!