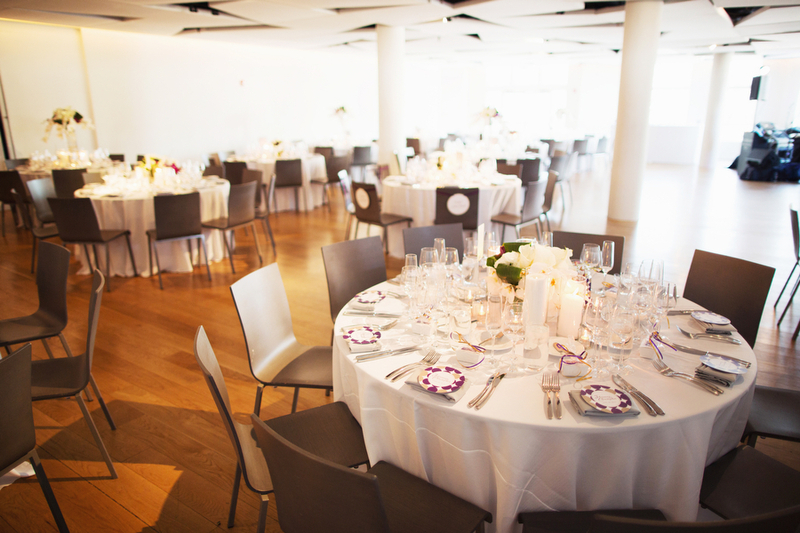 Photo by Jonathan Young Weddings
Figuring out where your guests will sit is an important part of wedding planning. Once you have all of your RSVPs and know exactly who's attending your wedding, you can start creating a seating plan. Here are a few of our top tips!
Assign Tables This is a wedding, not a high school cafeteria! Even if you're hosting a laid-back and casual wedding, you'll still want to make sure everyone has an assigned table and doesn't spend the evening awkwardly hunting around for a seat. While you don't have to assign guests' seats at each table, you may do so at more formal weddings. Also, make sure that table assignments are clearly spelled out on escort cards or seating charts.
Types of Tables While round tables are the standard, you may also choose to have your guests sit at long family-style tables or square tables or even cocktail tables! Pick the table shape that suits your style – and guest count – the best. Round tables usually can seat 6 to 10 people, square tables can seat 8, and long tables usually start at eight people, but depending on how much room you have, long tables can seat many more guests!
Sweetheart Table: Yea or Nay? It's time to answer that important question – do you and your future spouse want your own private table at the wedding or would you prefer to sit with your guests? Some couples prefer to sit a deux to steal a few private moments during the reception, while others feel that a sweetheart table puts them "on display" and would rather sit with family or friends. Decide what suits your style best before moving forward with your seating plan.
Seat Your VIPs Think about your families and wedding party. If you're not having a sweetheart table, you may sit either with your wedding party or immediate family members from both sides. Couples can seat their wedding party in a variety of ways – but make sure that each wedding party member is seated with his or her date, even if that means breaking the party up over several tables. It's a nice idea to sit both immediate families together, but you may also give each set of parents' their own table to sit with their close family or friends.
Consider Guests' Needs Use common sense – elderly guests should not be seated near the band or speakers, people should be seated near those they know or have something in common with, and children should be seated with or near their parents. Seat younger guests, or those more likely to dance, near the dance floor, while older guests or those who might want to focus more on conversation, further away from the dance floor.
Check out some of our favorite ideas for reception tables and seating here!