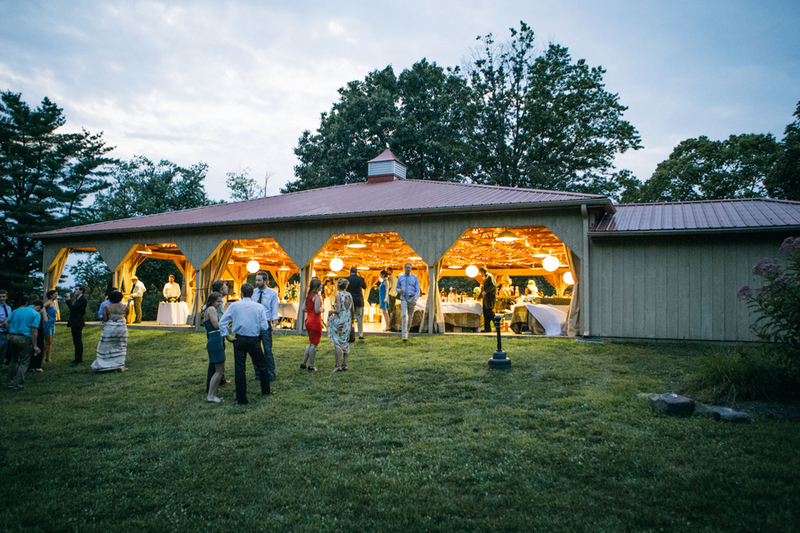 Photo by 52Forty Photography
Most couples want their weddings to be unique and personal, so why not try these twists on tradition to keep things interesting. They're not so out-of-the-box that you'll confuse or upset your guests, but they'll make your wedding super memorable.
Have Cocktail Hour Before the Ceremony
If you're hosting your ceremony and reception in the same place, consider offering cocktail hour before the ceremony. It might sound totally weird, but look at the positives – your guests won't be famished post-ceremony, and it will pretty much guarantee that everyone is on time for your walk down the aisle – even if someone arrives late to the cocktail hour, they'll still be in their seats by the time the ceremony rolls around.
Offer Other Entertainment
From photo booths to caricature artists to lawn games and cigar bars and more, provide your guests with an alternative to dancing – especially if your crowd isn't into dancing. Just make sure that whatever activities you provide, they fit your personal style and work within your wedding venue! For more wedding entertainment ideas, click here!
Serve Dinner Cocktail or Family-Style
 Instead of serving a sit-down or buffet-style dinner, why not do a small plates menu featuring different stations so that guests can get up and move around throughout  the reception – a great way for everyone to mix and mingle. Another idea: Serve dinner family style. Passing and sharing food will get everyone chatting and provide a light-hearted and relaxed feel. Click here for more creative catering ideas.
Don't Assign Seats
This works especially well if you're having a smaller wedding and your guests all know each other well. Skip the escort cards and allow your guests to sit wherever they like. Again, this is another nice idea for a more casual and relaxed wedding.
Skip the Traditions
Bouquet toss, garter toss, long speeches – all of these "interruptions" might pause the flow of your wedding reception. Let your guests enjoy the party and keep the music going throughout the night. Keep the speeches to a minimum (save the long ones for the rehearsal dinner), and feel free to skip the bouquet and garter toss (for some alternative to the bouquet toss, click here!).