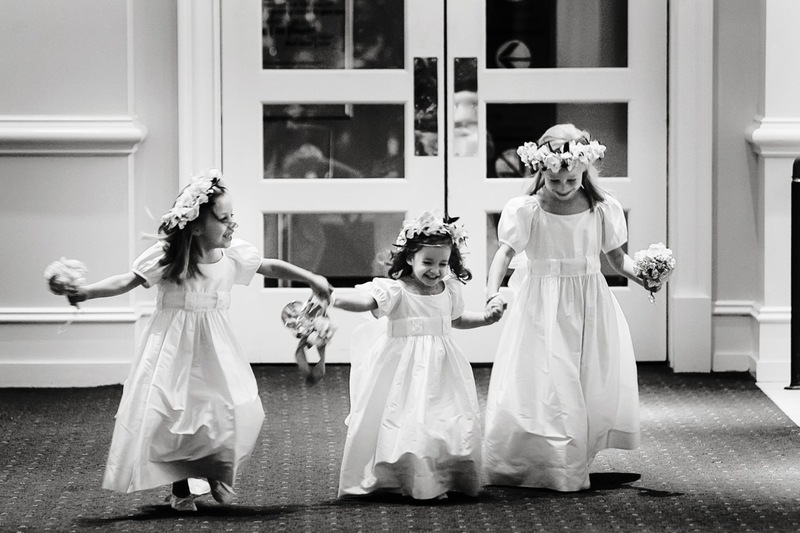 Photo by Nadia D Photography
Your littlest guests may be the ones to cause the most anxiety. If you decide to invite children to your wedding, it's important to consider their needs when planning your day. If you follow these simple rules, your young guests can be adorable additions to your day.
Decide Who You're Inviting: Make a rule and stick to it. If you're open to having all the children of all of your guests attend, do so – particularly if you're having a super-casual celebration. You can allow only children over a certain age to attend your wedding. You may choose to only invite the children in your wedding party and that's it. Or you may prefer to have a child-free wedding. Whatever you decide, don't make any exceptions or risk causing hurt feelings and confusion.
Pick Your Flower Girl and Ring Bearer Wisely: These roles are best suited for children of close relatives or friends, ages 3 to 7. Talk to your flower girl and ring bearer in advance about how important their role is and how much it means to you that they'll be a part of your special day. Provide their parents with the music that will play when they walk down the aisle so they can practice. And if all else fails, bribery always work! Make sure you get your flower girls and ring bearers small gifts to reward them for a successful walk down the aisle.
Let Them Feel Grown-Up: If you are inviting children who are not in the wedding party, feel free to give them small tasks so they feel like they have a role in your day. They can hand out ceremony programs, give out favors, hold your bouquet while you're getting a makeup touch-up – even the smallest of tasks will help little ones feel important.
Lay Some Ground Rules: This should be common knowledge for most parents, but before the wedding, tell your guests with kids that if a child starts to become loud or distracting at the ceremony, they should be immediately removed from the premises.  
Smile! If you're concerned about children smiling for portraits, have a parent or grandparent of the child stand behind the camera with a puppet or singing a favorite song. And be sure to make your photo sessions with kids very short (like, a minute or two) – little ones will not stand still for very long, so take a few shots and then set them free!
Offer Activities: Ask the invited children's parents if their little ones would prefer sitting at a table with other children or staying close to their parents. Whether you create a kids' table or allow children to sit with their parents, be sure that you offer lots of entertainment for them – games, coloring books, and small toys (that don't make noise!) are all good ideas.   
Kid-Friendly Food: Sure, you may be offering gourmet cuisine at your wedding, but for kids, chicken fingers and grilled cheese is their dinner of choice. Be sure to have kid-friendly meal options for your smallest guest – and be sure to ask parents in advance of any allergies or preferences.
Offer Babysitting: It's not necessary, but having babysitting at your reception site is a very kind gesture for your guests with children. If your reception will run until late in the night, ask your littlest guests to bring sleeping bags and create a fun slumber party environment.  
Don't Sweat It: No matter how much you prepare, children will misbehave and act out. If a child behaves poorly at an inopportune moment, just laugh it off – the unexpected moments are often the most endearing of the day.