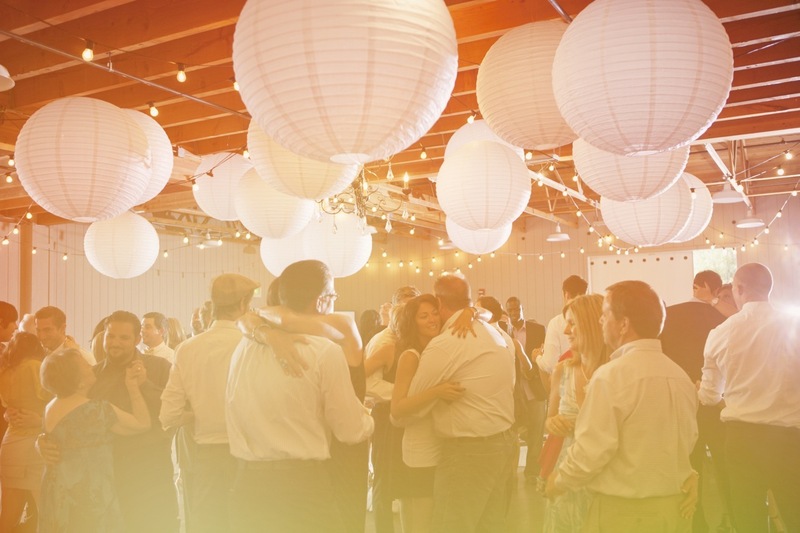 Photo by This Modern Romance
We've all been there. You're at an event, wedding or otherwise, and are just plain uncomfortable. Too hot (or cold), strange food, long line for the restroom. You always vowed you'd do things differently at your wedding - and now's your chance. Here's our guide to how to make sure your wedding is memorable for the right reasons.
Think About Your Venue When you're venue hunting, make sure that you keep your wedding guests' comfort in mind. Will there be enough room to give your guests breathing room? Is there accessibility for handicapped or elderly guests? What is the climate control and restroom situation? Instead of just picking a venue for its beauty, think about it as though you were a guest.
Give Advance Notice Make sure to give your wedding guests plenty of notice when it comes to your wedding so they can plan accordingly. Save-the-dates should be sent a year in advance if you're planning a destination wedding in a far-off locale. Six months in advance should suffice for a hometown or local wedding. And invitations should be sent out six to eight weeks in advance of your wedding. Also, make sure that you have a wedding website to provide additional updates.
Make Travel and Accommodations Easy Speaking of your wedding website, use that platform as an easy-to-navigate home base for all of your travel and accommodation information (if there are older guests who aren't internet savvy, call them yourself or have another relative do so to keep them informed). Reserve a block of rooms at a local hotel or two, so there's no question about where out-of-towners should stay. Direct them to airlines, train stations, and public transportation routes that will assist them on their journey.
Don't Over-Ask Your guests want to come to your wedding to see you get married – so don't make it difficult for them. There's no need to ask them to wear something super-specific, bring a specific type of gift, or pay for their plate.  
Welcome Them in Style Whether you're hosting many out-of-town wedding guests or just a few, make sure they feel welcomed when they arrive to their lodging. Creating a welcome basket with ample drinks and snacks is great, but even just a kind and gracious handwritten note will suffice.
Keep Them Comfortable If you're hosting an outdoor wedding, provide shawls or blankets if it's chilly out and give guests fans and cold drinks if it's super hot. And if the weather is extremely hot, cold, or just plain inclement, move the ceremony indoors. While you might not have the outdoor ceremony you expected, your guests will thank you.
Strategize Table Assignments Be sure to seat your guests at the tables where they'll feel most comfortable. For example, put groups of people who know each other together whether they're in couples or single. And while it's okay to mix single people and couples, try to avoid seating one or two single person at a table full of couples. And think table placement as well – don't seat elderly guests right next to the band or DJ.
Feed Them Well Make sure there's plenty of food and drink for all to enjoy – and consider your guests who may have dietary restrictions or concerns. Most caterers can handle vegetarian, gluten-free, or other requests, so try to honor those whenever possible.
Get Everyone Home Safely You don't have to provide transportation for your guests, but it's sure a nice gesture. The goal here to avoid guests drinking and driving, so while having a shuttle bus or van bring guests to the wedding and back to their hotel is your best bet, even just providing a phone number for a taxi company in the welcome bags is appreciated.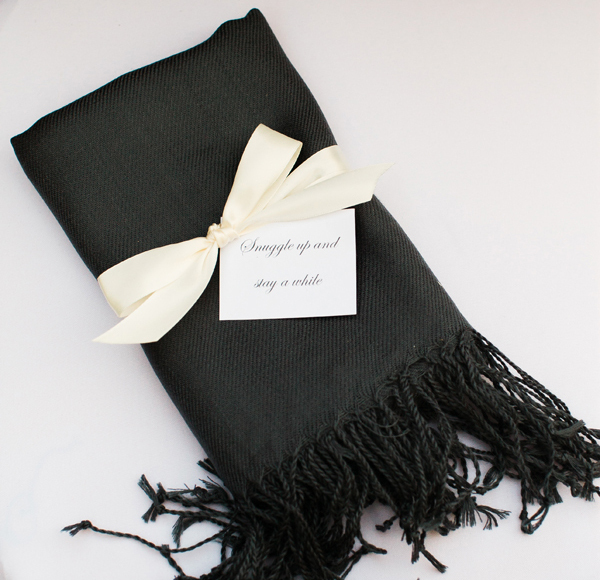 Photo by Nancy Aidee Photography