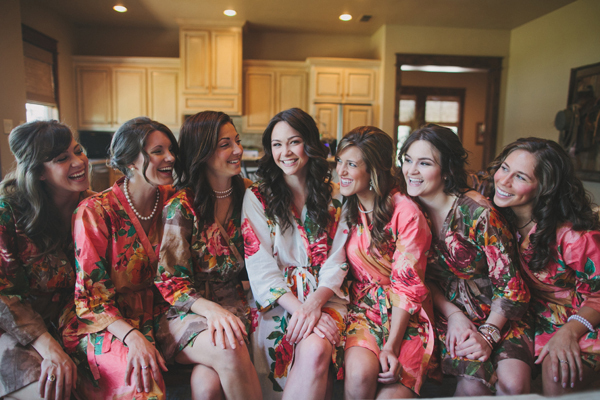 Photo by Taylor Lord Photography
Not into the whole late-night-strippers-getting-wasted bachelorette party itinerary? We totally feel you. Check out these unique ideas for a bachelorette celebration that's more about bonding than clubbing.
Spa Getaway Manicures, pedicures, massages, oh my! What's more fun and relaxing than a day at the spa? Enjoy a ladies' lunch and then get primped and pampered at your favorite spa getaway. Another option is to hire a manicurist to come to a 'maid's home for a girls' slumber party.
Learn Together If the bridal party consists of a group of friends and family members who don't know each other well, a great way to mix and mingle is to take a class together. From cooking to knitting, you'll learn a new skill and bond in the process!
Get Outside! A camping trip is the perfect getaway for a group of outdoorsy type. If you're not into camping, but still want to spend time outside, why not find a ropes course, a sailing cruise, or a scenic hike in your area? Pack a picnic lunch and enjoy the great outdoors!
Get Away – Sort Of Destination bachelorette parties can be a trip to a far-off destination from the Caribbean to Mexico to Miami to Vegas, but you can also "get away" a little closer to home. Pick a nearby city or town, book a hotel room, and spend the day exploring, shopping, and hitting up new restaurants. You'll be amazed at how fun and exciting it is to be a tourist in a town near you.
Photo Shoot Are you America's Next Top Model? Find out when the bridal party gets together for a girls' photoshoot. Get dolled up with professional hair and makeup and hire a professional photographer to take shots of the crew, together and individually. These casual shots will make fabulous Facebook profile pics, and will be a fun bonding experience for all!