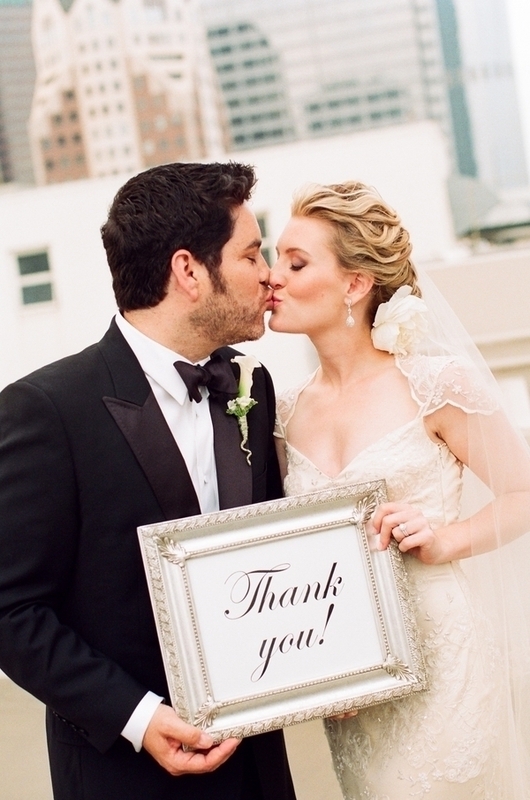 Photo by Frame 36 Photography
Throughout your engagement, thank-you notes will be a constant part of your life. Every time you receive a gift, you'll need to break out your stationery and pen and hand-write a note to the giver. As much as we love technology, it's important to write thank-you notes in the traditional way.
If you're having a bridal shower, you'll need to write thank you notes no later than two weeks after the event. Yes, we know you're busy but it's essential to show your guests your appreciation in a timely fashion - so don't let yourself get behind.  Purchase nice stationery, but don't use any paper goods with your married name or monogram on them until after the wedding.
While your thank-you notes should be personal to each guest, there is a formula that you can follow to make writing them a snap. Here's how it should go:
Greeting,
Thank you for the (name the gift)
A sentence about how much you love the gift and how you will use it.
A sentence thanking the person for attending your shower (or expressing sadness that they weren't able to attend)
Share how you are looking forward to seeing them at the wedding (if they aren't attending the wedding, say you're looking forward to seeing them soon and share where you'll likely see them – Thanksgiving dinner, at church, etc.).
Closing,
Your Name
Here's an example:
Dear Aunt Suzanne,
Thank you so much for the lovely teapot. I've been using it every evening to make a nightly pot of tea for Sam and I. I was so glad that you could attend my bridal shower and hope you had a great time. Looking forward to seeing you at the wedding next month!

Love,
Annie
Easy, right? So get out those pens and stationery and start writing your bridal shower thank-you notes!