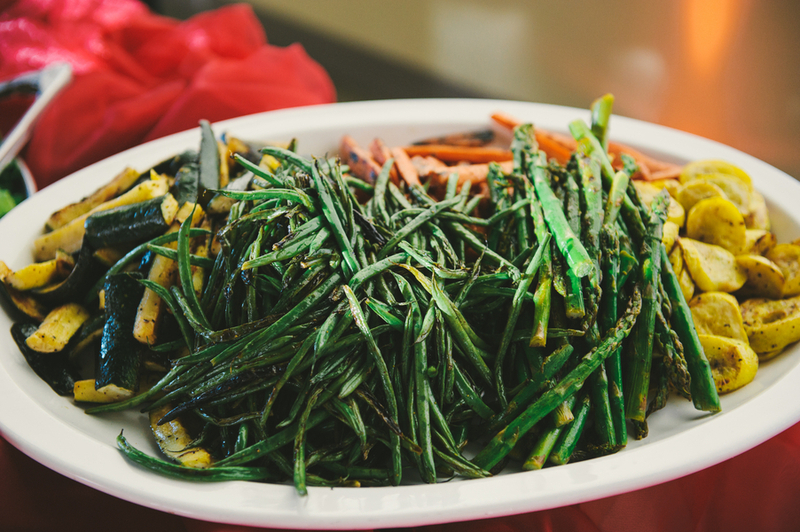 Photo by Sarah Maren Photographers
One of the most expensive components of your wedding is the food. In fact, you will probably spend almost half of your budget on your venue and catering. So anything you can do to cut your catering budget will make a huge difference! Here are five of our top ideas to help you save some cash on your wedding catering:
Strategize Cocktail Hour Most cocktail hours feature both passed hors d'oeuvres and buffet-style stations. Rule of thumb: more expensive items, like seafood, should be passed, whereas cheaper foods like vegetables and cheese, can be served on stationery platters. Guests typically eat fewer of the passed hors d'oeuvres.
Think Drinks It's easy to go overboard with alcohol – but you don't have to have a top shelf bar. Instead, offer wine, beer, and a signature cocktail. Still plenty of alcohol, but you won't spend a bundle on the hard stuff.
Go Family Style Many think that serving dinner buffet style as opposed to a sit-down meal will save you a lot of money. Truthfully, it's not as cheap as you think. An alternative that may be even more budget-friendly is serving dinner family-style, where large platters of food are served to each table so guests can pass around and serve themselves. Plus, it's a great way to get everyone to mix and mingle.
Let's Do Brunch We love the idea of hosting a morning wedding with brunch service. The food is significantly less expensive, plus brunch is so unique and fun.
Don't Go Overboard with Desserts Yes, we've all seen amazing dessert displays overflowing with sweets, but truthfully, your guests will probably be pretty full by the time dessert rolls around. All you really need to serve is your wedding cake, and maybe some fruit. If you do choose to serve additional desserts, present them as favors so they'll do double duty.
Looking for more wedding planning ideas? Follow our Advice Editor!