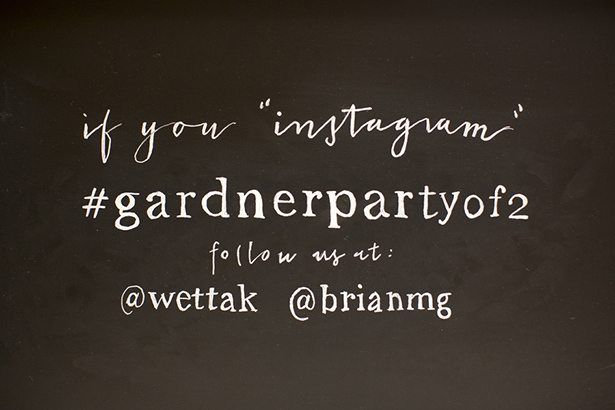 Photo by Jackie Cooper Photography
Lots of questions swirl around what's OK and what's not when it comes to documenting a wedding via Facebook, Twitter, and Instagram. While experts will disagree up and down the line about what's appropriate for guests, at the end of the day it's ultimately up to the bride and groom. If you're in favor of live documentation, here's a few helpful tips for making the most of it. 
1. Pick a #hashtag. 
Twitter, Instagram, and now Facebook all use phrases proceeded by the "#" sign to group designated thoughts together in a consecutive stream. Pick something easy to remember, such as #DZWedding or #SmithPartyof2, and stick with the same one for all events surrounding your wedding. 
2. Share that hashtag with your guests—just don't do it too early. 
Sending out Save-the-Dates and then actual invitations is very exciting, but these are not the places to share your wedding hashtag (leave those for the most pertinent information). It is fine, however, to share your hashtag on your wedding website as it gets closer to your actual ceremony. Guests will be logging on for last-minute gift registry, directions, and other information, and this will get them excited to share snaps and thoughts from the day when it actually arrives.  
3. Consider your platforms. 
Users generally have a larger following on Twitter, but those followers are more likely to be professional, personal interest, or internet-only connections. Facebook circles are generally smaller, but your photos will more likely be seen by people who may be hurt they were not invited to the wedding. Instagram is the most private of the platforms, with people mostly following real life friends. If you're concerned about privacy, you may want to (politely) request that guests refrain from posting on a particular platform. 
4. Wedding weekend has arrived! Now's the time to remind everyone of your hashtag. 
Have a bunch of guests staying at one hotel? Include your hashtag on any welcome notes you leave in their rooms. When it comes time for the actual wedding, instruct greeters and members of the wedding party  to spread the word as guests arrive. You can also put include it at the top of your ceremony program. 
5. But wait—do you really want phones out at the ceremony? 
Think carefully about encouraging social media at your actual ceremony. Sure, it will be wonderful to see photos from the very moment you say 'I Do', but you also run the risk of amateur photographers accidentally blocking the shots of your professional ones. Having a night ceremony? There may be multiple flashes going off while you say your vows, which could be distracting. Guests are also more inclined to get sucked into their apps and/or accidentally leave alerts on, which could detract from what's happening between you and your spouse. At the end of the day, social media at your ceremony is entirely up to you, but this is one facet of the wedding that might work best when it's phone-free.  
6. Your guests want to know what's allowed and what's not--and it's more than OK to tell them. 
If you decide to allow social media at your ceremony, include any special rules or requests in a prominent place on your ceremony program, and ask greeters and family members to reiterate those rules as they say hello to guests. Don't worry about offending anyone too much--guests are more worried about doing something that may accidentally upset you! They'll be grateful for the clear guidelines. 
7. Put up signs at the reception. 
Create signs indicating your wedding hashtag and the platforms you're encouraging guests to use it on. Place those throughout the party space, perhaps with a few photobooth props by their sides (large sunglasses, mustache sticks, etc). This will encourage guests to take fun, memorable pictures of the night. 
8. Collect the Memories! 
Use storify to curate tweets and photos from the wedding in one place (you can also ask a friend or relative to do this). Printstagram takes Instagrams of the day out of phones and onto glossy hard stock, which will be perfect for displaying in your new home. Fleeting as it may be, social media can absolutely provide a more permanent reminder of this important occasion if you know how to work it.