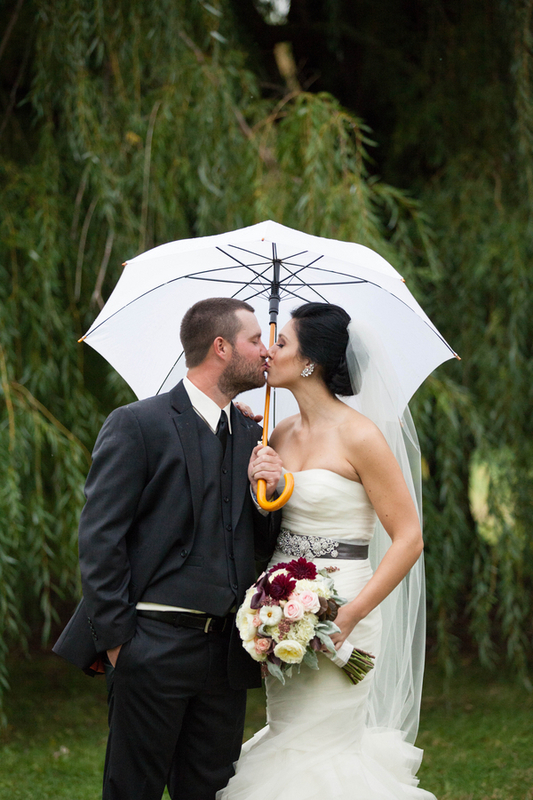 Photo by JaneCane Photography
It's one of the only universal wedding truths – you can't control the weather. So what do you do when the forecast calls for rain (or snow or sleet or hail or high wind conditions) on your wedding day –especially if you're planning an outdoor celebration? Here are our top tips to help you prepare for not-so-great weather conditions.  
Have a Plan B from Day 1
When you're looking at outdoor wedding venues, make sure you ask what the rain plan is. Even if the location where you're marrying is known for sunny weather, you'll still want to make sure you're happy with the bad weather alternative. Whether it's putting up a tent or moving the entire event indoors, make sure your venue provides you with a firm plan before you book.
Enlist Vendors' Help
If rain or other bad weather is in the forecast, talk to your vendors about how they plan on handling the situation. Wedding planners or site coordinators are particularly adept at moving things around to help plan for bad weather.  Ask for help or advice where needed and be flexible if certain details of your wedding need to change.
Consider Both Major and Minor Weather Issues
Of course, rain is always a concern, but also think about high winds or unseasonably hot or cold weather, as well. Your guests' comfort and safety should be your primary concern. If the weather is hot, consider bringing in fans and providing your guests with cold beverages throughout the day. For colder weather, heaters and blankets may be necessary. And if the weather conditions are simply too uncomfortable, consider moving things indoors – even if precipitation isn't an issue.
Wedding Insurance
You may want to research wedding insurance as an option, particularly if you're getting married during hurricane season or in the wintertime on the off-chance that you need to postpone your wedding.
Embrace It!
But, if you're simply dealing with a little rain or a bit of snow, make the best of the situation! Find umbrellas and rain or snow boots that match your color scheme, and take some fun photos outdoors. Talk to your photographer about finding creative ways to take outdoor photos. And remember – rain on your wedding day is considered good luck!
Looking for more inspiration and ideas? Check out this stunning rainy day wedding and these snowy winter weddings!