By: Sarah Zlotnick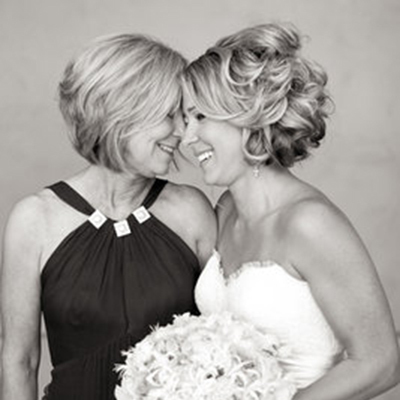 From early love lessons to SAT prep, moms teach us a lot. They're by our sides through thick and thin, and, with any luck, have been the major helping hand in many of life's biggest moments. Sometimes it seems near impossible to pay Mom back for all her love and support, but hey—she is your mom. And because she's your mom, we guarantee she'll go all misty-eyed from even the smallest of gestures. Which is precisely why we're using this Mother's Day to brainstorm thoughtful ways to show some appreciation for the lady at your wedding. Our favorite ideas (besides wearing her wedding dress, of course) follow below—let us know what you'll be doing in the comments!  
1. Have her walk you down the aisle!
Don't think you need to find a male replacement for that moment if Dad's no longer in your life. In one of our favorite features on our blog One Lovely Day, Silka was escorted by her mother, and we have never seen a woman look more proud. Another idea: give one arm to Dad, one arm to Mom, and have both parents walk you down the aisle. |

2. Give her a flower before the altar.
Dad still doing the giving away? Take a moment before you step onto the altar to give your mother a flower from your bouquet. Purposefully singling her out right before you say your vows will show her (and everyone in attendance) how crucial her support has been in getting you there. The gesture will become even more special if you tuck one of her favorite blooms into your bouquet and present her with that.
3. Set aside a space dedicated to her memory.
This beautiful idea comes from one of our Twitter followers (@MsMakeItRain29): If your mother has since passed, place a framed photo of her and her favorite flowers on the chair where she would have sat.
4. Include Mom in the getting ready fun.
Book her a seat next to yours while you and your bridesmaids are getting your hair and makeup done. Involving her in this girls-only tradition will let her know know that you see her as a friend and confidant, which is the ultimate compliment.
5. Incorporate her wedding wear into your ceremony.
In her
New Jersey wedding
, Marisa draped a dear late aunt's veil over her chuppah. We think this is an excellent compromise if you'd prefer to keep your bridal ensemble to yourself, but still want to show mom some respect for her marital history.
6. Recreate a moment from her wedding day.
Sort through Mom's wedding pics and select a photo you find particularly striking (bonus points if it includes her parents). Suprise her by bringing the shot to your wedding and recreating the pose with your photographer—we guarantee she'll be touched by the gesture.  
Photo by Briana Marie Photography