A few simple steps to do it up right (expert advice)
photo by Purple Peony Couture
By Lisa Butterworth for our sponsor, Etsy Weddings
What do you do when one of your best friends gets engaged? If you're like me, beyond the excited squeals and enthusiastic hugging — you have no idea.
I met my friend Jeanette when we were five years old. Five! And when one of your best friends gets engaged — as Jeanette recently did — it's time to celebrate her. Here's a helpful breakdown of the party-planning process — so when it comes time to throw your best girl a bridal shower, you can honor her in style.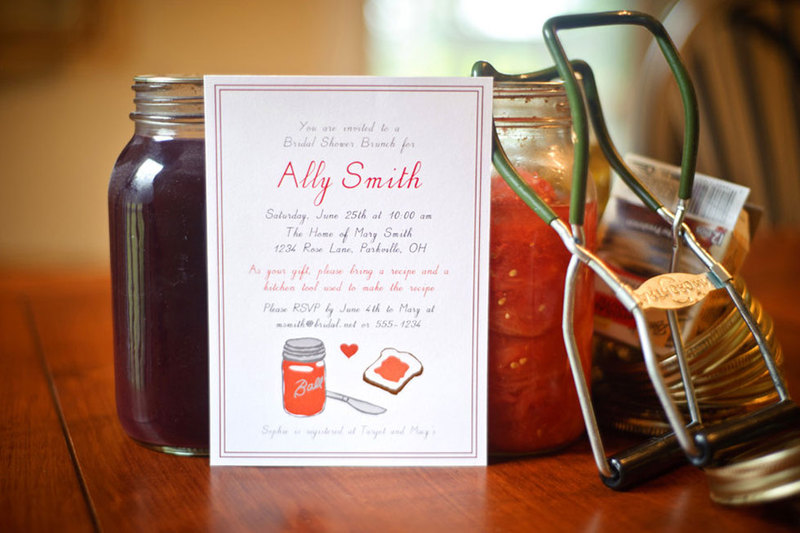 Photo & Invite Design by Erin Mowry
1. Pick Invites
We're going the simple, eco-friendly route and sending email invites through PaperlessPost.com, but there are a ton of adorable, tangible shower invite designs on Etsy, as well as download-and-print options.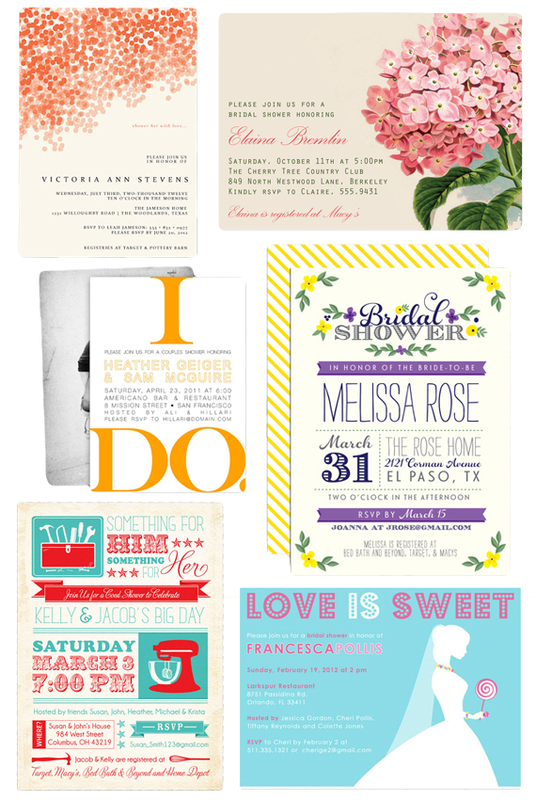 Clockwise from top left: Light shower invitation by Youngwanderlust; Hydrangea invitation by Digibuddhapaperie; Whimsy invitation by Yellowbrickgraphics; Love is sweet invitation by Pinkcreativeinvites; Coed shower invitations by Cadencepaige; I Do couples shower invitations by Minkcards. See more shower invites... 
2. Decorate
This is where a theme comes in handy. If you have a specific vibe, you can decorate accordingly. If your party doesn't have a theme, pick a color scheme to bring it all together. A few areas you'll want to decorate: serving buffet, bar area, gift table, activities area, table for favors. Don't forget about centerpieces, string lights, hanging decorations, banners, and food markers for added flair.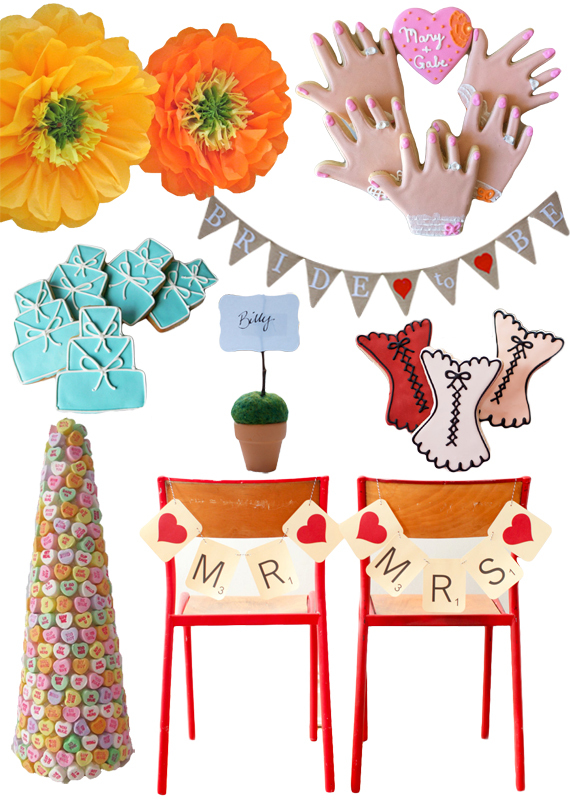 Clockwise from top left: Poppy hanging flowers by Whimsypie; Engagement ring cookies by Peapodsnyc; Bride-to-be banner by Fancyflamingo; Mossy pot place cards by Fairyfolk; Corset cookies by Pastrytartbakery; Mr. and Mrs. chair banner by Purplepeonycouture; Candy heart tree by Astylishdesign; Something blue wedding cake cookies by Lindasedibleart. Browse more décor...
3. Plan a Menu
Plan your menu according to the theme of your party or the time of day. If you're intimidated by all that kitchen prep, make the shower a potluck and have everyone bring copies of their dish's recipe (here are a couple of adorable, (1) free downloadable (2) recipe cards for such an occasion).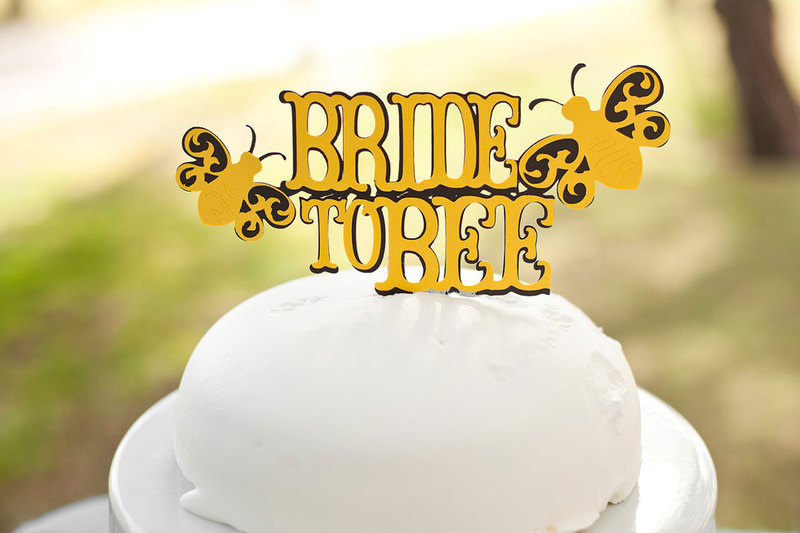 Photo by Erin Mowry
4. Snag Fun Favors
It's the hostess's job to send all the party-goers home with a little favor. To go with our beachy, West Coast theme, we're making friendship bracelets for all of the ladies. Make sure your favor is small but meaningful and tie it in with the theme of your party as best you can.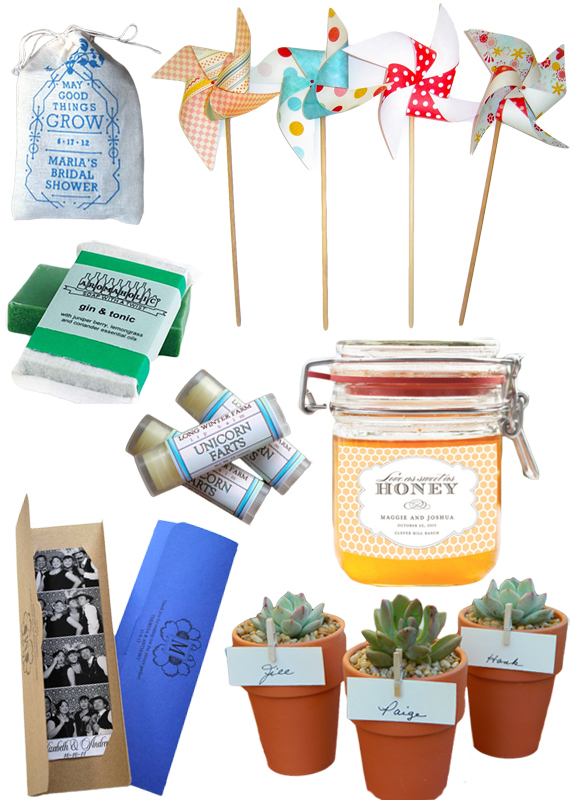 Clockwise from top left: Personalized seed bomb favors by Visualingual; Pinwheels by Pickledparlor; Personalized honey jar labels by Elsiej; Succulent favors by Tobieanne; Personalized photo sleeve by Myonesweetdaydotcom; Unicorn farts lip balm by Longwintersoapco; Gin and tonic soap by Aromaholic. Shop for favors on etsy...
5. Shower Her with Gifts
The bride-to-be is almost certainly registered with at least one department store, but often it's more fun to shop off-list, especially for a shower present. Kitchenware and home décor are excellent go-to gift genres, but a sassy piece of lingerie will always be welcome, too.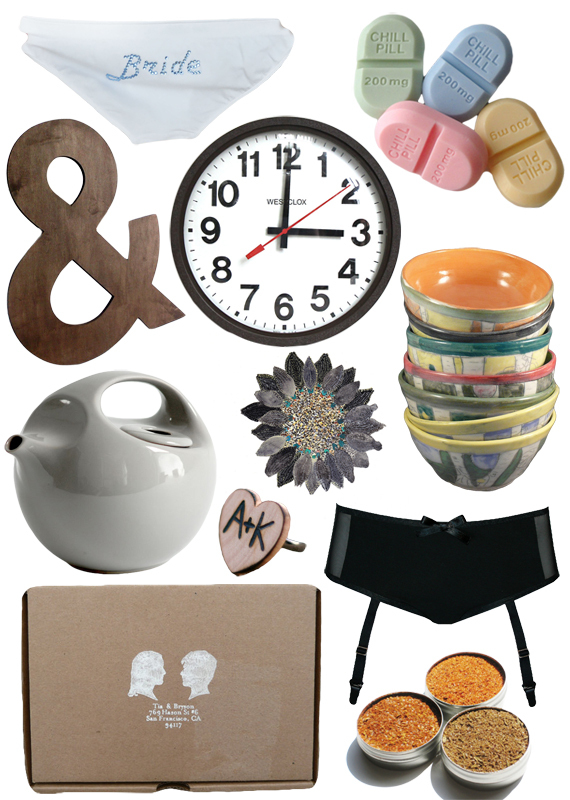 Clockwise from top left: Bride panties from Bridalbooties; Chill pill soap by Kcsoapsnmore; Vintage clock from Ethanollie; A Guineafowl Gathering painting by Unitedthread; Ceramic salad bowls by Blueskypotteryco; Dry rub spice trio from Craigsmarket; Customized rubber stamp by Housethatlarsbuilt; Personalized wood initials ring by Braggingbags; Vintage ceramic teapot from Hindsvik; Wood ampersand by Hindsvik.  See more gift ideas for the bride-to-be...
Whew! That's a lot of steps. The most important thing to keep in mind is to create an environment that will allow your guests to have fun, even if the cupcake frosting isn't perfect or the décor doesn't totally come together. As long as it's memorable, and the guest of honor feels loved, you've done an amazing job.
Lisa Butterworth is a writer and editor soaking up the eternal sunshine in  Los Angeles. When she's not on the hunt for the latest and greatest in girl  culture as the West Coast editor of BUST magazine, she's flea marketing,  taco trucking, and generally raising a ruckus.