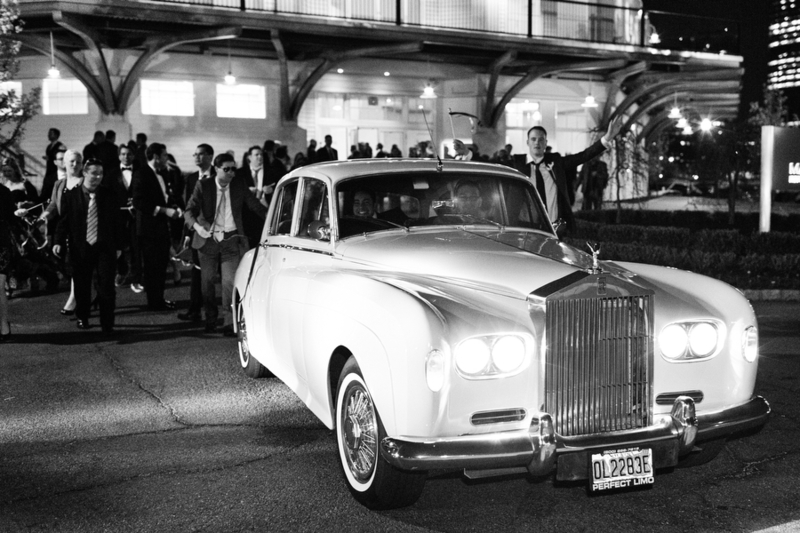 Photo by Jonathan Young Weddings
Booking and confirming your wedding-day transportation is one of the most important parts of planning. Whether you're looking to ride with your new spouse only or with your whole crew, there are lots of different transportation options to choose from! Check out some of our favorites.
Limousine The ultimate classic. A limousine is great because it's so versatile – depending on the size you book, it can be big enough for the whole wedding party or intimate enough for just you and yours.
Classic Car Hosting a vintage wedding? There's nothing more romantic than a throwback car, like a Rolls-Royce or Bentley. It truly makes for some glamorous photos, as well!
Shuttle Bus If you're hosting a lot of out-of-town guests, it's a nice idea to provide a shuttle to and from the wedding – this also discourages drinking and driving.
Horse and Carriage If you're dreaming of the ultimate princess wedding, there's nothing more classic than a traditional horse and carriage – particularly for winter weddings!
Pedicab For eco-friendly couples, a pedicab is a casual and cute way to arrive or exit your reception – plus it's emission-free for the environment!
Trolley If there's a long break between your ceremony and reception, we love the idea of taking your guests on a trolley tour of the city or town where you're marrying.
Boat Planning a waterside wedding? Go nautical-chic by making your great escape on a boat or yacht.   
Golf Cart Country club couples can get shuttled on golf carts for a fun and low-key entrance or exit.
Looking for a transportation pro near you? Check out our Vendor Gallery!