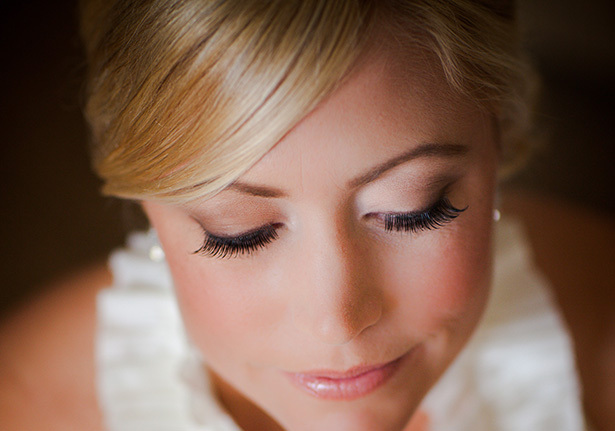 Photo by Woodland Fields Photography 
We know, we know—you want to look gorgeous on your wedding day, but you still want to look like you. And a full set of false eyelashes can seem a little daunting if your regular makeup routine is on the low-maintenance side. The solution? Individual false lashes. When applied properly, they'll accentuate your eyes and maintain a natural look. Here's our top four tips for getting it right. 
1. Size Matters
To appear as natural as possible, look for individual lashes that are just slightly longer than your natural lash. We like Ardell's Duralash Starter Kit ($9.99 at 
Amazon
),  as it offers three different lengths to choose from.
2. Focus on the Outer Corners
Start on your outer corners of your eye and work your way in—this way you'll have a clear view of where you can use the extra fringe. For a girly, wing-tipped look, apply the lashes to your outer corners only. 
3. Dark Adhesive is Key
Use a lash adhesive that dries dark (like Ardell's Duo eyelash adhesive in Dark, $4.79 at
Amazon
) to help mask unwanted traces of glue. Dark adhesive will also blend more easily with your eyeliner and mascara.
4. Minimize Mascara
Once your false lashes are set, sweep with a volumizing mascara to complete your look. Avoid lengthening mascara and don't go overboard with product—nobody wants spider lashes on their wedding day!