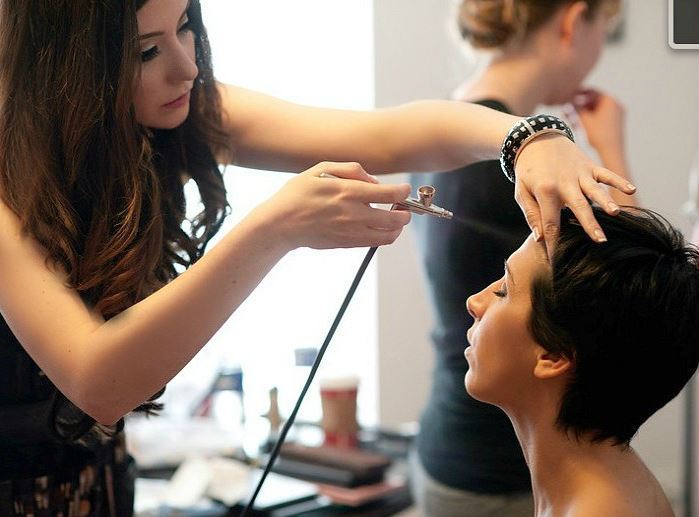 Photo courtesy of Blend Makeup Artistry
The most surefire way to acheive a perfect complexion on your wedding day? Airbrush makeup. Once reserved for red carpets and Hollywood actresses, many wedding makeup artists now rely on this spray-on application technique to give their brides sheer, flawless, and lasting coverage. Not sure if it's the right choice for your wedding day? Ryan Kransey of Blend Makeup Aristry provides us with a helpful introduction to the topic.
1. Why is airbrush foundation and makeup so appealing? 
The airbrush makeup trend started where most trends do: in Hollywood. Airbrushed at the beginning of a busy day of shooting, starlets were impressed by the longevity and flawless finish the airbrush provided. Eventually, as with most trends, it trickled down into the everyday makeup world. Now it wouldn't be uncommon to see an airbrush kit in the home of a modern day working mom.
2. What are the benefits of getting airbrush makeup applied versus the traditional application process?
Its longevity—airbrush makeup lasts 8-12 hours in any weather condition. It's also water-resistant, so you won't have to worry about tear streaks. Finally, it won't rub off, which eliminates the fear of hugging or dancing too closely with guests. The trifecta of bridal makeup woes, solved! 
3. What skin type does airbrushing work best for? How long does it take to apply?
The beauty of airbrush is that it works for everyone, even people with sensitive skin. Clients with allergies will benefit from the water-based makeup formulas, and the air compressor is one of the most hygenic ways to distribute foundation. 
4. How long does it take to apply?
The application process is quick! Only about 45 seconds to a minute.  
5. Can airbrush makeup be lightly applied? How can one avoid having their makeup look heavy or cakey?
Airbrush has what we call a 'buildable' coverage—it can cater to brides who want very minimal coverage or heavy-duty tattoo and scar coverage.  Airbrushing should never look or feel cakey, but if it does, ask your artist for a spritz of rose water or less powder.
6. Should a bride schedule a trial-run before her wedding day?
Absolutely. Not only is a trial the best way to get to know your artist (and, more importantly, for her/him to get to know you), it is essential in determining your personal look for the day. 
7. Which season would you recommend airbrush makeup for?
It's beautiful for any season, but summer brides will benefit the most.
8. Can you apply traditional makeup over airbrush foundation? 
Traditional foundation can be applied over airbrush, but it's mostly unnecessary. At times we place concealer on top of airbrush foundation for additional coverage where needed, but that's about it. 
9. Does it stain? If it gets on a bride's wedding dress, what do you recommend to remove it?
Even though airbrush is tear-proof, it does not stain. It can be removed simply with soap and water or with makeup remover. However, it's always good to be aware of your makeup as you put on your dress-- the airbrush won't stain but mascara and lipstick will.
Related: Classic Wedding Makeup to Copy