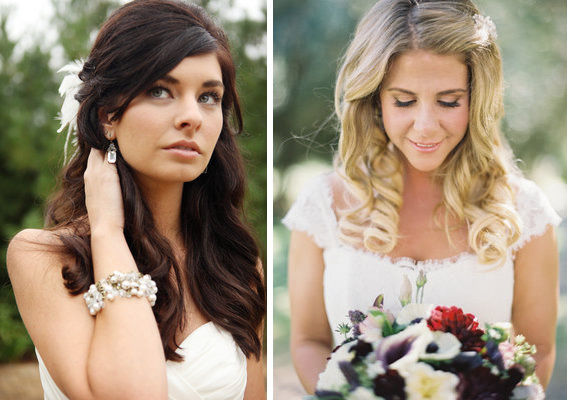 Photos by Amanda Julca Photography and Michelle Warren Photography
Every bride-to-be wants to look and feel her best on her big day. If it's a romantic look you're going for, what better way to achieve it than by creating easy, care-free waves perfect for a summer wedding?
To start, apply a light volumizing mousse to damp hair and blow-dry. Careful not to use too much product as you don't want it to weigh down your hair.
Once hair is dry, wrap small sections of hair around a curling iron pulling away from the face. Do not use the clamp on the curling iron and section off the hair in different sizes, 1 inch to 1 ½ inches, for a more natural look.
Flip your head over and brush out curls with your fingers, twirling a few sections as you do this. Finish with a flexible-hold hairspray and you're set—hassle-free romantic waves. Pin a flower behind the ear to finish the look and you're ready for your day of romance.