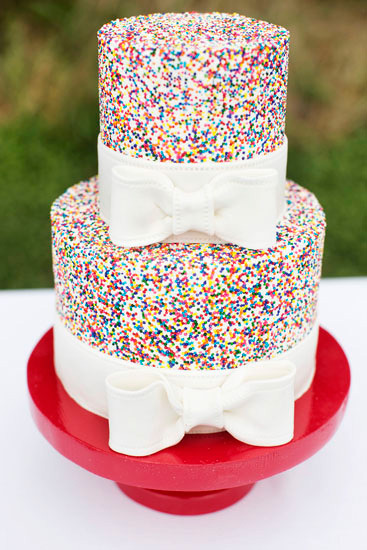 Photo: Calling All Cakes 
Throughout a bride's wedding planning process, there's always at least a handful of items she wants to tackle as do-it-yourself -- one of them being to decorate the cake. After you've hired the cake baker and chosen the flavor combinations, it's time to make it look as good as it tastes. Consider these 7 options: 
1. Sprinkles - Free form handfuls of sprinkles onto a fondant cake to give it a fun, whimsical look. 
2. Candy - Instead of having a candy buffet, save your favorites for the cake! Press on milk chocolate lentils, rock candy sticks, or candy buttons vertically in columns to cover each tier. 
3. Marshmallow - If you've read our cake frosting dicitionary, you know that buttercream frosting can melt or wilt in the heat. Your next best option? Marshmallow fluff.  
4. Hand Paint - Show your artistic abilities by hand painting (or even spray painting) your cake with a unique design. Make sure it's edible! Check out our watercolor and graffiti cakes for more inspiration. 
5. Lace Doilies - Apply paper or crochet lace doilies to create vintage vibe. Check out our lace doilies cakes for more inspiration. 
6. Ribbon - Tie ribbon around the bottom of each tier to form pretty bows. 
7. Fresh Florals - Ask your florist to provide you with extra blooms to add on the cake, but be careful. You don't want your guests to get sick from unsanitized flowers. They'll need to be pesticide-free.