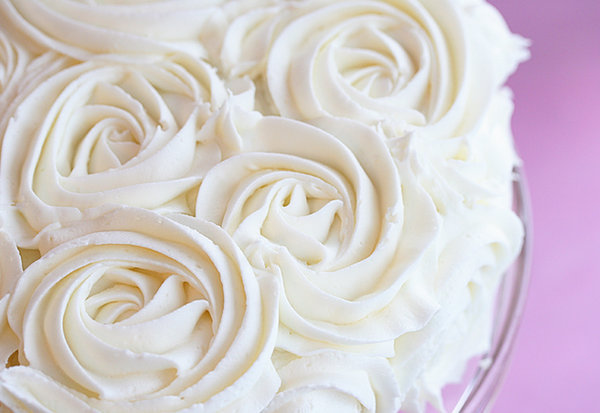 Photo: I Am Baker
A common question brides ask their cake bakers is: "Which type of cake frosting should I choose?" Hold your sweet tooth because we've been pasting primed from our ultimate cake frosting dictionary filled with different types, each with its own look and taste:
Buttercream - Without a doubt, the most popular type of cake frosting. It's sweet, buttery flavor is hard to resist.
Rolled Fondant - It's dough-like consistency made from sugar paste is kneaded with flavor (like marshmallows) and rolled out before it's applied to the exterior of any firm type of cake. Although it's expensive, many people don't like its chewy texture and bland taste. So, if you want it for its look, consider asking for a layer of buttercream frosting placed underneath the smooth sheet of fondant to lock in moisture.
Ganache - Made from a combination of bittersweet or semisweet chocolate and heavy cream, it's the richest type of cake frosting. However, it has to be kept refrigerated! In order to get it's thickness, ganache has to cool before pouring over the cake. The longer you allow it to cool, the thicker it will be.
Cream Cheese - Generally topped on rich-flavored cakes such as red velvet, carrot, and pumpkin, cream cheese frosting is thicker and less fluffy than buttercream frosting. Remember, they both are soft frostings, which means unless crusted, heat and humidity are concerns.
Whipped Cream - Whipped cream frosting is perfect for a fruit or mixed berry cake due to it's light texture.
Meringue - This frosting holds up well in the heat and humidity, especially on pies, tarts, and puddings, but unfortunately, it's time consuming to make from egg whites.
Marzipan - A paste made from finely ground almonds, marzipan can be rolled out before it's applied to the exterior of the cake, similar to fondant, but should be left out for several days to dry out it's oiliness. Otherwise, it can discolor.
Royal - It's thin-to-stiff consistency dries candy-hard for lasting decorations on the exterior of the cake, especially used for "gluing" flowers to a fondant cake.
Spun Sugar - A caramelized sugar that's pulled into threads as they harden. The threads usually are gathered together to form shapes of all sizes.
Gum Paste - Although we wouldn't recommend covering your entire cake in gum paste, it's another option for lasting decorations on the exterior of the cake. This frosting much like Play-Doh can be molded and tinted into various edible garnishes and colors, respectively.
Fudge - Made from cocoa powder and heavy cream, fudge is a chocolate lover's dream. Its shiny glaze is primarily made for chocolate cakes, but the fudge can mixed with other flavors such as peanut butter, mint, and coffee.