This has been the great cake debate for years now -- sugar vs. fresh flowers. What are the pros and cons? Ultimately, both provide a wow factor, but we'll let you decide based on our detailed breakdown: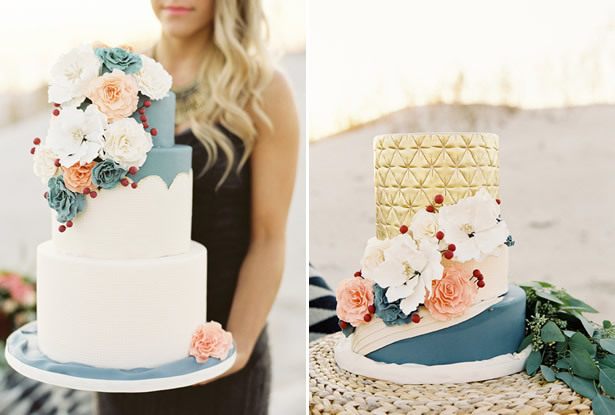 Photos (from left to right): Jenna Rae Cakes 
Sugar Flowers
PROS 
Edible
Pesticide-free
Available despite the season
Wilt-free
Since most are made from gum paste, they can be saved as keepsakes
Fragrance-free 
CONS 
More labor extensive 
Custom-made into the exact shape, size, and color may mean more costly
Susceptible to breakages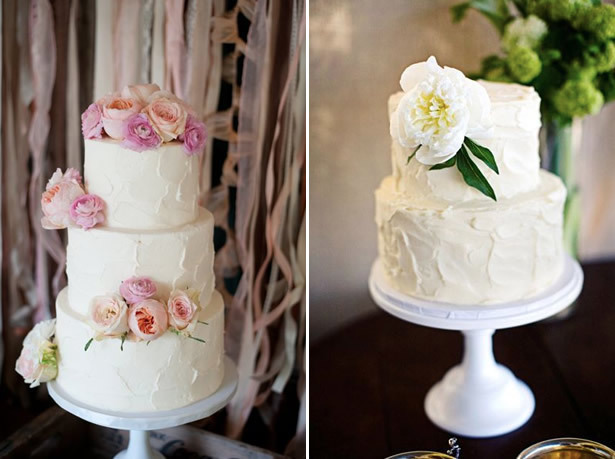 Photos (from left to right): Sweet & Suacy Shop 
Fresh Flowers
PROS 
Less labor extensive
Budet-savvy, which means you have more freedom to spend on your cake budget (i.e. adding a tier, filling, flavor) 
Fragrant 
CONS 
Not edible
Must be pesticide-free and santizied properly
Depending on the season, only certain flowers will be available, unless imported
After being cut from the stem, will wilt quickly
Will have to put your cake baker and florist in contact with each other to coordinate 
May change the taste of the cake
For more inspiration, check out our floral wedding cakes board.