With the holidays right around the corner, we can't help but be a bit fixated on shimmer and sparkle! As far as we're concerned, adding a little glitz to your big day is a good idea no matter what the season. After all, it is a celebration! Here are our top 10 ways to set a sparkly scene on your wedding day.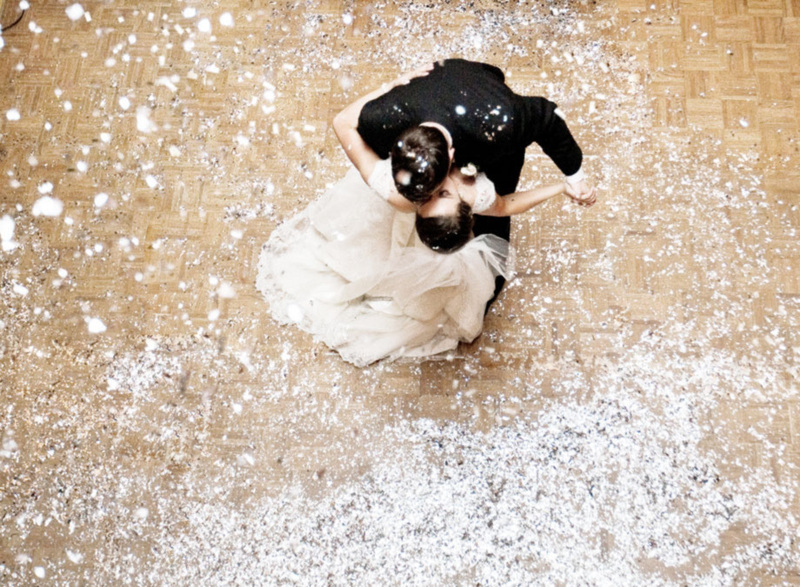 Photo: Leslee Mitchell
1. Sparkly Stationery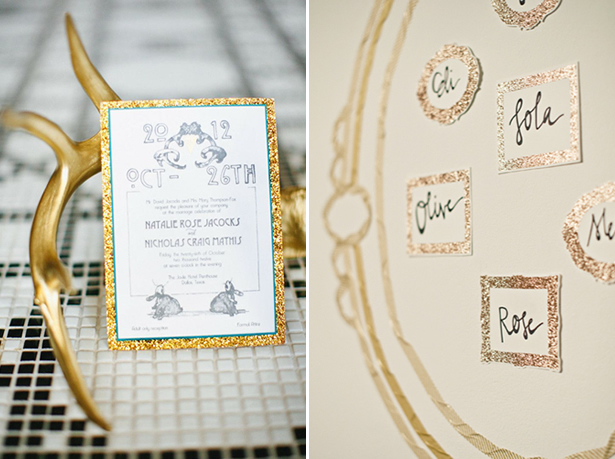 Photos (from left): Apryl Ann, Harwell Photography
Pretty up your paper products with shiny metallic borders!
2. Tinsel Backdrops
Photo: Rylee Hitchner
Use tinsel and crepe paper to DIY a fun photobooth wall or a festive background for your beverage and dessert displays.
3. Glittery Table Numbers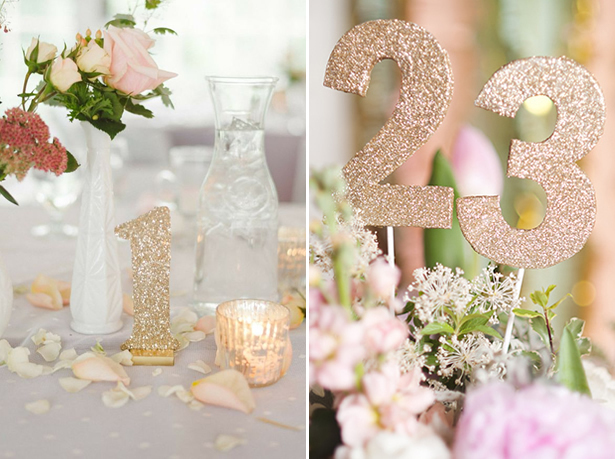 Photos (from left): Jeff Loves Jessica, Nine Photography
Coat three-dimensional table numbers in glitter to add instant glamour to your tablescapes. 
4. Glimmering Place Settings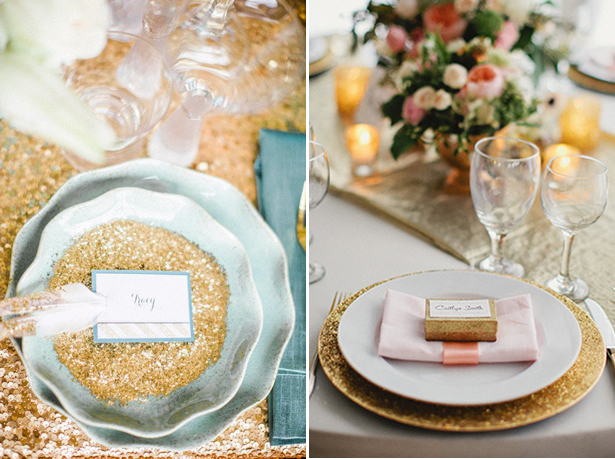 Photos (from left): Scott Andrew Studio, Kristyn Hogan
Welcome guests to the table with a playful pop of bling. 
5. Glitzy Chair Signs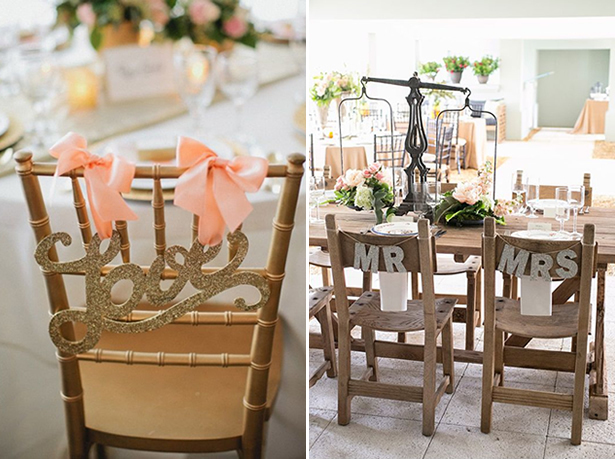 Photos (from left): Kristyn Hogan, Captured Photography by Jenny
Adorn the happy couple's dining chairs with celebratory cutout signs. 
6. Twinkling Candles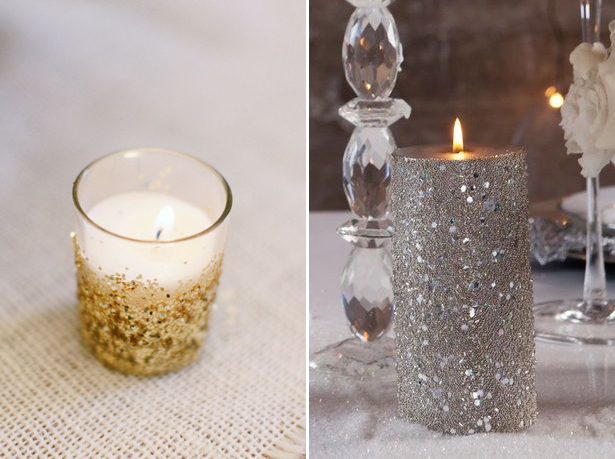 Photos (from left): Alea Lovely, Scott Lawrence
Give your candlelight a little extra glow! 
7. Shimmery Vases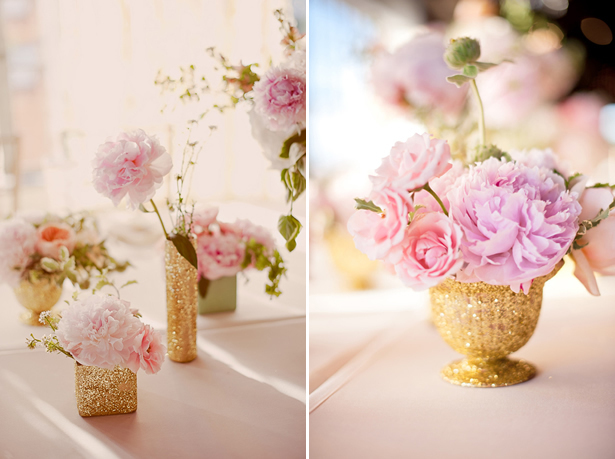 Photos: Nine Photography
We love the way these shimmery gold vases liven up simple, monochromatic arrangements. 
8. Dazzling Dance Floor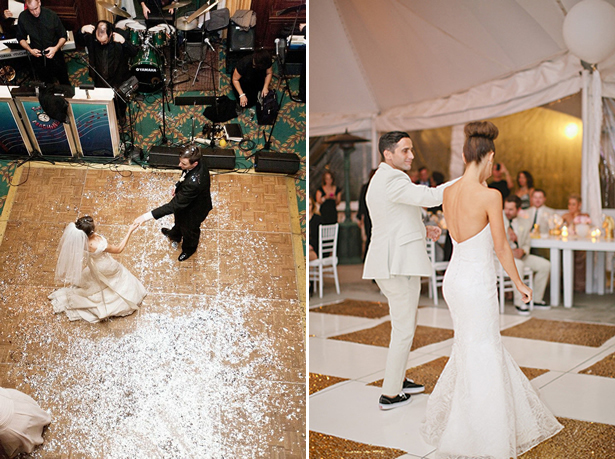 Photos (from left): Leslee Mitchell, Joielala Photographie
That first dance is sure to be even more magical with a little shimmer underfoot.
9. Spangled Drink Stirrers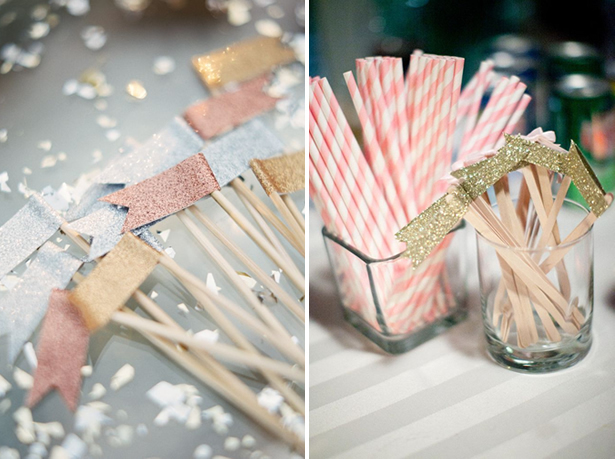 Photos (from left): Erich McVey, Jessica Lorren
Jazz up those signature cocktails and say cheers!
10. Glistening Cake Toppers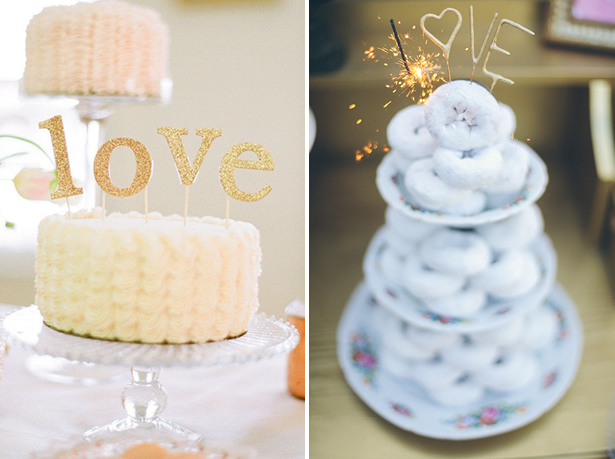 Photos (from left): White Loft Studio, Daniel Lateulade
Embellish your wedding cake with a sparkly saying for a pretty, personal touch.
Can't get enough shimmer? There's plenty more where that came from on our Glam Wedding Decor Board!