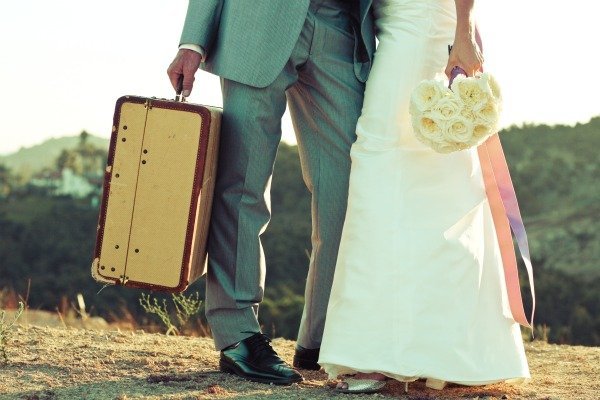 Photo by Photographs by Anjuli
In the final days of wedding planning, getting ready for your honeymoon may seem like an afterthought. However, it's important to make sure that you pack wisely and, if you're flying to your destination, to bring the most important items with you on the plane (you never know where your checked bags could end up). Check out our list of the top 10 items to carry on.
Tickets and confirmations: Obviously, you have to bring your boarding passes with you on the plane, but be sure to also bring any printouts tickets or confirmations you'll need throughout your trip.
Passport and identification: If you're traveling abroad, a passport is essential. Within the U.S., you'll need your driver's license or other approved government-issued form of ID.
Money: Don't take all of your credit cards – just one or two will suffice. And don't forget cash and traveler's checks too.
Photocopies: Make photocopies of all of your important documents – ID, health insurance, etc. to keep in your room in case anything is stolen while you're on the go.
Toiletries: Be prepared in case your checked baggage gets, er, misplaced. A set of travel-sized toiletries will help get you through a night or two without your main stash of supplies.
Change of Clothes: Aside from the fact that it's always nice to freshen up and change your clothes after getting off a long flight, it's important to have extra clothing in case your checked bag doesn't make it to your final destination.
Camera: You'll want to have your camera with you on the plane  to keep it safe and intact.
Entertainment: Books, DVDs, magazines, your iPad – whatever will help get you through the long flight.
Sweater or blanket: Planes are usually a bit chilly, so bring something to snuggle up with (besides your spouse).
Medication: Any medication that you or your new spouse will need on your trip should be at your side at all times.