Photo By Chelsea Fuss
Using five varieties of Lilac and a a few stems of springtime Spirea, we created a gathered, musky bouquet that any bride would be happy to sink her nose in for a day. The textured, romantic style is perfect for a modern, traditional or country wedding.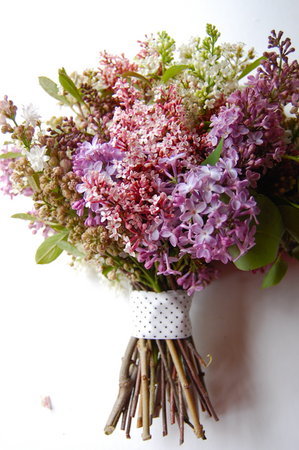 You will need:
30 stems of lilac. 
We used: Korean Lilac (tiny flowers), "Beauty of Moscow (light pink), "Mount Baker" (white), Common Purple Lilac and Wedgewood Blue.
15 stems of spirea
string
flower clippers
ribbon or cloth tape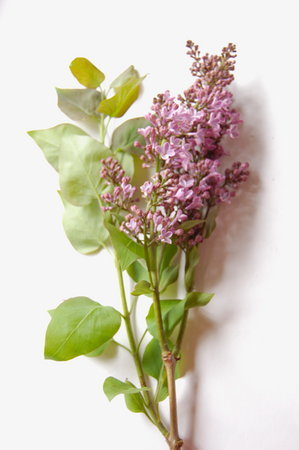 Directions:
1. Condition flowers overnight. Cut the stems and cut a slit upwards in each stem to allow it to drink water. Sit them in lukewarm water in a cool place away from drafts, heat, and fruit and food.
2. Strip most of the leaves off the lilacs. Usually the stems are long so trim them to around 12" each. Make sure there is one stem per large blossom. If there are two stems, trim one off.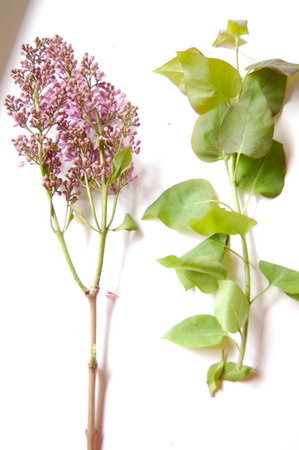 3. Make piles of each type and color.
4. Gather 1- 2 stems in your one hand. Add stems at a 45 degree angle. Turn the bouquet to the right each time you add stems.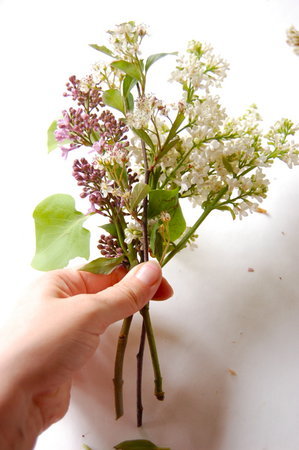 The stems should spiral. For the most part, larger, heavier blooms should sit at the bottom of the bouquet and lighter buds and blossoms should sit near the top.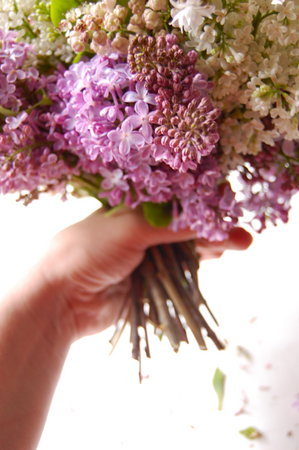 5. Secure with twine or string.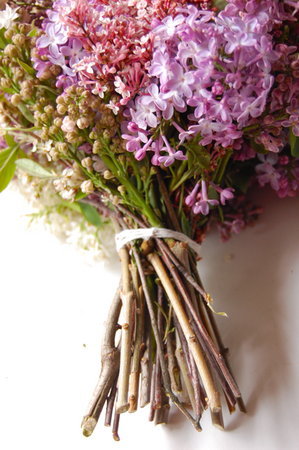 6. Add a ribbon. We used a patterned cloth tape (usually sold for bookbinding) and simply wrapped it on top of the string. If you use a ribbon, secure with a pin.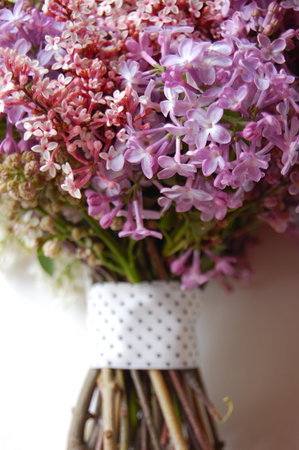 Tips for working with lilacs:
Always give them a clean cut when you bring them home. Cut at an angle, and then cut upwards into the stem, once.
Use lukewarm water, lilacs don't like to be shocked by really cold or hot water. 
If some blooms start to wilt, recut the stems.
Keep away from fruit, food, direct sunlight, and drafts. Plan to buy a bit more than you need, a few stems in the bunch will always wilt.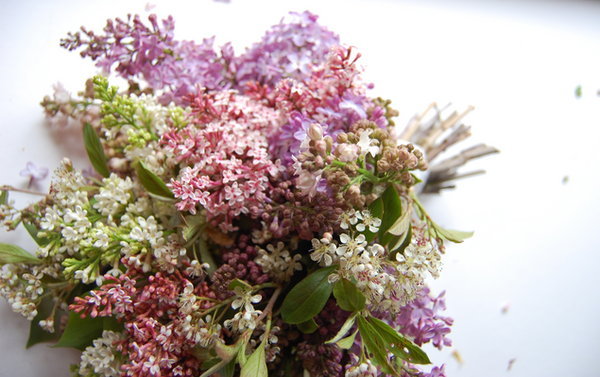 Don't be afraid to work with lilac, if you remember these simple tips, it's easy!
Photo By Chelsea Fuss