Project and Photos By: Chelsea Fuss
This tulip bouquet is totally contemporary and beautifully chic.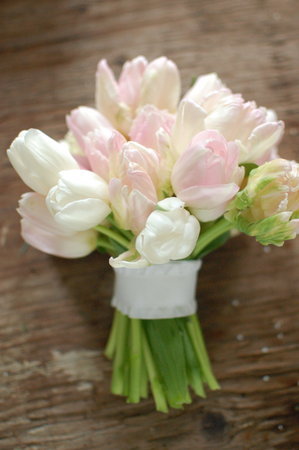 Recipe:
5 dozen tulips. We used 2 shades of pink, white, and pink and green Parrott tulips. It's important to choose flowers in different stages of bloom.
1. Strip off leaves so the bottom 6 inches of the flowers' stems are bare.
2. Gather a few tulips at a time, holding in one hand.
3. Add about 3-5 tulips at a time, turning the bouquet each time you add them.
4. Keep an eye on the shape as you work.
5. Bind with floral tape (string will snap the stems).
6. Cover with ribbon.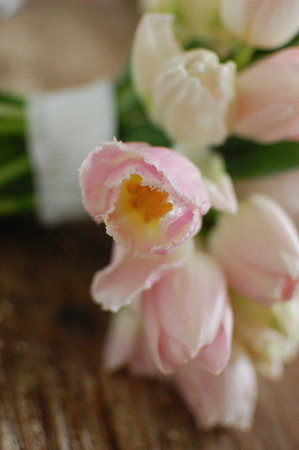 Tulip Tips:
The flowers will get limp the more they are worked- so handle with care! Tulips grow even after they are clipped. Keep it cool and refrigerated, away from drafts, food, and fruit. Make your bouquet a little tighter than you would like, since it will expand over night! It's best to buy tulips Jan-May and October-December. They are not in season in the summer and will wilt much faster.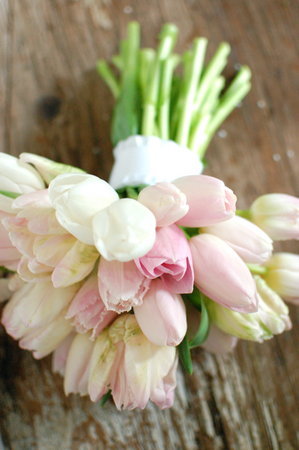 Bridesmaid Bouquets:
These garden-style bridesmaids bouquets are small, simple and sweet. Most of these flowers will be available January-May and October-December.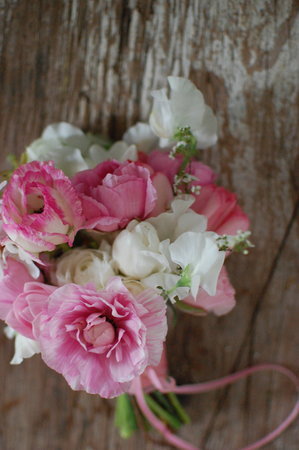 Recipe:
1 stem of cherry blossom
10 stems of ranunculus (some with buds and some in full bloom)
5 stems of sweet pea
3 stems of spirea
3 stems of open tulips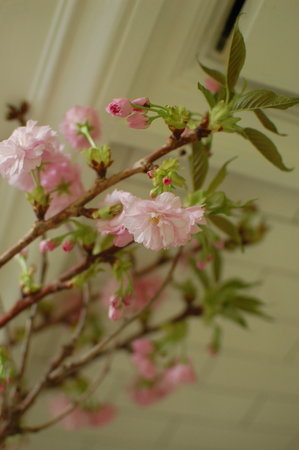 The How-To:
Follow the same instructions as the tulip bouquet but add in taller stems, poking out above the rest. Add the sweet pea and cherry blossom last as it is quite delicate.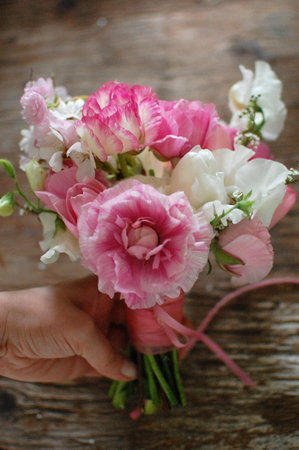 Tulip Boutonniere:
1.Cut the tulip so the stem is around 4-5 inches.
2. Take a leaf from a tulip and wrap it around the stem and blossom as shown in the photo.
3. Secure with floral tape.
4. Cover the tape by tying ribbon around it.
5. Don't forget the pins!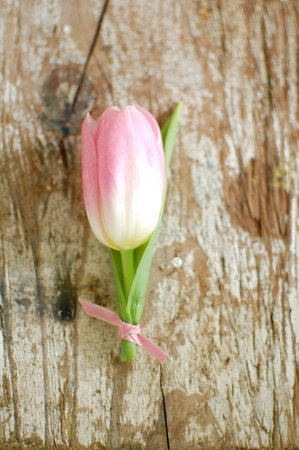 Tip:
Again, keep refrigerated until use, away from drafts, food, and fruit. Food and fruit emit a gas that increases the speed of a flower's deterioration.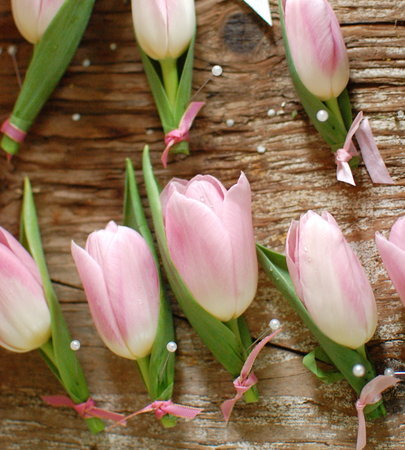 Orchid Wrist Corsage:
Cymbidium orchids work best for this project and the result is a beautiful, effortless corsage. These corsages are great because you won't need to worry about putting pins into clothing. Cymbidiums are available almost all year long.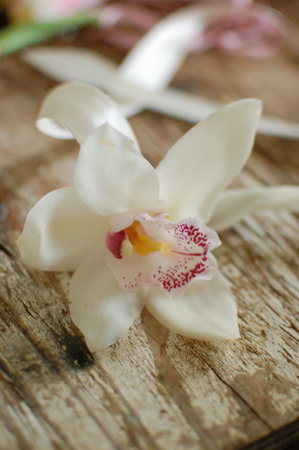 The How-To:
1. Cut the stem so it's about 5 inches long.
2. Cover the stem with floral tape.
3. Wrap ribbon around the stem and secure with a dot of glue (hot glue works best).
4. Take a long, wide ribbon and tie it in a double knot around the stem.
5. Tie the ribbon around the wrist, holding the flower flat against the top of the wrist.