Project & Story By: Chelsea Fuss 
Not sure what to carry for your winter wedding? This bouquet is a great option for those who want to stay seasonal but really want a floral bouquet in the middle of winter! Tuberose is extremely fragrant, and quite festive when paired with minty winter pods. Here's how to make it!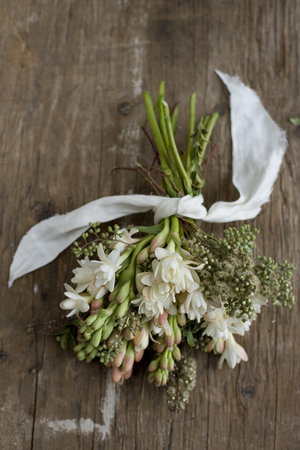 Flower Recipe:
-10 stems of tuberose (ask for your florist to have it open, or a buy a few days earlier and keep in a warm room so about half the flowers are open)
-5 stems of seeded eucalyptus (just the pods!) If you can't find it this way, strip the leaves off. 
-3 stems of variegated boxwood or oregonia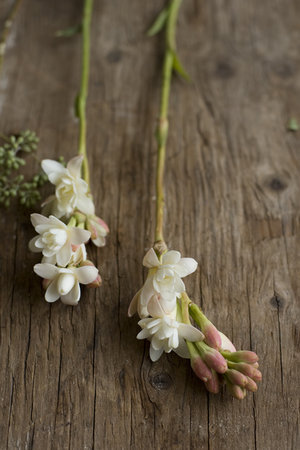 Supplies:
flower clippers
torn piece of linen
jute
twine
scissors
a vase to hold your bouquet in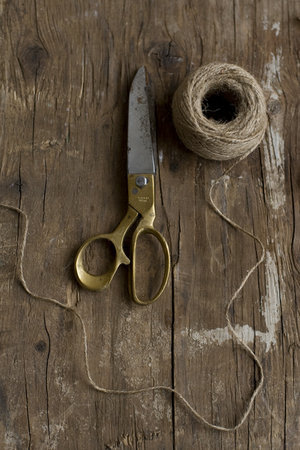 Step One:
Strip the leaves off the bottom of the greens and separate the stems of seeded eucalyptus. Each stem will have several long branches, you can clip these to make them into single stems.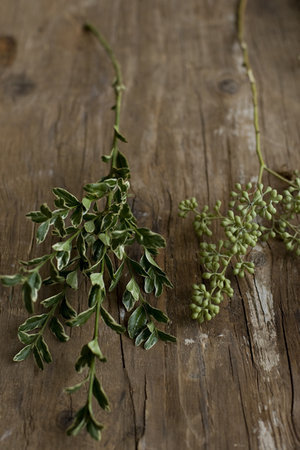 Step Two:
Edit 5-6 stems of tuberose by cutting the buds off of the stems. Clip the stem at an angle so the bare top of the stem doesn't show and you just see the blossoms. Keep the long stem with the blossoms.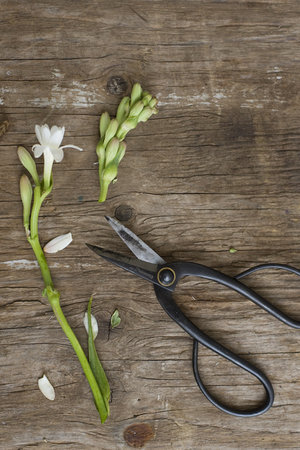 Step Three:
Gather a piece of the greens and 3 stems of seeded eucalyptus, in one hand. Add some blossoms toward the bottom of the bouquet, and some buds towards the top. (Keep the bouquet in the same hand during the whole process).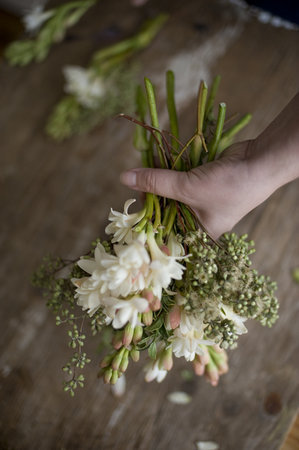 Step Three (cont).
As you add each stem, turn the bouquet to the left. Keep the heavier foliage and flowers towards the bottom, and the lighter pods and buds at the top of the arrangement. In general, keep each kind of flower or green separate and in small clusters.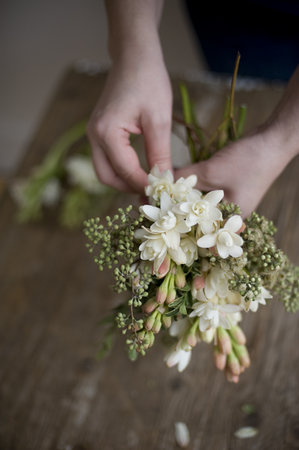 Step Three (cont).
Add just a few random stems of greens and seeded eucalyptus to finish off the shape.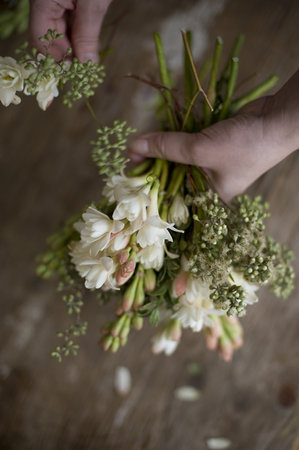 Step Four:
Secure with twine. Make any adjustments to the bouquet and cut the stems short.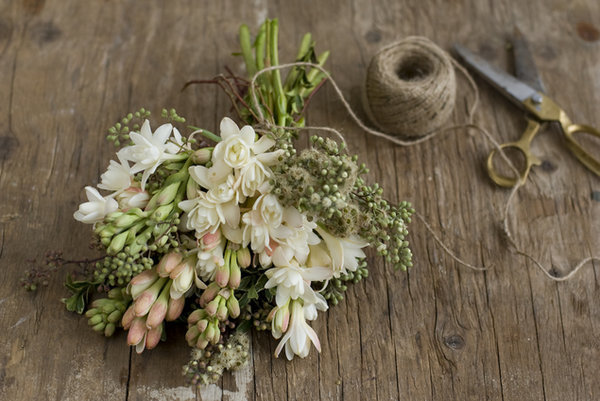 Step Five:
Wrap with a piece of torn linen and jute. Use the tossed aside tuberose buds as cake flowers or to decorate tables by placing them in tiny vases. Keep you bouquet refrigerated and in water until ready for use.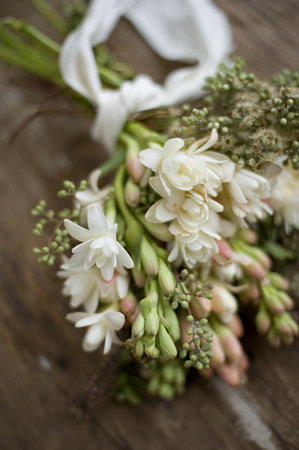 This super sweet, chic bouquet costs around $30-$40 to make! Hint: The tuberose bouquet would look pretty and effortless with a sheath wedding dress.