Project By: Jennifer Kirk
Add this crafty yet contemporary design element to your reception! Download this free vine template to get started!  template link: http://bit.ly/13MxuGQ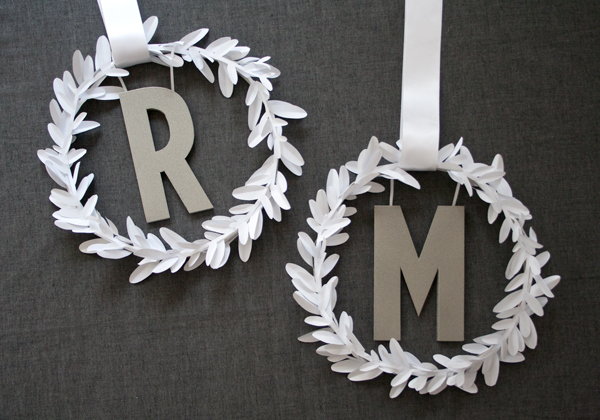 You Will Need:
Embroidery hoop
White spray paint
2" satin ribbon in color of choice
1/4" ribbon in color of choice
White foam core
White paper
Glue gun
X-acto knife with fresh blade
Scissors
Pencil
Metal ruler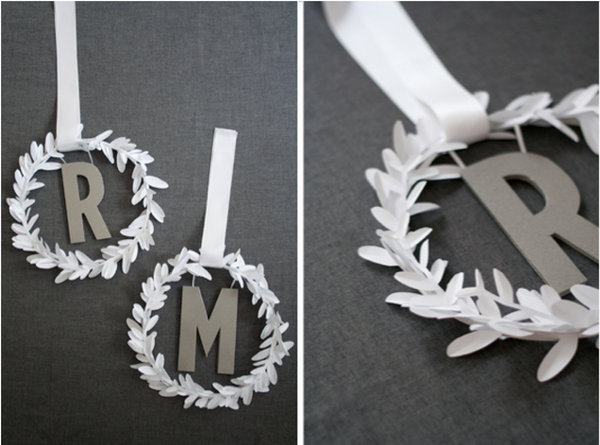 Step One:
In a text editing program (such as Microsoft Word) choose the font you'd like your monogram to be in. It can be a script or something more modern such as the sans-serif font (Gotham Condensed) I went with. Enlarge it to about 5.75" high. Print, then cut out.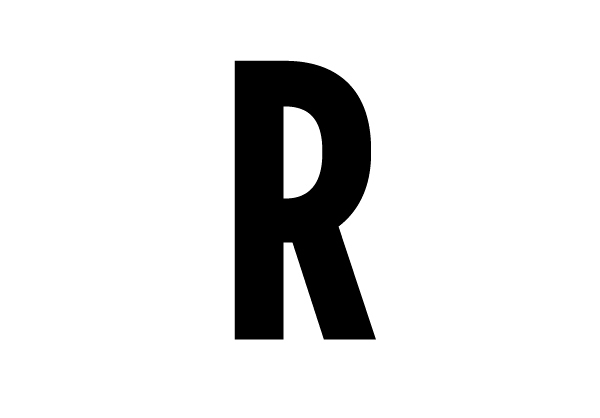 Step Two:
Using your monogram cutout as a template, trace around it using a pencil onto foam core. With an X-acto knife (it's important to have a fresh, brand new blade) carefully cut out the monogram. Using shallow, numerous cuts instead of fewer, deeper cuts gives you more control around curves. For straight edges (such as with the letters 'T' or 'E'), use a metal ruler to cut against and guide your blade.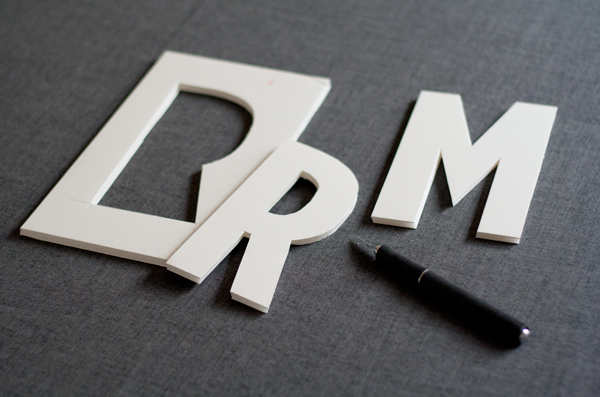 Step Three:
With spray paint in a color of your choice (I chose a metallic silver), give your monograms a few light coats, allowing to dry in between. You don't want to go too heavy with each coat. Too much paint could possibly warp the paper layer of the foam core. Let dry completely.
Step Four:
While the monograms are drying, separate the embroidery hoops into two pieces, and give each a light coat of white spray paint. Let dry.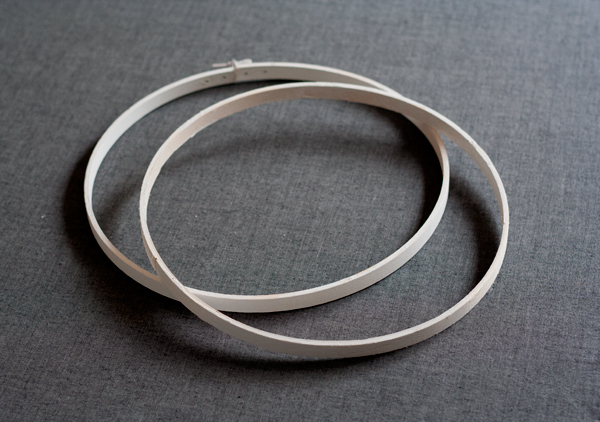 Step Five:
Print out
vine template
 (two pages) onto plain white paper. Stack each template design onto three or four sheets of plain white paper (number of layers depends on the thickness of your paper and the sharpness of your scissors). Cut in half (or quarters for the smaller vine design). Hold papers together with a paper clip then cut out, using the template as a guide.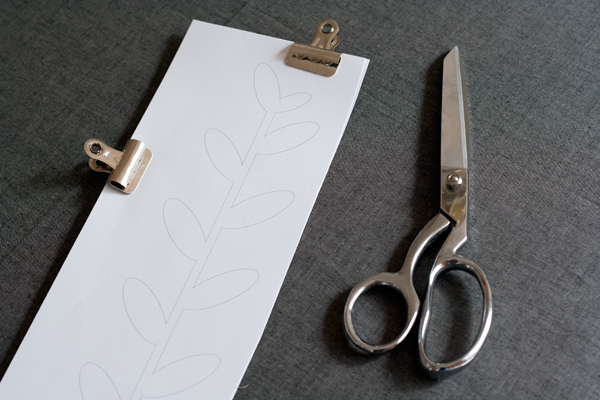 Step Five (cont).
When finished, pinch leaves in half for a more realistic, 3-dimensional look. Each hoop needs about 6 large vines and 8 small vines.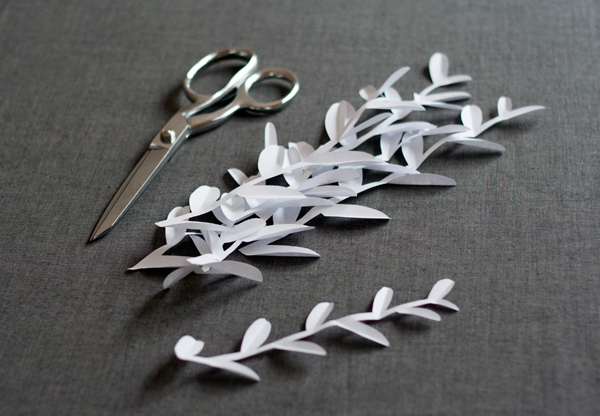 Step Six:
Cut two small pieces of narrow (1/4") ribbon. Knot at the end, then tape to backside of monogram.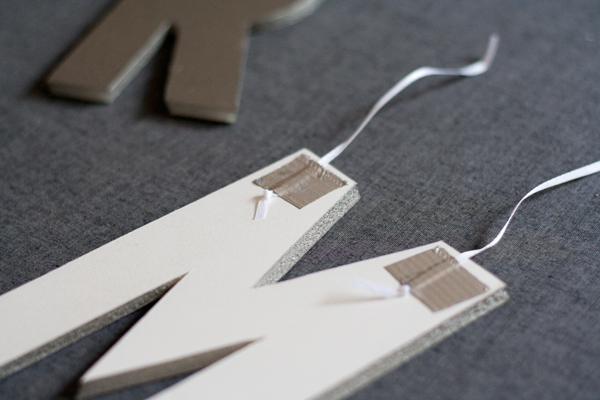 Step Seven:
Tape ends of ribbon to top embroidery hoop so that the monogram hangs down from the top.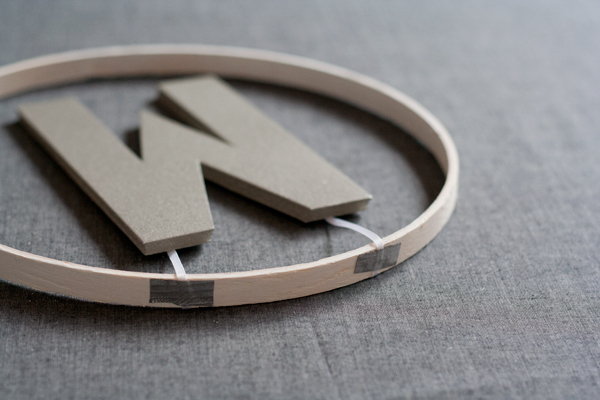 Step Eight:
Starting with the larger vines, glue to the edges of the hoop with a glue gun. It's easiest to do the flat side of the hoop first.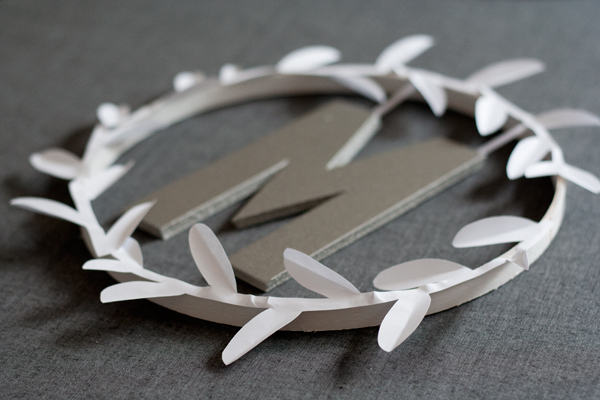 Step Eight (cont).
Apply as little glue as possible to minimize mess and risk of glue gun burns. Before applying glue, wipe any excess onto some scrap paper. Next, squeeze a small amount onto the end of a paper vine, then press the end of vine onto the hoop. Wipe excess glue off the gun again, then apply a small dab to the other end of the vine to anchor it down to the hoop.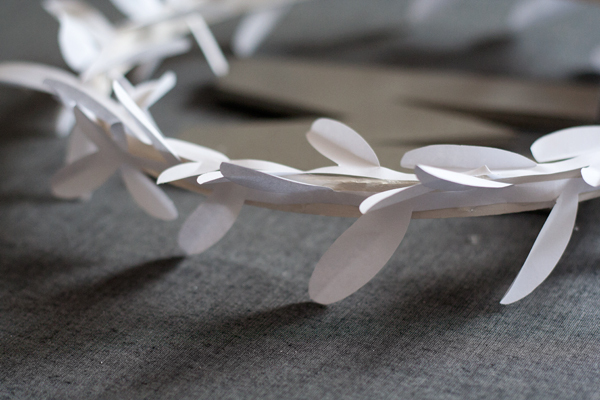 Step Eight (cont).
As you are gluing down the large vines, you will have to either bend/crease the paper to follow the curve of the hoop (as in photo above) or you can cut each vine into shorter pieces. Make the wreath fuller by gluing on the smaller vine pieces (I used about 8 small pieces and 6 large pieces).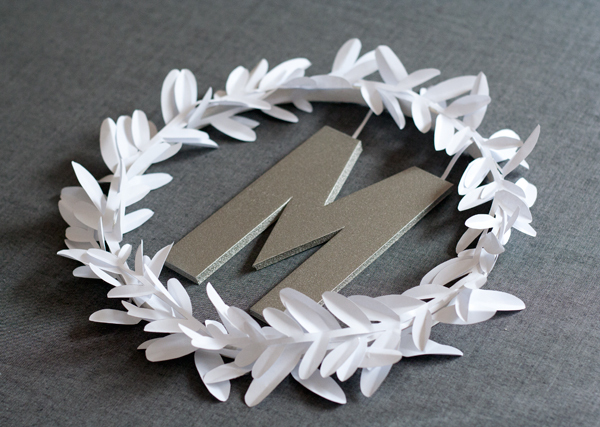 Step Nine:
Looping a satin ribbon at the top of the wreath will make it so you can tie it to the back of a chair or hang it above the table where guests sign in, etc.