Project and Photos By: Chelsea Fuss
It's your wedding day, so carry the bouquet you love. This recipe is for a pretty, fragrant garden rose bouquet, that you can make yourself! We've shared some insiders florists's tips to help you along the way. The total cost was around $50!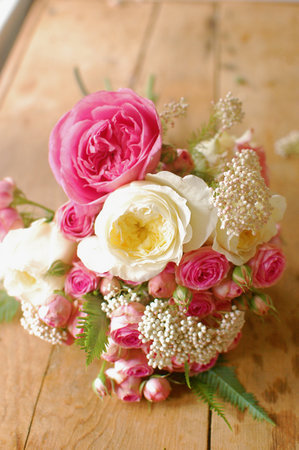 Flower Recipe:
6 garden roses (ask your florist for David Austin or old garden roses and they can help you)
1 bunch of spray roses
2 stems of rice flower
1 stem of fern
clippers
scissors
twill ribbon
twine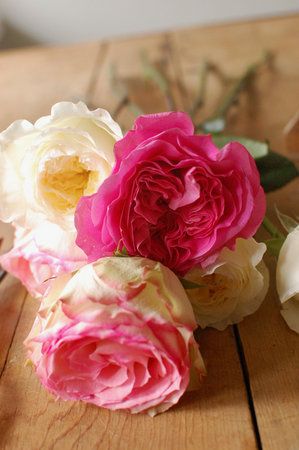 Step One:
Start by trimming up all of the flowers. Remove most of the leaves and extra branches from the stems. Remember, you can save these and make small flower girl bouquets from them like florists do. Save any stems that are more than 2 inches to do so.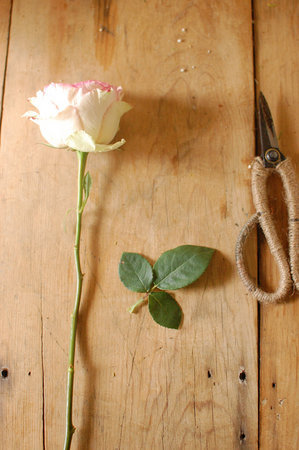 Step Two:
De-thorn your roses by taking a towel and running it down the stem of the roses with a little bit of strength. This is a florist's trick!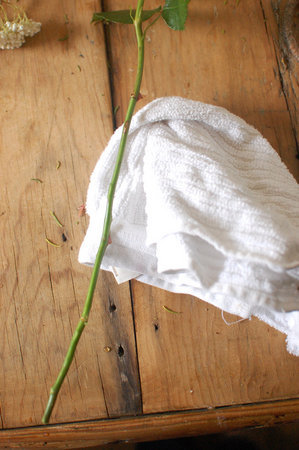 Step Three:
Cut all of the stems at an angle and let them soak in lukewarm water. If you have any roses that are closed, you can put them in a warm place so that they open up, but do keep them away from direct sunlight. Garden roses open up fairly quickly so you'll actually want them just open midway when you start to arrange the bouquet. Once you start working with them, the roses will continue opening because they'll be warm from your hands.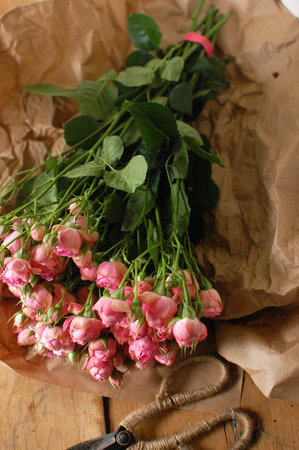 Step Four:
Start with a few of the larger garden roses, grouped loosely together. Hold the bouquet in the same hand while making it and add flowers in with your other hand. Turn the bouquet each time you add flowers.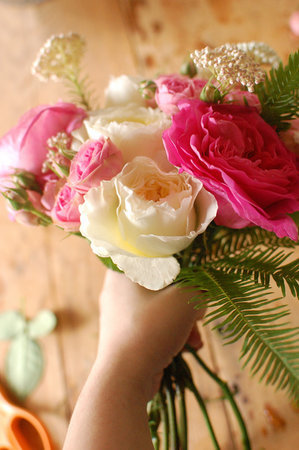 Step Five:
Next, add spray roses to fill in between the garden roses. Be sure to keep the garden roses mostly grouped together, eventually you'll fill the other side with spray roses, rice flower and fern.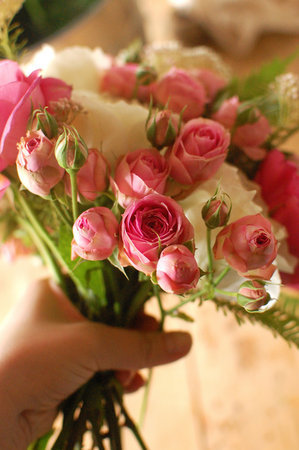 Step Six:
Add in the rice flower between the clusters of spray roses.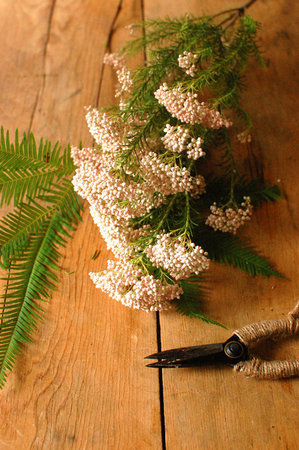 Step Seven:
Add the fern to that same side of the bouquet to balance the large garden roses.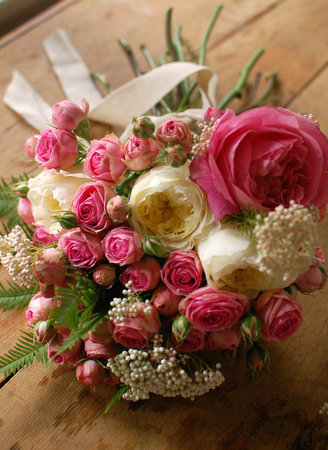 Step Eight:
Secure the bouquet with twine, trim the stems, and cover the twine with twill ribbon.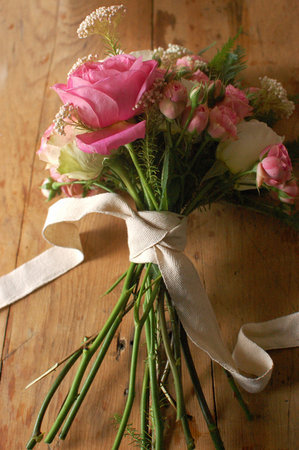 Store the bouquet in water, in a cool place until ready for use.