I found these tiny glass domes the other day and instantly thought of doing something for the couple who loves to travel. These charming little domes are pretty enough to set on a windowsill, where they will remind your guests every time they pass by.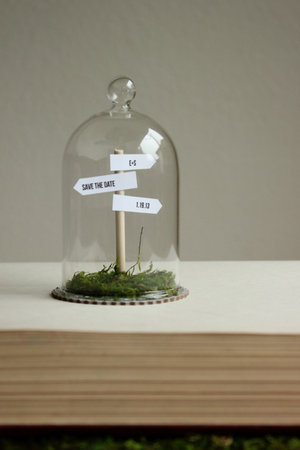 Supplies:
wood dowels
heavy duty or kitchen scissors
hot glue gun
white cardstock
cardboard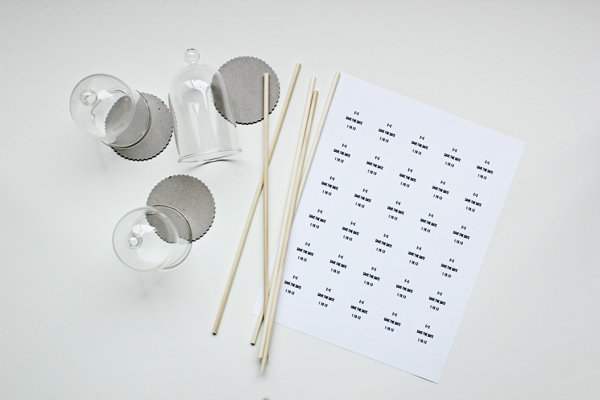 Step One:
On your computer, design and print three signs. I used the Bebas Neue font (download it for free here) at 12pt. I typed the initials of the bride and groom, "save the date" and the date to be saved. Space each group about 1.5" to 2" apart. Add as many to a sheet as you like. Cut out each group, for ease, and cut each into small strips. Cut one end of each strip into a point. Remember to cut the point to the opposite direction for the middle sign, here it was the "save the date" sign.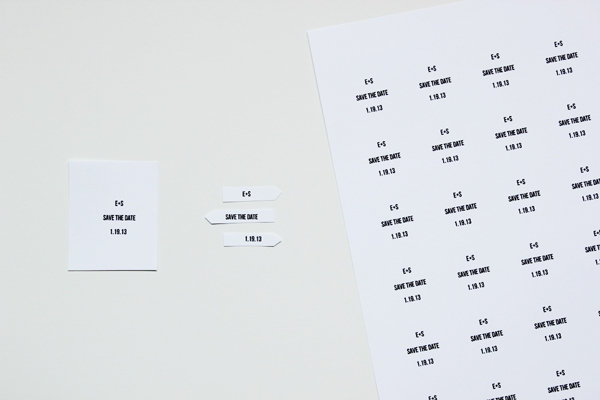 Step Two:
Next, cut each dowel into 4 even pieces, about 3" long.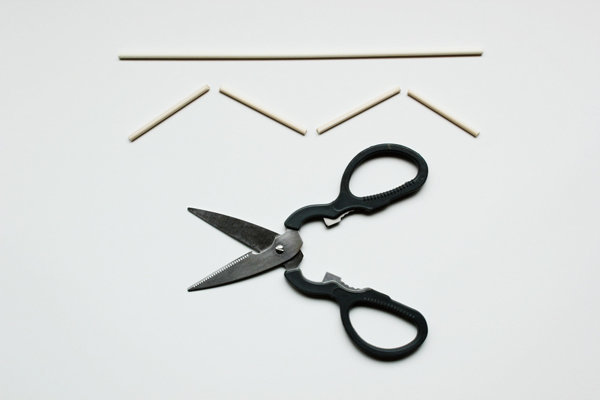 Step Three:
Trace the bottom of the glass dome on a piece of paper. Use this to cut circles from the cardboard.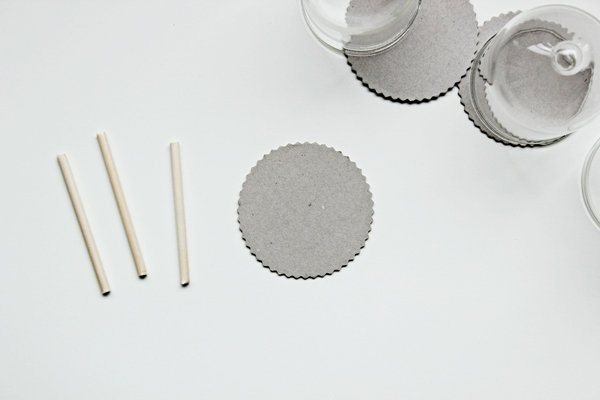 Step Four:
Hot glue each dowel to the center of the cardboard base. Be sure to hold the dowel up straight until cool.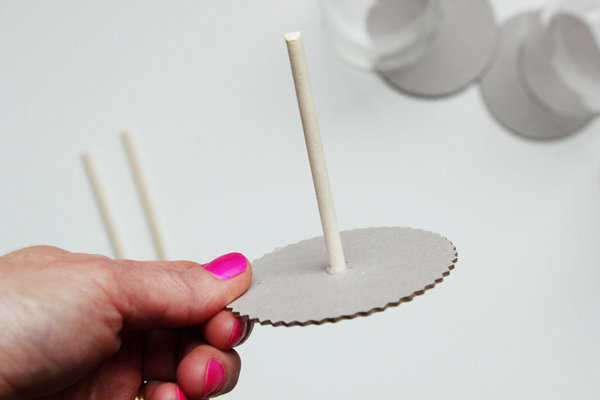 Step Five:
Test where you would like the signs to go on the dowel and add three small drops of hot glue to attach the signs.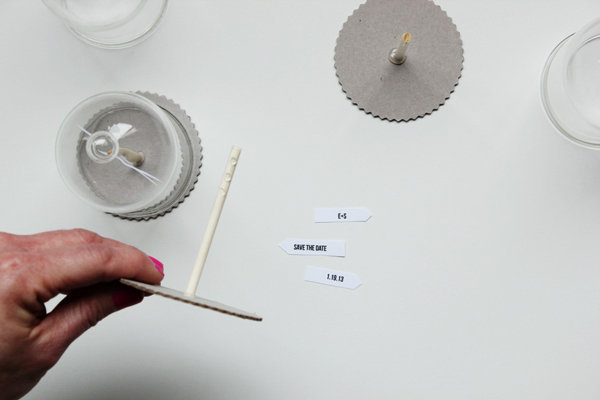 Tip:
Add the signs at slightly off angles to get the real post effect.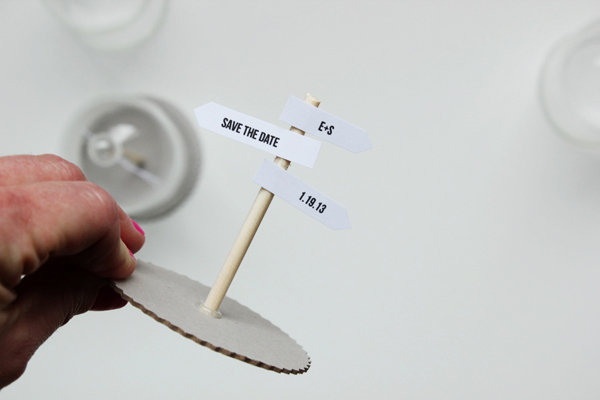 Step Six:
Use your circle template to cut rounds of the moss cloth. Cut slightly inside the traced line to make sure the moss fits inside the glass dome.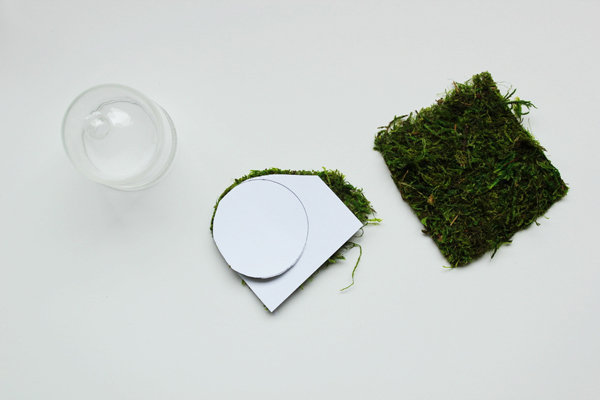 Step Seven:
Cut a slit halfway through the moss circle. Place circle on cardboard round, around the post. Check to make sure it fits with the dome on top. If not, retrim slightly until it does. Hot glue each side of the moss down to the cardboard base.
Step Eight:
Run a thin bead of glue around the outside of the moss on the cardboard base and immediately add the glass dome and press down.
Step Eight (Cont).
Hold until cool. Repeat with remaining domes.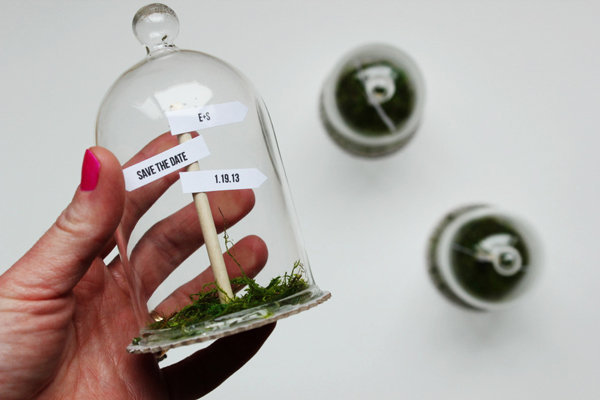 These are pretty sturdy and fit in small boxes; be sure to pack with lots of paper crinkle to mail them.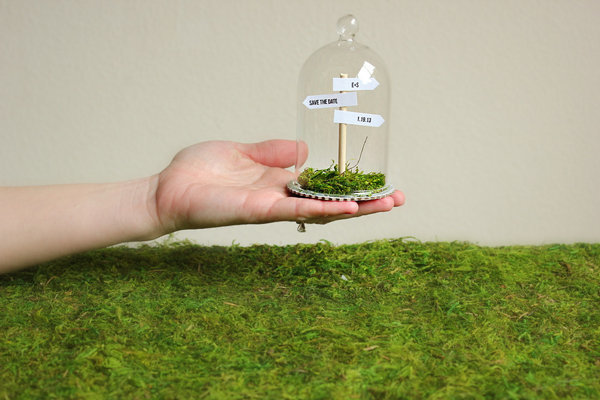 They would also be fun to hand deliver for a small local wedding.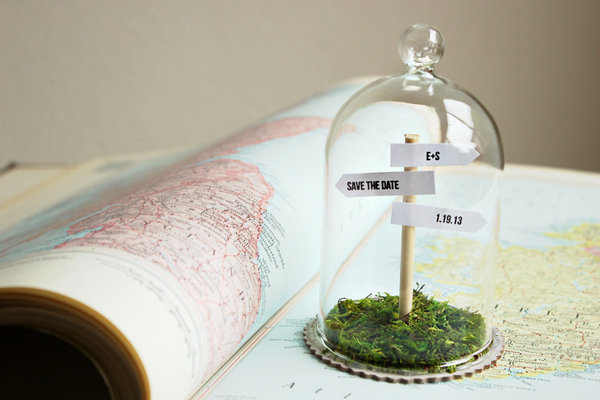 Consider making these as favors or escort cards instead, just change what is written on the sign!