Project By: Urban Petals Floral Design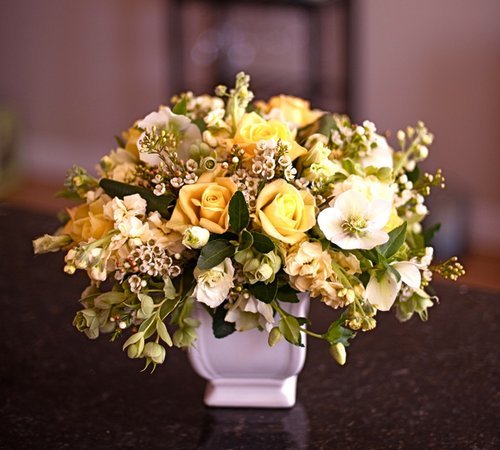 Runway Inspiration
What better place to draw inspiration for your wedding- whether it be attire or décor, than from the runway? Inspired by this gorgeous Elie Saab gown, founder of
Urban Petals Floral Design
, Sarah von Pollaro, designed a sweet springtime centerpiece that you can make at home.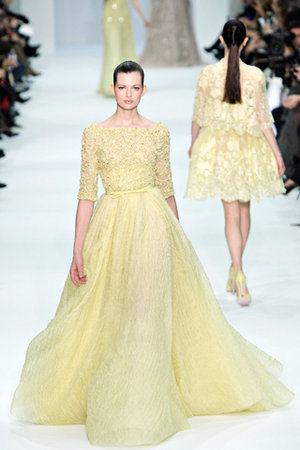 Supplies & Materials:
Other Supplies: White vase (approximately 6 inches tall and 6 inches wide), 2 stems H. hoetidus hellebore, 1 stem Manhatten euonumus, 5 stems aspidistra leaves, 3 stems Blondie waxflower, 7 stems Cream stock, 10 stems Skyline roses, 5 stems Cream lisianthus, 5 stems H. hybridus hellebore.
Step One: Make a Grid
Fill vase with water and make a tape grid using floral tape.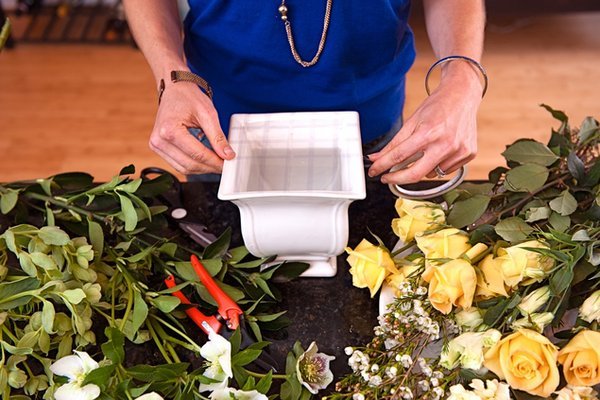 Step Two: Prep Greenery
Break down large stems of greens into small pieces with floral clippers.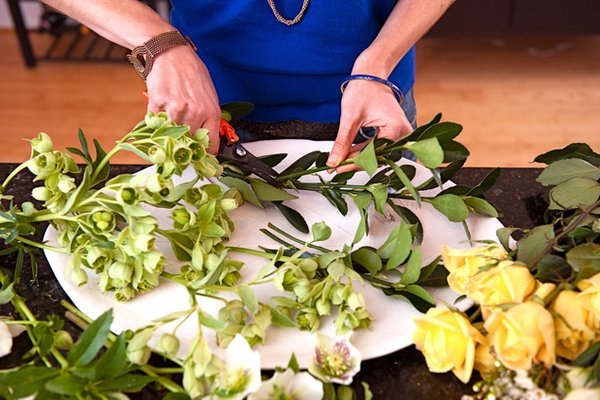 Step Three: Apistrada Loops
Bind the tip of the leaf to the stem with floral wire.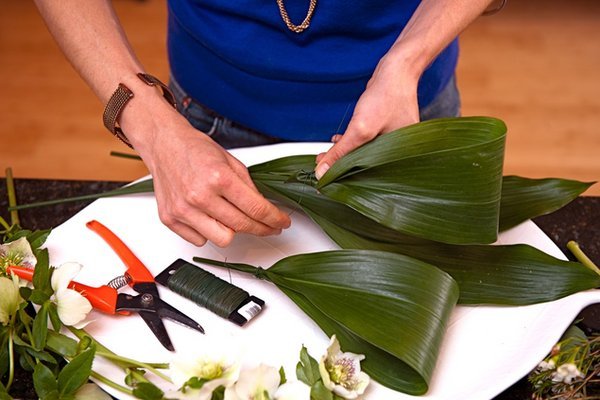 Step Four: Prep Waxflowers
Break down large stems into small pieces with floral clippers.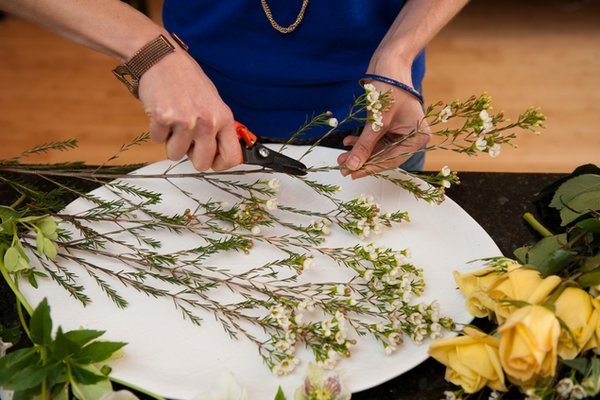 Step Five: Prep Roses
Prepare roses by removing leaves and hand opening petals.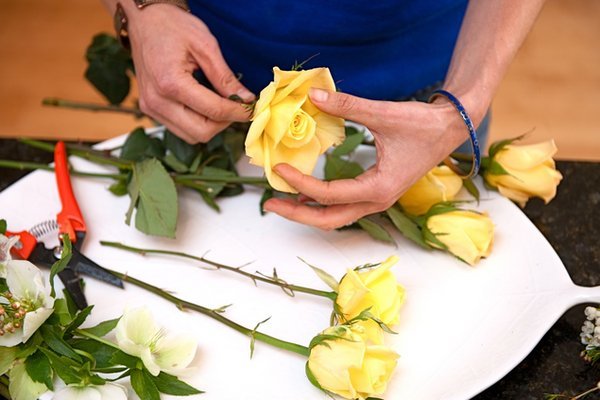 Step Six: Add Greenery
Add greenery and leaves to the vase.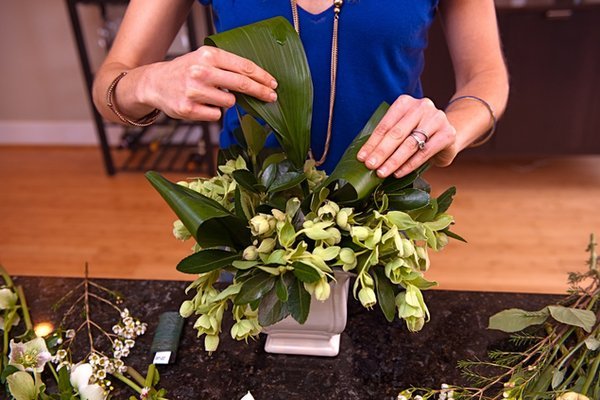 Step Seven: Add Stock
Add stock flowers to the vase.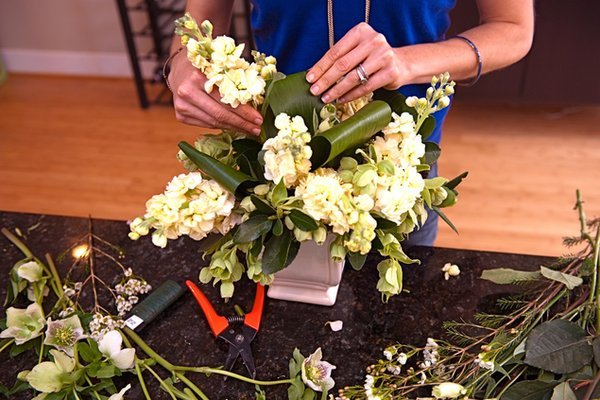 Step Eight: Add Flowers
Add waxflowers and roses to the vase.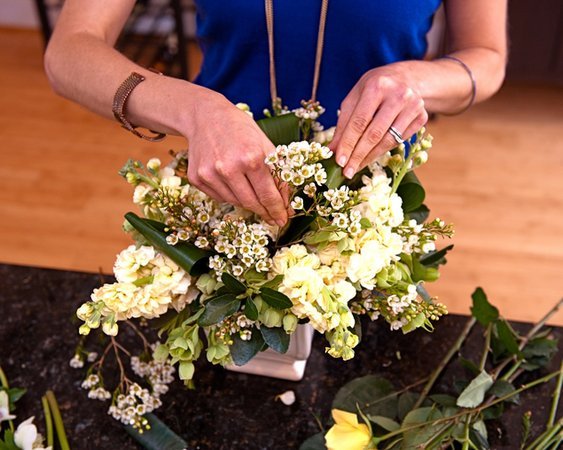 Ta-da! You've got a runway-inspired, expertly styled DIY centerpiece.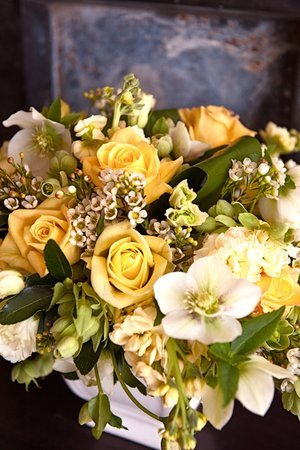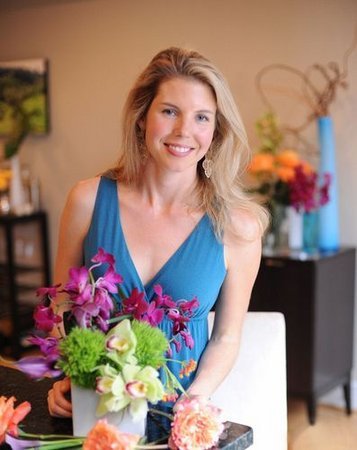 About the Expert
Sarah von Pollaro is the founder of
Urban Petals Floral Design
, which creates one of a kind floral designs for events, donates them to nonprofit organizations the following day and inspires people to enjoy arranging flowers. Sarah's designs have adorned the White House, the Kennedy Center, and the Macy's Flower Show. 
She has taught thousands of people the basics of floral design in a fun and simple way and created
Flower Empowered
to provide inspiration, tools, tips, and tricks of the trade online. Sharing her passion for flowers and practical techniques, Sarah demystifies the world of floral design so that anyone on any budget can experience the joy of creating arrangements for their home, special occasions, and gifts. 
Visit Sarah's website, 
Flower Empowered
, for tips, tricks, and techniques to help design your own wedding flowers as well as essential tools including the new Wedding Floral Design Toolkit.