After a whirlwind long weekend, another Bridal Fashion Week has come and gone. Want to see all the new dresses? Head right here. More concerned with catching up on the highlights? No problem—scroll down for the gowns that kept us talking long after the models exited the catwalk. 
1. Best Boho Look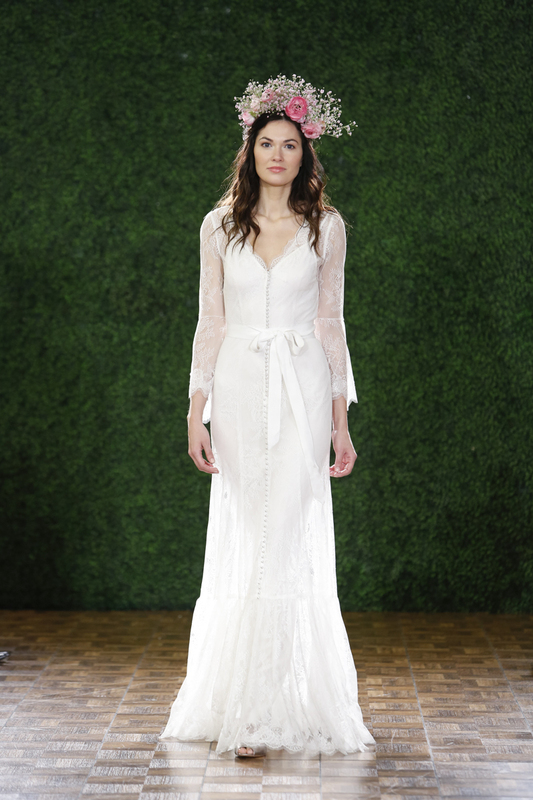 Gown by Watters 
Feels a little like something out of a Free People catalog, don't ya think? Between the sleeves, soft lace skirt, and buttons down the front, this gown was a forward-thinking surprise from Watters, and an delightful nod to the hippie-leaning girls of the West Coast.  
2. Best Ball Gown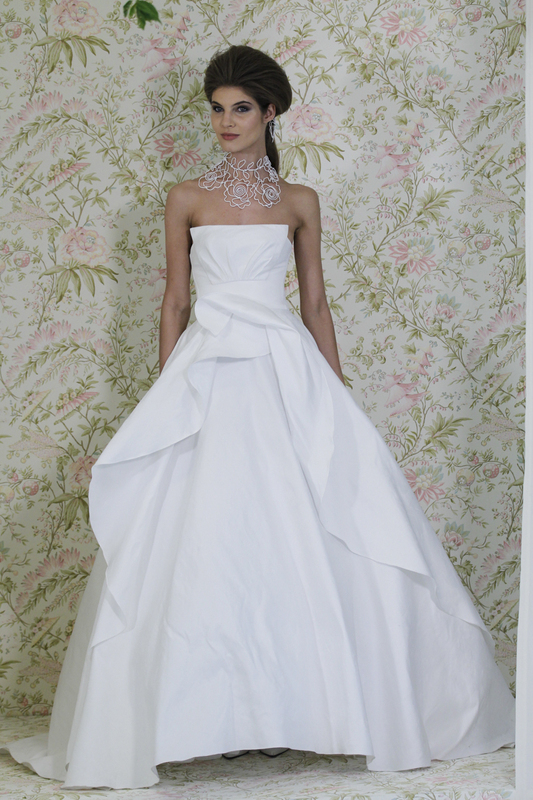 Gown by Angel Sanchez
Architectural, interesting, and unique. . . but not just for uniqueness's sake. We can always count on Angel to tranform minimal basics into something special, and this airy, full-skirted dress is no exception. 
3. Best City Hall / Reception Dress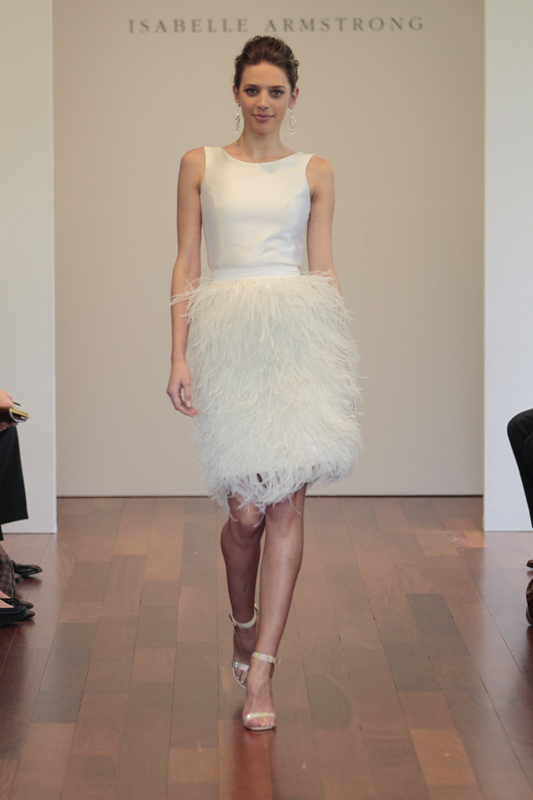 Gown by Isabelle Armstrong 
Formal on top, playful on bottom—this ostrich feather sheath is everything we want in a fun, flirty LWD. Added bonus: a bow on the back of the belt! 
4. Best Minimalism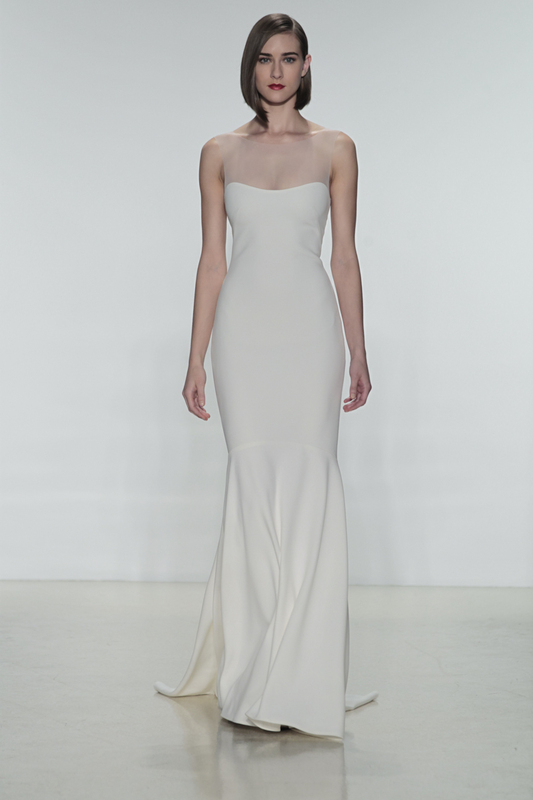 Gown by Amsale 
Sometimes, the simplest statements are the loudest. Case in point: this gown. The flawless cut and thick fabric make it a blank canvas for some seriously amazing accessories, but it stands just as strong on its own. 
5. Most Intricate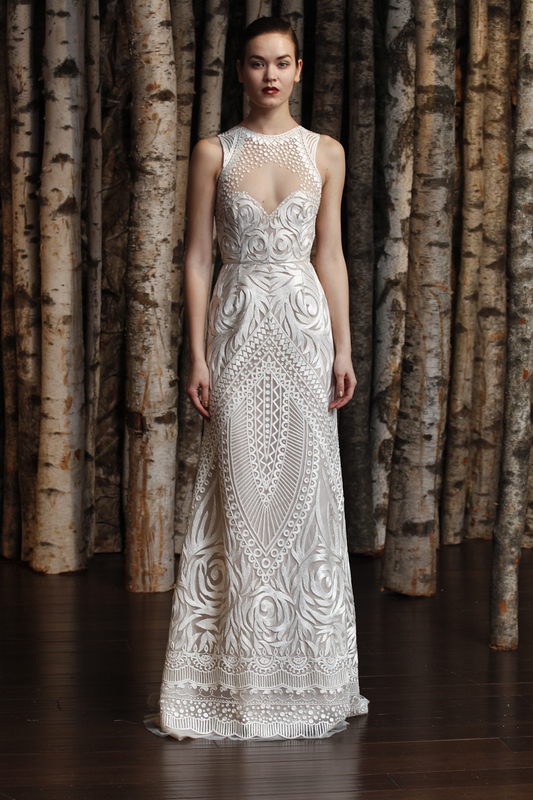 Gown by Naeem Khan 
This award could actually go to Khan's entire collection. But here, I mean, helllooooo attention to detail. You could be rocking three inch spectacles and still make out those laser cuts. 
6. Best Breezy Beach Style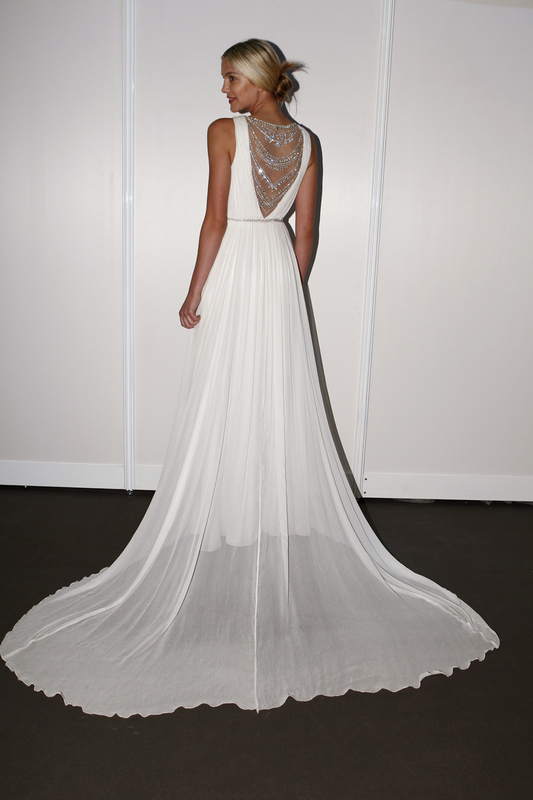 Gown by Nicole Miller 
We return to Nicole Miller time and time again for easy, comfortable gowns that maintain a sense of glamour. This Grecian style is simple in the front and majorly blinged out in the back, but (thanks to full-coverage illusion netting) doesn't require a lot of fuss to put on. Which means more dancing for you! 
7. Most Artistic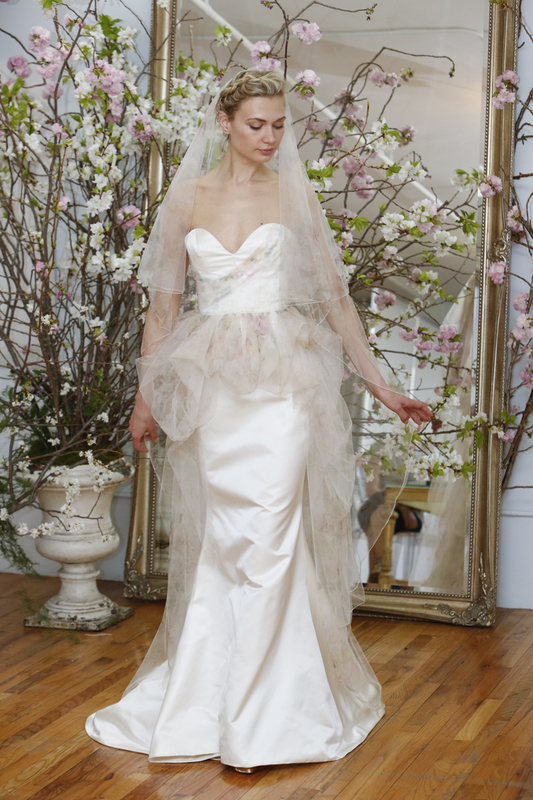 Gown By Elizabeth Fillmore 
Presenting "Degas" by Elizabeth Fillmore. See that watercolor peplum? It's completely detatchable. 
8. Sportiest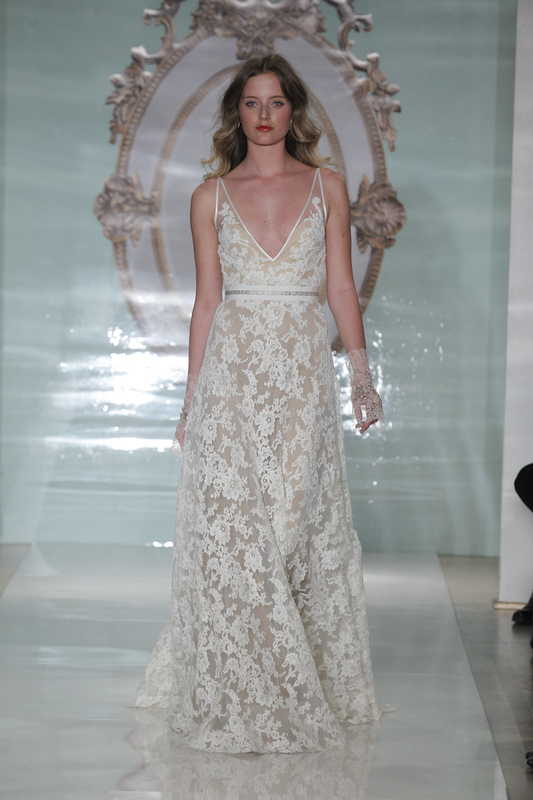 Gown by Reem Acra
With two white satin ribbons and a corresponding sash, the always glam Reem Acra morphs her signature style into something with just the right hint of athleticism. We were surprised, and we loved it!
9. Coolest Cut-Outs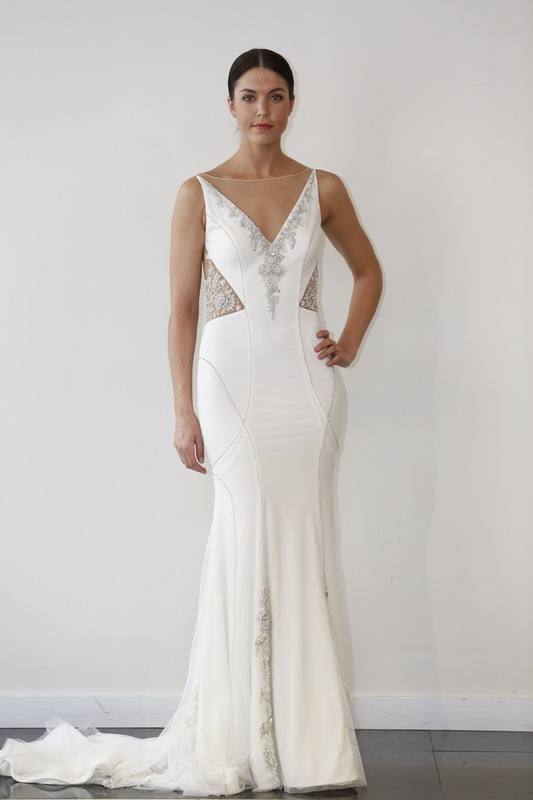 Gown by Simone Carvalli 
Street styles are creeping into bridal designs more than ever before, and we can't say we're mad about it. This cutout style is definitely not for the blushing bride, but why the heck not wear it for a glam ceremony someplace tropical? 
10. Best Crop Top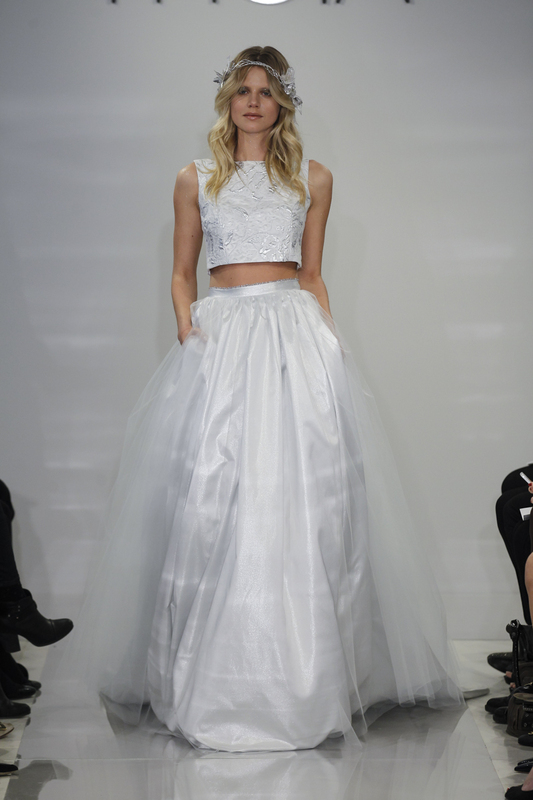 Gown by Theia 
How cute, cute, cute is this look? It's playful yet provides enough coverage to still feel bridal. 
11. Most Regal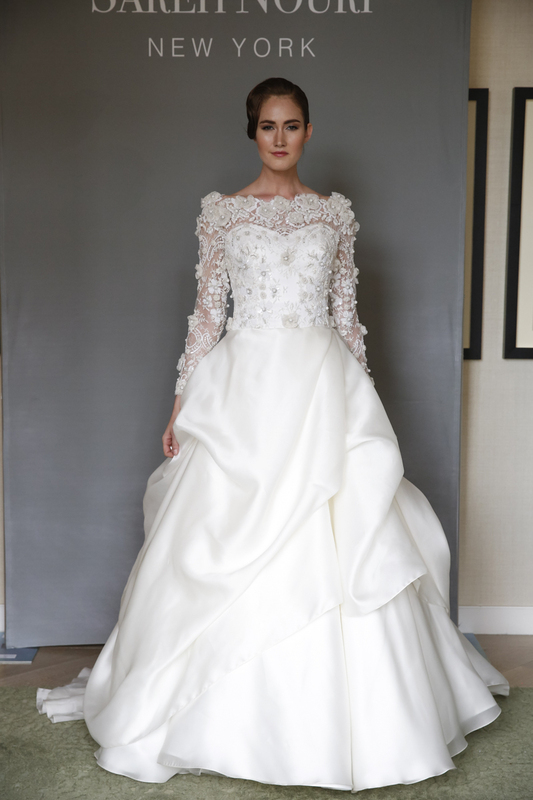 Gown by Sareh Nouri
Want to feel like Kate Middleton on your wedding day? (Who doesn't want to feel like Kate Middleton on their wedding day?) The topper on this Sareh Nouri gown was constructed by Sophie Hallette, the same house that worked on the lace for the Duchess of Cambridge's gown. 
12. Best Embellishment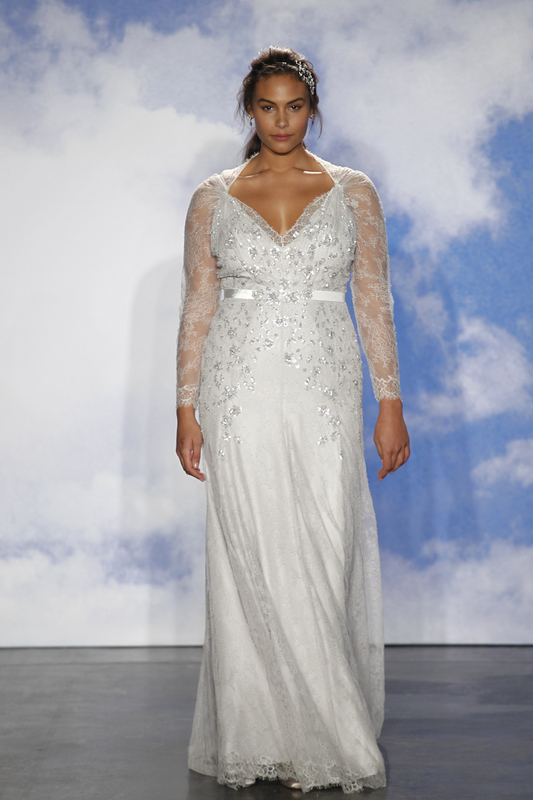 Gown by Jenny Packham 
First off, major props to Jenny Packham for sending a full-figured girl as gorgeous as this first down the runway. Secondly, no one mixes metallics and whimsical lace quite like the Brit. It feels like she just stepped out of a fairy tale. 
13. Best Mermaid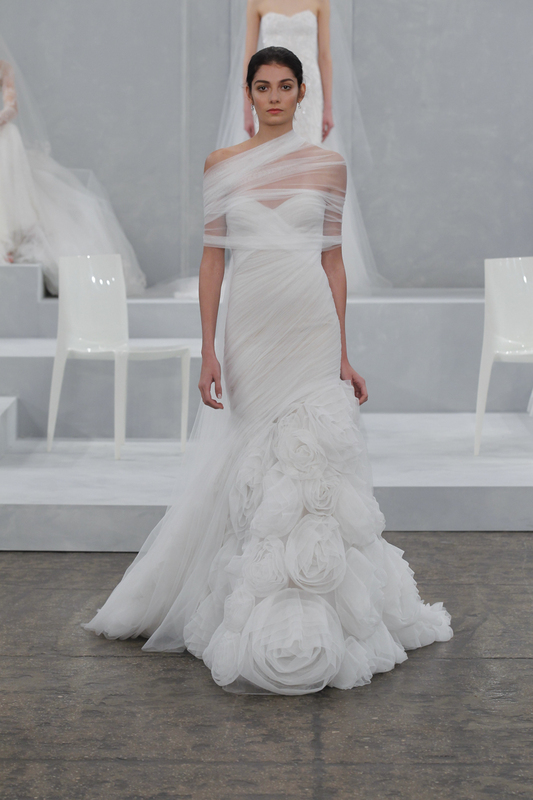 Gown by Monique Lhuillier 
Between the beautifully shirred faux-wrap bodice and the blooming rosettes on bottom, this gown is a venerable work of art. Bravo, Lhuillier. Bravo. 
14. Best New Direction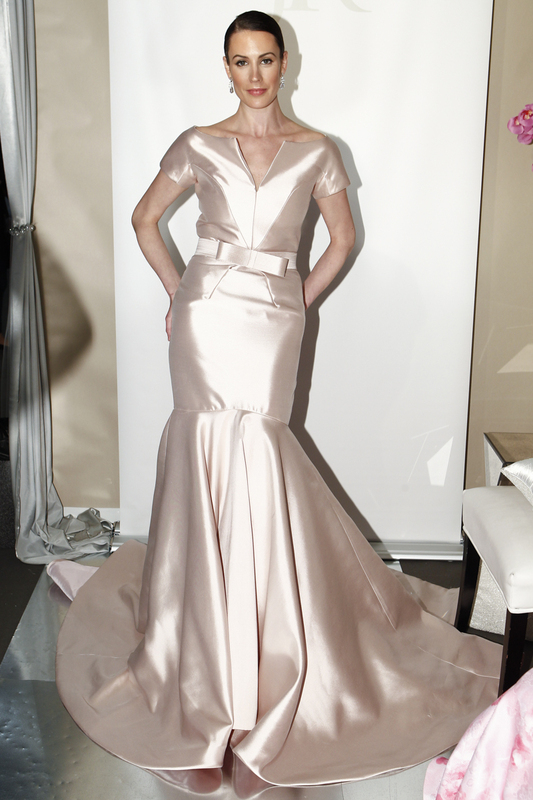 Gown by Jean-Ralph Thurin 
Traditionally, wedding dresses are all about being light, airy, and lacey. We love that Thurin consistently makes a purposeful pivot from this direction, styling his gowns with prominent seams, straight lines, and little adornment. Done in a soft blush, this is definitely a direction we're excited about for formal wedding dresses—it feels very sophisticated and high-fashion. 
15. Most Futuristic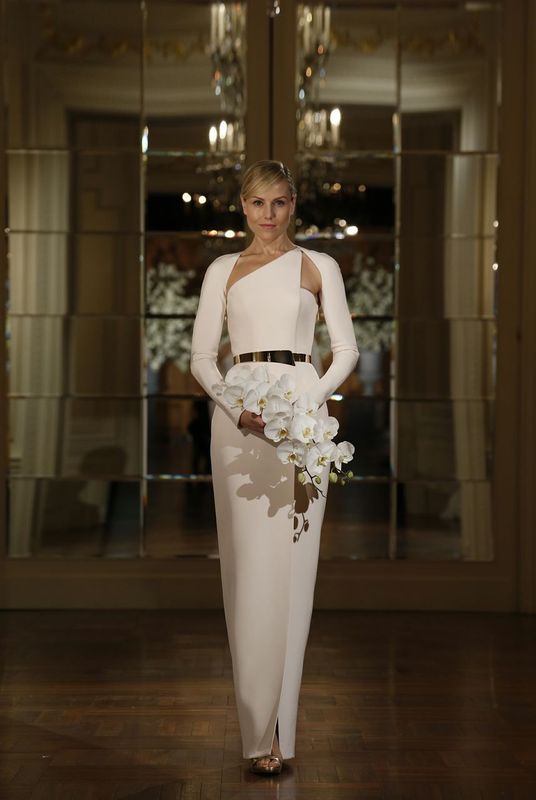 Gown by Romona Keveza 
If Vogue ever decided to do a Star Trek issue, we bet this gown would be on the cover. Also, it's impossible to decide what's cooler—the shoulder cutouts or the gold belt.