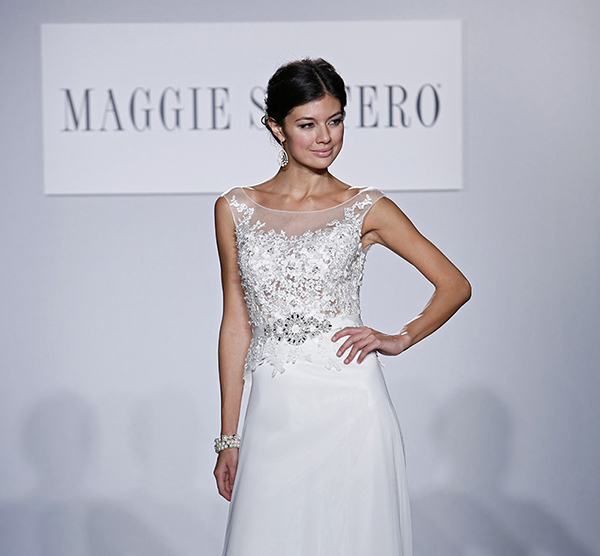 Gown by Maggie Sottero
Another season, another Bridal Market—and we couldn't be more excited! If you're familiar with the concept, then you know that Bridal Market is essentially the wedding world's equivalent of Fashion Week. For five solid days in New York City, designers will showing off new wedding dress, bridesmaid, and accessories collections for the Spring 2015 season, and we'll be on hand (and in the audience) to capture all the frothy, feminine magic. Already convinced about how mega-awesome this will be? Follow us on Instagram, Twitter, or Facebook for of-the-moment updates—or keep checking back with me here for the new collections as they go live. 
Still not convinced that Bridal Market is worth your attention? Read on for 5 reasons why you should reconsider! 
1. Three Words: Wedding. Dresses. Galore.
Even girls who aren't engaged can dream about the dress they'll wear down the aisle. Bridal Market is an opportunity to fantasize about all the floaty, beautiful styles without the pressure of having to pragmaticaly pick something out. 
2. You Can Trendspot Before Gowns Hit The Stores. 
So you're engaged, but not thinking about wedding dress shopping for a couple of months? Not a problem—it usually takes about six months before the gowns you'll see during market hit the stores. So feel free to peruse new styles at your leisure, and then head into your actual appointments with a much healthier knowledge of what styles you'll want to try out.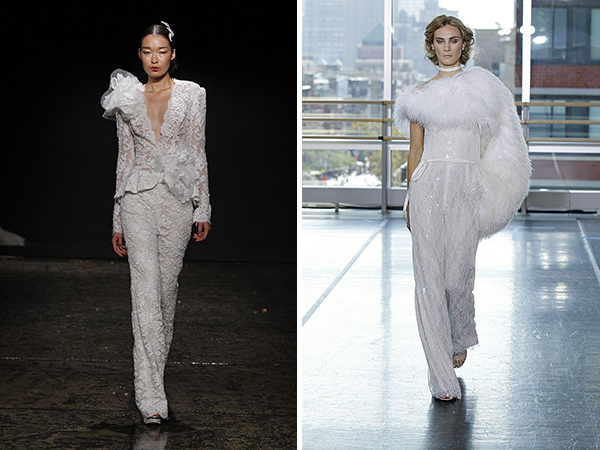 Two beautiful options for pant-loving brides from last season's Bridal Market. Left: Lazaro; Right: Rivini. 
3. There's More Variety Than Ever. 
Think wedding dresses have to be all frothy, full-skirted princess gowns? Think again. Last market we saw everything from lace tuxedos to sequin jumpsuits to perfect-for--pregnant brides halter dresses. Point is: there's a gown to suit every style out there, so you can get even more excited about finding the perfect one for you. 
4. Blush is On It's Way To Becoming a Classic. 
When pink wedding dresses first appeared upon the scene, everyone was shocked. But now shades of champagne, muted peach, and even blush are on regular rotation in designer dossiers. That's a major win for brides who want to feel a touch modern without completely sacrificing tradition! 
5. Accessories, Accessories, Accessories. 
Sashes, head pieces, heels, and jewelry are a wonderful way to personalize your wedding day look—and, lucky for us, designers are paying more attention to these smaller statement pieces than ever before. We can't help but dream up pretty combinations while we're at Bridal Market, and we hope you do the same when you're planning your wedding day look!