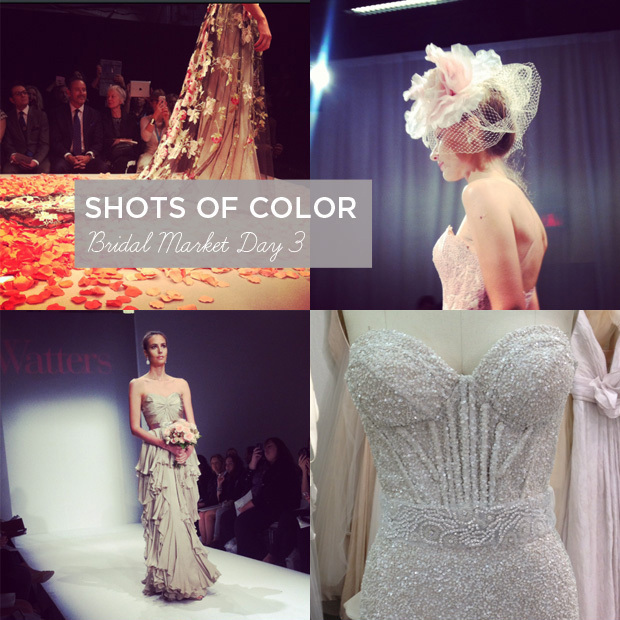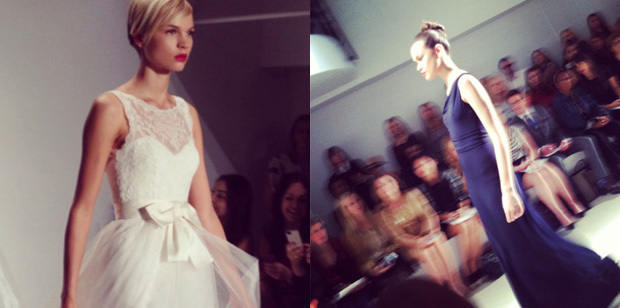 The new collections continued to take risks and generally wow us on Day 3 of Bridal Fashion Week. From the on-fashion accessories at Watters to Claire Pettibone's gorgeous florals, white wasn't the only shade we were seeing on the runway! Be sure to follow to me (I'm SarahFashionEditor) to have the new collections appear in your PW feed as we put them up, and, in the meantime, here's a quick Insta recap of some of our fave colorful accents from the runway: 
1. Claire Pettibone's Gorgeous Florals
Inspired by 17th century still life paintings, Claire's always-anticipated collection featured plenty of her signature colored laces. This black embroidered train extended from a silver gray gown, and was one of our faves.  You can see the full dress here. 
VIEW THE FULL FALL 2104 CLAIRE PETTIBONE COLLECTION
2. A Playful Topper from D.I.D. by Watters
The Watters runway was full of fun additions to their beautiful bridal looks -- and they also debuted a new collection called D.I.D, which are the intitials of three friends (and co-designers) Dani, Izzie, and Dylan. Part hair flower, part birdcage veil, this blush headpiece was one of our fave moments from the collection. 
3. Champagne Ruffles from D.I.D.
This dark tauple down moved absolutely beautifully down the runway -- and the whole audience cooed accordingly. 

4. Silver Matte Sequins by Carol Hannah 
Our visit to this Project Runway alum's studio was absolutely inspiring. Showing for the first time in a year and half, her gowns were largely inspired by Rorschach ink blots, as both wedding dresses as these famous pyschology tests are supposed to reveal a person's true personality. The bodice on this matte silver sequin gown was outta control -- embellishment was hand-sewn over the exposed boning! 
5. Red Lips at Amsale 
Amsale's off-set her classic collection with the most classic makeup look -- bright red lipstick. We could look at this shot in 30 years and it would still be elegant. 
6. Draped in Darkness from Amsale 
Amsale stuck with dark shades of purple and plum for her Fall 2014 bridesmaid dresses. Cut close to the body in slinky fabric, they're perfect for a glam winter wedding. 
Related: Bridal Market Recap Day 1 | 8 Favorite Details from Bridal Market Day 2