Another day, another fabulous round of collections! In case you missed the highlights from our first outings with the Fall 2014 collections, head over to the PW blog, where you'll find a fun re-cap of our favorite moments from Theia, David's Bridal, Miriam Haskell, and the one and only Monique Lhuillier. Now, on the beauty of Day 2, of which there was plenty. Pictures are described left to right, top to bottom -- for more from-the-runway shots, be sure to follow us on Instagram!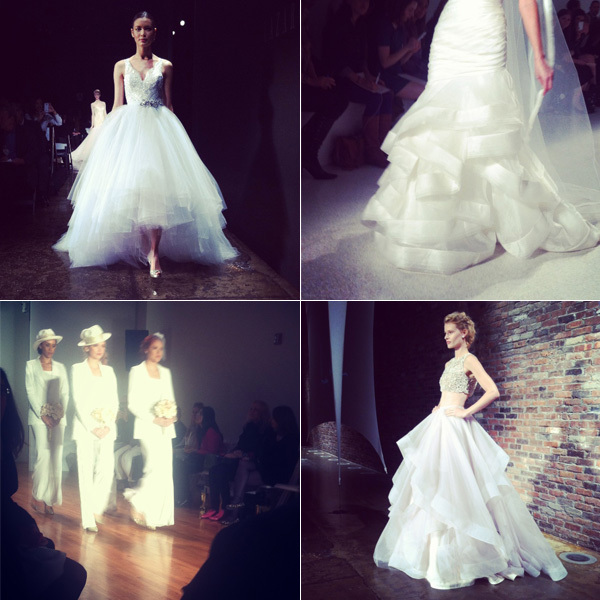 1. High-Low Hems 
Lazaro, Temperely London, and David's Bridal exhibited examples of this unique skirt length, but our fave was this Lazaro stunner. Shoes are such a big part of a wedding ensemble these days, and we love that this look lets them stand out! 
2. Structured Ruffles 
Mermaid dresses are still going strong, but we love that designers are taking the flared part of the skirt in creative directions. This Kelly Faetanini gown infused an otherwise romantic silhouette with a little bit of prep by attaching an opaque panel to each ruffle. Perfect for a flirty bride who also loves Lilly Pulitzer! 
3. Pantsuits, Pantsuits, Pantsuits 
Gone are the days when a girl must wear a gown to get married. It used to be that designers would only occassionally exhibit a pant option to serve as a talking point/publicity generator for their collection -- Fall 2014 had multiple designers showing multiple versions of them! These ones are from Alfred Angelo, and we're crediting the rise in same-sex marriages for this. So awesome that designers are helping couples differentiate from each other at the altar without forcing one half to give up their femininity!  
4. Following Fashion 
Bridal is taking cues from its catwalk counterparts more than ever, and fashion-conscious Hayley Paige turned out so many of-the-moment numbers that we had a hard time picking our fave. This daring crop ensemble is pretty hard to stop talking about, though.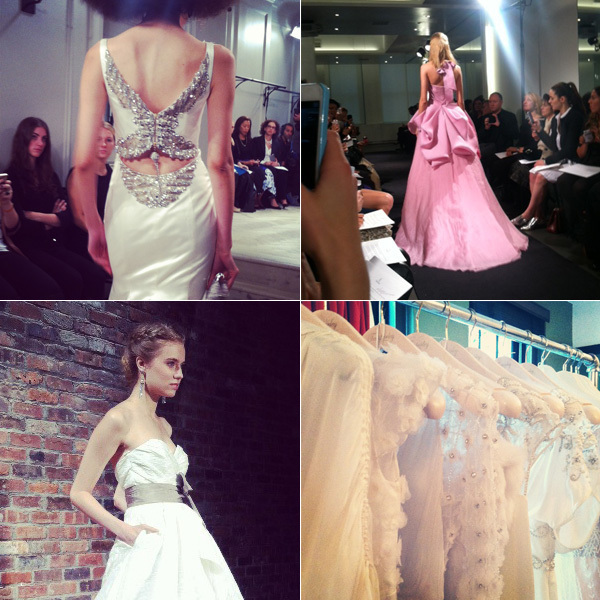 5. Beautiful Backs
The beaded detailing in Badgley Mishcka's Gatsby-inspired collection was outta control -- some skirts were so heavily beaded you could hear them entering the room before you saw them! Less noisy but no less beautiful was this butterfly style open back. 
6. Vera 'Thinks Pink'
Vera Wang almost never turns out a traditionally colored collection. Each season she tends to gravitate towards a specific shade, and this collection was all about celebrating shades of pink (we wonder -- was it in honor Breast Cancer Awareness month?). Brides flipped for the shade on Instagram, and we flipped for the oversized, origami detailing. 
7. Pockets! 
Our practical side loves the idea of being able to stash chapstick, tissues, and small sentimental items directly on person. This pocketed JLM Couture number looks cool, and allows for exactly that. 
8. 60's Style Embellishment 
Jackie O would have died over the retro styles at Temperely London. From swing coats to hippie-chic sleeves, the swinging 60's were alive and well with this collection, and we couldn't get enough.