Never will we not love it when a wedding steps a bit outside tradition to showcase the participants' unique personalities. Here's 11 unique looks from bridal parties that did exactly that. PS—You should also check out Unique Bridesmaid Dresses We Love, Part One. 
1. Tropical Florals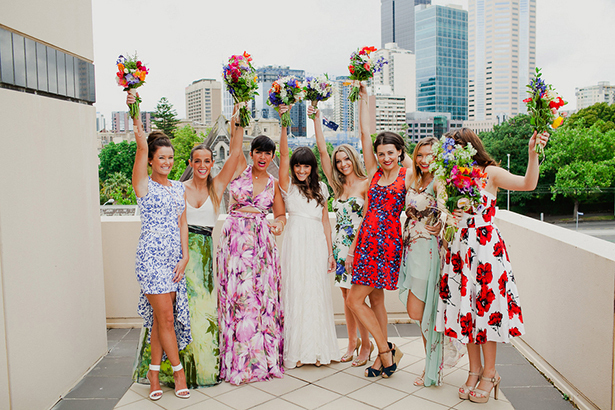 Photo by Oli Sansom 
Only two things unify this vibrantly mismatched set of bridesmaid dresses: pretty blooms and even prettier smiles. 
2. Stripes!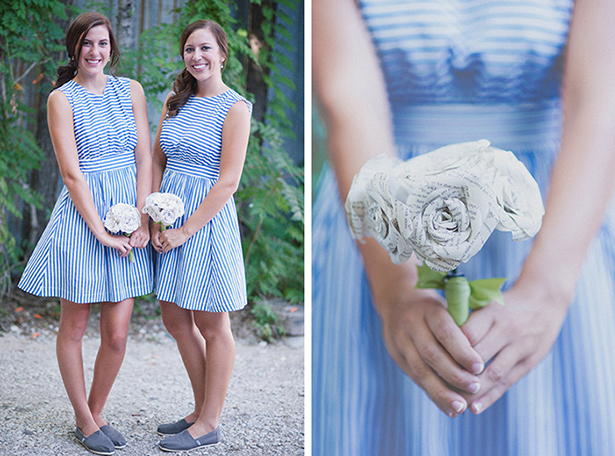 Photo by Nine Photography
The perfect option for a causal nautical-themed wedding. 
3. Velvet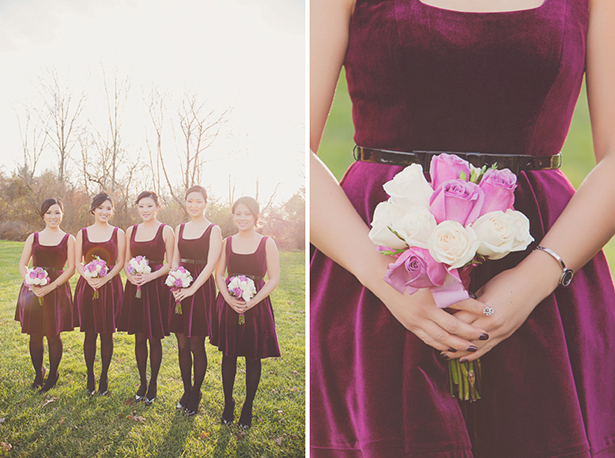 Photo Maria Mack Photography
Unexpected texture in a classic silhoette might just be our favorite way to score fashion points with a bridal party. This rich velvet look is perfect for a glam cold weather wedding. 
4. Saris!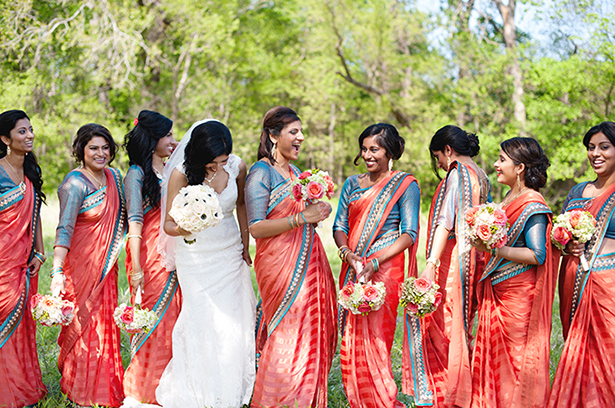 Photo by Nine Photography
Love this colorful nod to the bride's culture! 
5. Color-Blocking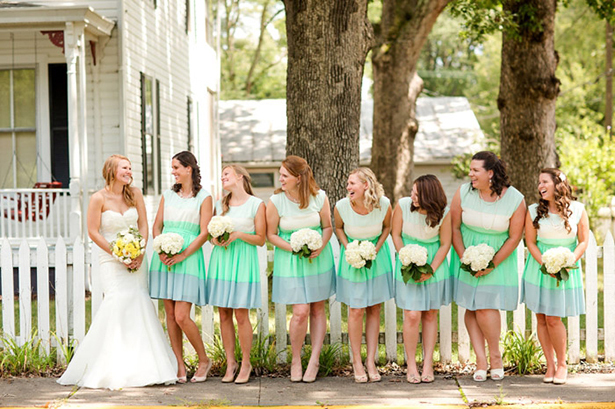 Photo by Katelyn James
Solid sections of sweet colors are a slighty more quirky alternative to the stripes listed above. 
6. Pale Pink + Jet Black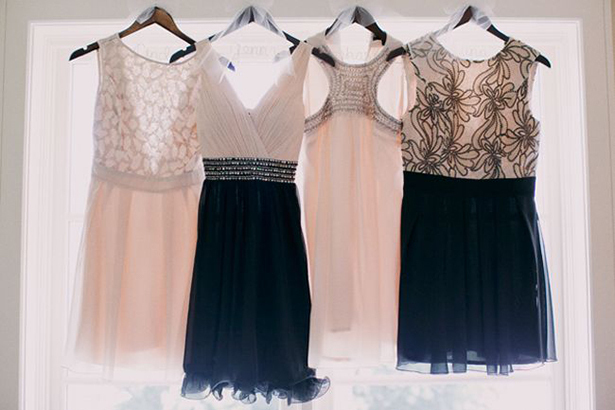 Photo by This Modern Romance
This already-glam look amps up the Va-Va-Voom factor with short hemlines. 
7. Skirts!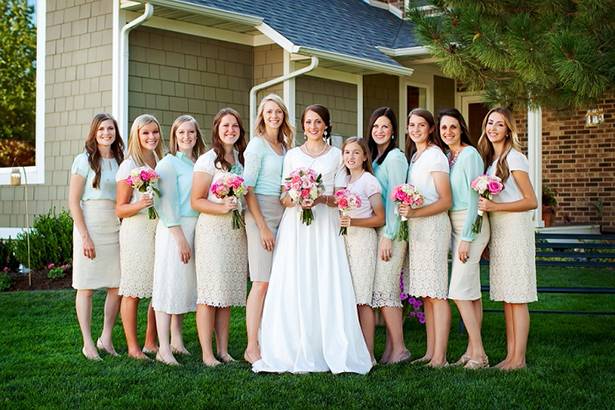 Photo by AK Studio Design
The pencil skirt and blouse combo satisfies the dress code for conservative weddings, casual weddings, and modern backyard weddings—doesn't get much more versatile than that! 
8. Citrine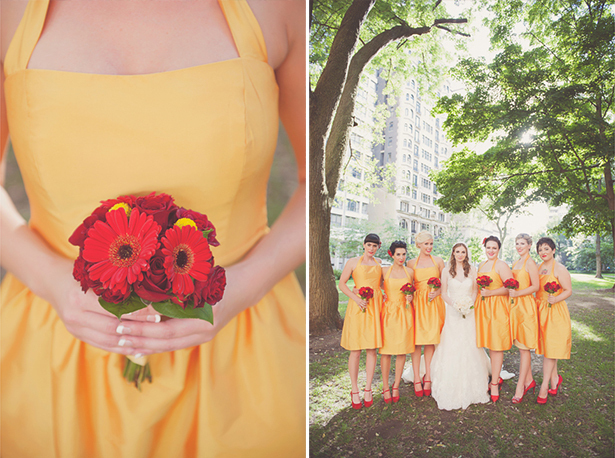 Photo by Maria Mack Photography
We've seen yellow bridesmaid dresses before, but never something quite this bright. When paired with Poppy red, it's the perfect non-conformist retro bridesmaid look. 
9. Blue Steel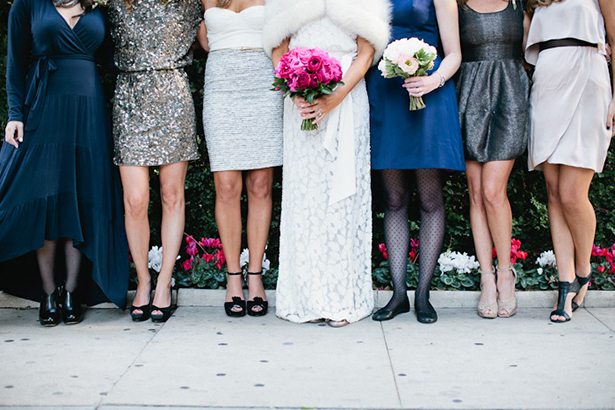 Photo by Erin Hearts Court
This icy-cool color combo would be an edgy and refreshing choice for a downtown summer wedding. 
10. Choose Your Own Adventure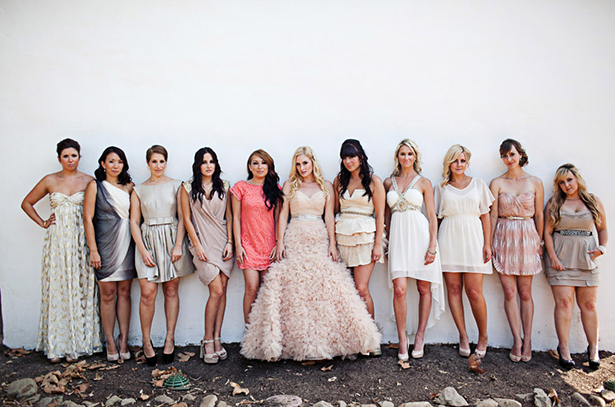 Photo by Meg Perotti
From the looks of this photograph, we're guessing that each bridesmaid was instructed to wear the dress they felt they looked the sassiest in. 
11. Cocktail Time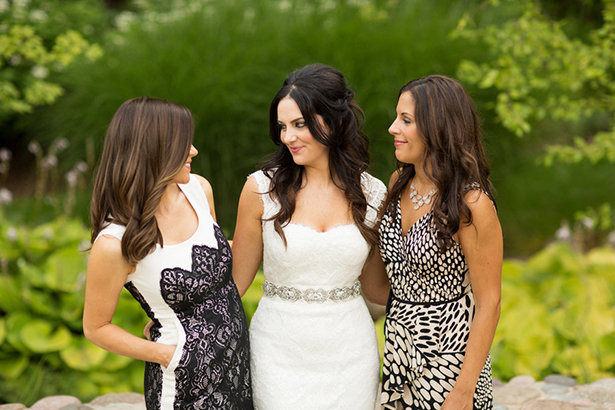 Photo by Stephanie N. Baker Photography & Graphic Design
We're seriously digging the graphic party attire these girls donned for their friend's big day. Talk about dresses they'll actually wear again!