Wedding dress designs are more elaborate than ever these days, often leaving little room for extra accessories. But what about the bride that can't live without her jewelry? Here's five fashion-forward dress neckline and jewelry pairings that definitely don't feel like they're trying too hard. 
1. Tee Shirt Neckline + Statement Necklace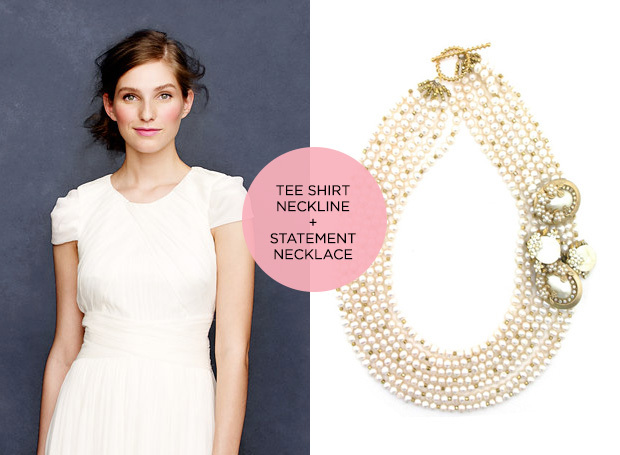 The beauty of being a bit more covered up on top is that you can go overboard on neck baubles. If your wedding dress fits more like a T-shirt, a major statement necklace will glam things up without sacrificing sweetness. Perfect Pairing: J. Crew's Dauphine gown and the Delight in What is Present necklace by Elva Fields ($238).  
2. Sleek and Strapless + Long Earrings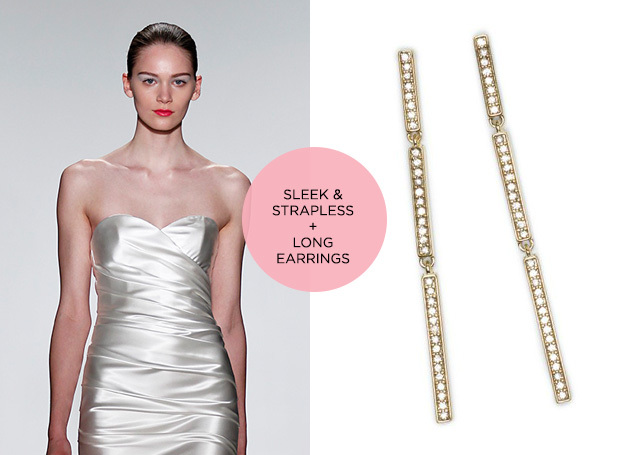 Don't cover up those gorgeous collar bones with a big necklace! If your gown is sleek and strapless, show off glowing skin instead with delicate, dangling earrings. Sick and tired of chandeliers? Try a pair of drop down pendants instead. Perfect Pairing: Kenneth Pool Spring 2014 and Club Monaco's Long and Lean earring ($49.50). 
3. Portrait Neckline + Monogram Necklace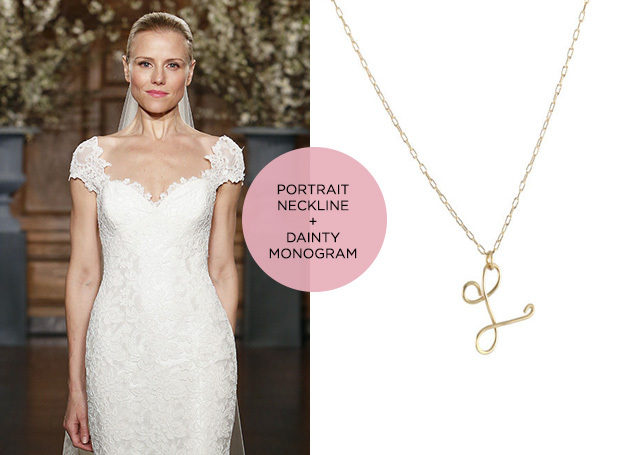 For the romantic bride who's always looking for sentimental touches, we love the idea of accenting the curves of a lace portrait neckline with a delicate gold charm—especially if it's the first initial of her new last name. Perfect Pairing: Legends by Romona Keveza Spring 2014 and Peggy Li's Cursive Initial Necklace ($44). 
4. Dramatic Collar + Demure Studs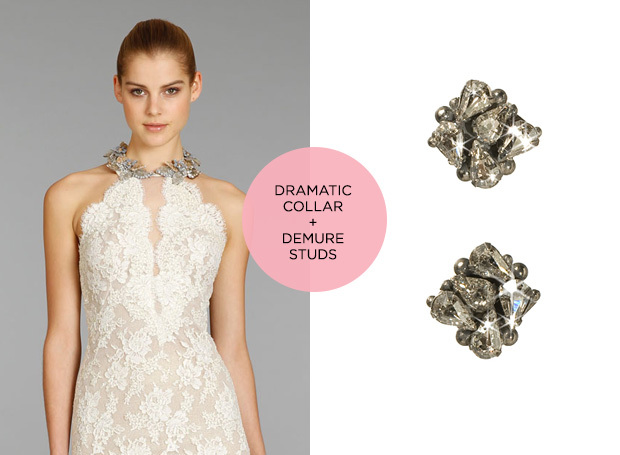 An embellished halter makes a statement all on its own, but, if you really can't resist the extra flourish, find small stud earrings with the same finish as your collar. They'll add to the ornate effect without making you look like a medieval princess. Perfect Pairing: Lazaro Spring 2014 and the Teardrop Cluster Stud Earring by Sorrelli ($62.50). 
5. Skinny Spaghetti Straps + Jeweled Headpiece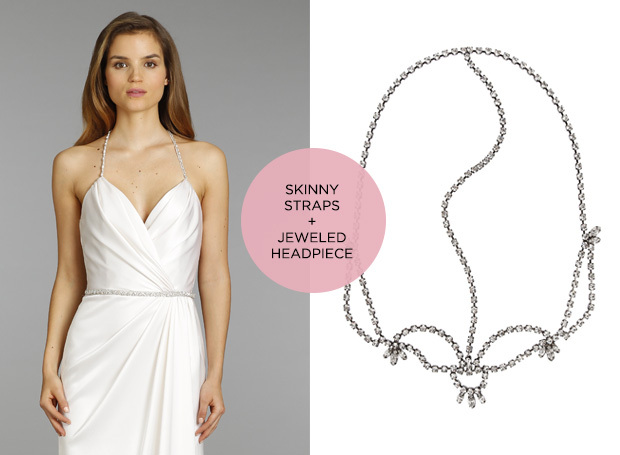 A jeweled headpiece is beautiful option for the Boho bride who wants to look a little funkier on her wedding day. Wear with dainty spaghetti straps for a carefree, beachy look. Perfect Pairing: Jim Hjelm Spring 2014 and Jennifer Behr's Delphinius Diadem Swarovski crystal headpiece ($425 at Net-a-Porter).  
Related: Engagement Ring Inspiration | 9 Amazing Bridal Statement Necklaces