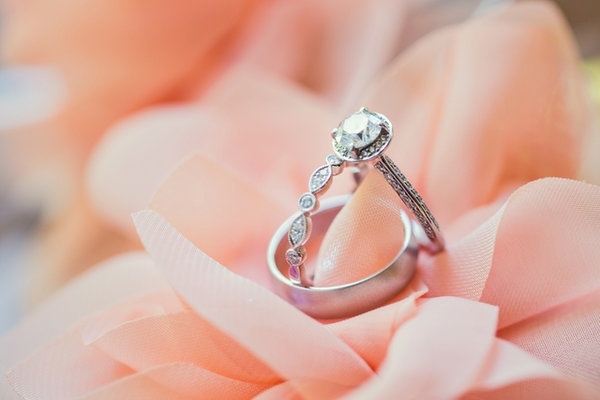 Photo by Blueberry Photography
Congratulations on finding the woman of your dreams--now it's time to start thinking about popping the question along with the bling! Here's how to buy the perfect rock:
What is the budget?
The standard rule is up to three months' salary, but that's a myth. It's better to figure out how much you're willing to spend upfront, so she can look (or hint) accordingly.
What are the 4 C's?
Cut, clarity, color and carat -- are the 4 C's to choosing an engagement ring. Clarity are those letters and numbers that represent the internal flaws of a diamond which include: FL - flawless, IF - internally flawless, VS-1 and 2 - very slightly included 1 and 2, VVS-1 and 2 - very, very slightly included 1 and 2 and SI-1 and 2 - slightly included 1 and 2. Remember, clarity tends to stand out more in the light. Color is those alphabetical letters from D to Z that represent how close a diamond reaches colorlessness. Carat represents the weight of a diamond, and cut represents the shape or style of the diamond.
What style ring do she want?
It's imperative that you know which type of setting, shape and metal she prefers. After all, the engagement ring will be on her finger for FOREVER! Shapes include: emerald, asscher, round, marquise, oval, pear, princess, cushion, radiant and heart. Settings include: halo, solitaire, prong, tension, channel, bezel and gypsy. Metals include: platinum, gold, rose or white gold or titanium.
Where is the best place to purchase?
It's financially intelligent to purchase an engagement ring online. You will have much less overhead as well as lower prices at an online retailer whereas you will have much more overhead as well as higher prices at a store retailer. However, purchasing at a store retailer allows you to see the overall look and feel of the engagement ring in-person whereas an at online retailer, what you see in the pictures is what you get.
What is the jewelry company's return policy?
Whether you're purchasing online or in-store, the diamond should come with product documentation that specifies characteristics from the Gemological Institute of America. Most online and store retailers have a 30-day money back guarantee for returns as long as the engagement ring is in the same condition it was purchased in. Keep all product documentation and receipts!