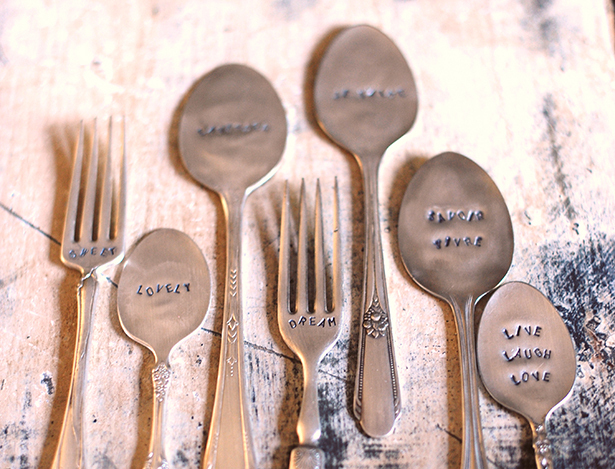 Photo by XO Andrea Photography 
Stocking up on a proper set of silverware is a crucial part of the wedding registry process. Finally ready to graduate from the hodge-podge set you've pieced together since college? Here's the low-down on what types of materials to consider, how many pieces to ask for, and how to properly take care of it when it's in your kitchen. 
Picking your Material
Sterling Silver: Flatware composed of sterling silver is higher in price and traditionally used in formal dining. Because of its high shine and high quality, sterling silver flatware is valuable and best saved for special occasions or a time you want to add elegant touches to your place settings. The quality is reflected in the price with this option as its best at resisting scratches and breaking.
Silver-Plated: A cost effective alternative to sterling silverware, this option is generally composed of brass or nickel and is then plated in fine silver for a high shine and luxurious look. The thickness of the plating depends upon the pattern used for the flatware. Keep in mind that the thicker the plating, the more expensive the set will be.
Stainless Steel: Stainless steel flatware is composed of varying iron alloys. To ensure your set is high in quality, look for one that has an 18/10 designation on it. This means it is made up of 18% chrome and 10% nickel and is considered the highest quality stainless steel.
The Pieces to Register for
When it comes to basic eating utensils, we recommend registering for four 5-piece place settings. A five piece place setting typically includes a tablespoon (the larger spoon), a teaspoon (the smaller spoon), a dinner knife, a dinner fork, and a salad fork. Even if you don't plan on entertaining frequently, a set of basic serving utensils is also a must. Our list: 5 butter knives (one for each place setting), a soup ladle, a slotted spoon and/or a pasta spoon with slots, and a large fork and spoon set for serving salads and pasta salads.
Flatware Care
Make your life easier by registering for a flatware set that you know is dishwasher safe. To prevent water spots, towel dry your flatware when removing it from the dishwasher.
Want more registry advice/inspiration? Follow our Registry Editor today and never miss an article!