Yes, weddings are filled with gorgeous gowns, pretty flowers, and delicious cakes, but at their core, they're about the time you share with friends, family, and your future spouse. Here's 10 of the most unforgettable moments like this we encountered this year, all pulled from real world weddings. 
Related: Top 10 Real Wedding Dresses of 2013
Emily and Ben's Emotional First Look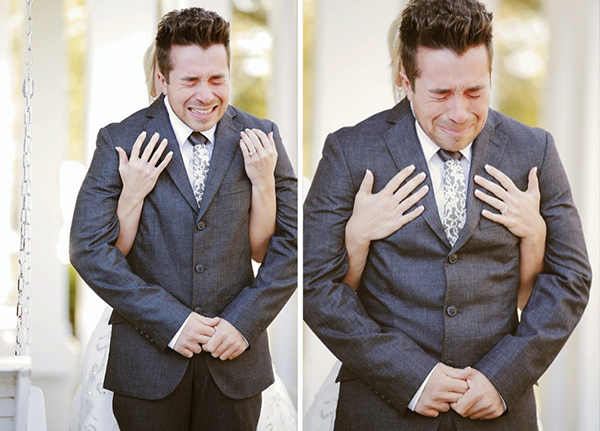 Photo by Gideon Photography
Proof positive that grooms get teary-eyed, too! 
Silka's Proud Mom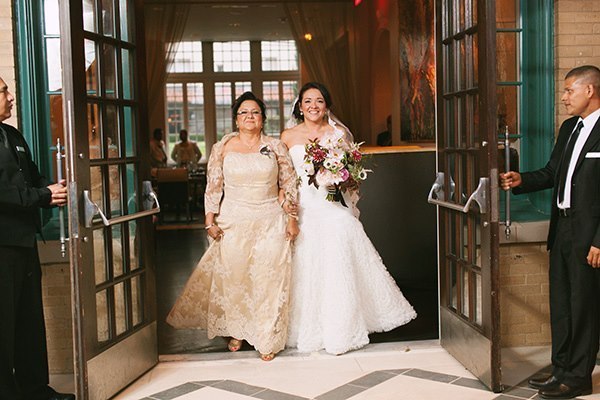 Photo by Ben Q. Photography 
Fathers aren't always the ideal candidate to give you away, and that is completely OK. For her Dallas wedding, bride Silka was escorted by her mother, and we have never seen a person look so proud to be arm and arm with their offspring. It reminds us that weddings aren't just for you and your spouse-to-be—they're also a supremely special moment for every member of your family. 
Lisa and Adam Say "I Dew" 
Photo by Brio Art by Katie Fears
Both Lisa and Adam have been huge Mountain Dew drinkers since they were kids—so they took a swig of the green stuff when saying I Do! Weddings are all celebrating what makes you unique as a couple, and we love that this Georgia twosome took that to heart—even if it involved bringing a soft drink to the altar. 
Danielle and Tucker's Altar Excitement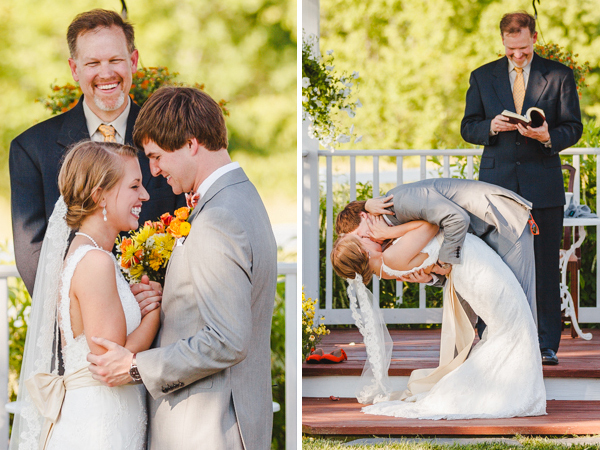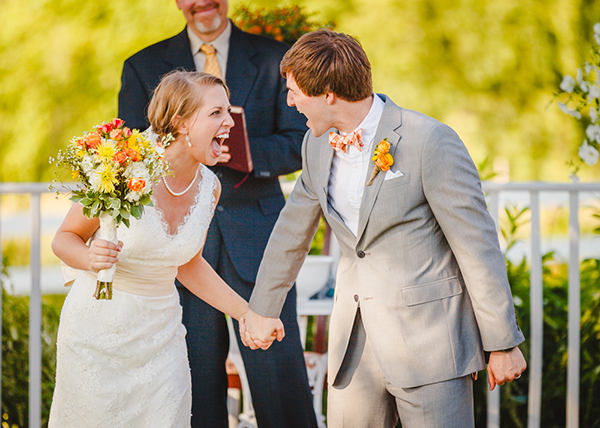 Photos by Steven and Lily Photography 
The readiness to be Mr. & Mrs. is certainly palpable between this Virginia couple. From the deep, dramatic kiss to those super excited faces, Danielle and Tucker reminds us just how awesome it is to get married. 
Corey's Gorgeous Groomsmen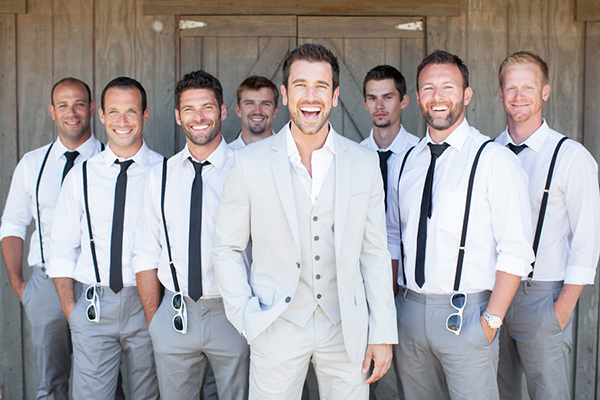 Photo by Shaun & Skyla Walton 
The tans. Those smiles. Sorry, but we're still swooning over this handsome wedding party—and it doesn't hurt that the bridesmaids they paired off with wore some of our favorite dresses of the year. 
Pete's Marching Band Surprise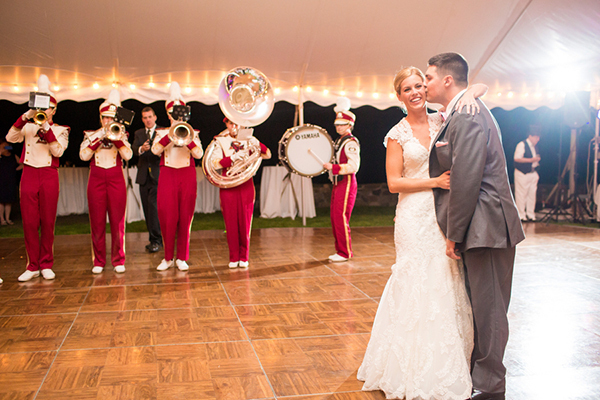 Photo by Shannon Cronin Photography 
Pete kept a performance by their alma mater's marching band a secret from his bride for over six months.  When they showed up at the reception, the bride was truly touched.
"As a bride, you go over every single detail of the day over and over in your head, so for me to be so genuinely surprised by something my husband had planned was truly special," says Julie. 
Dancing in Confetti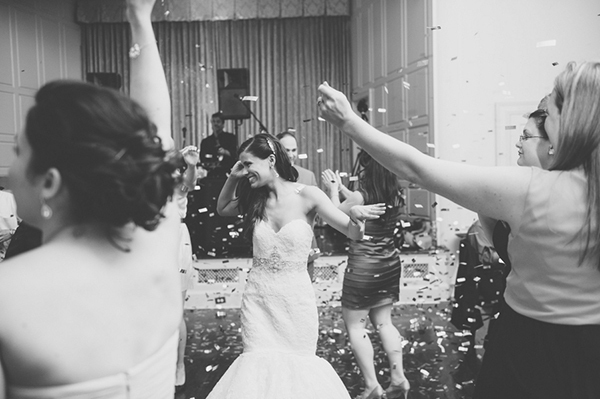 Photo by Katie Slater Photography 
One gorgeous bride, surrounded by family, best friends, and piles of confetti. We wish we could be this happy every day of our lives. 
Cheers!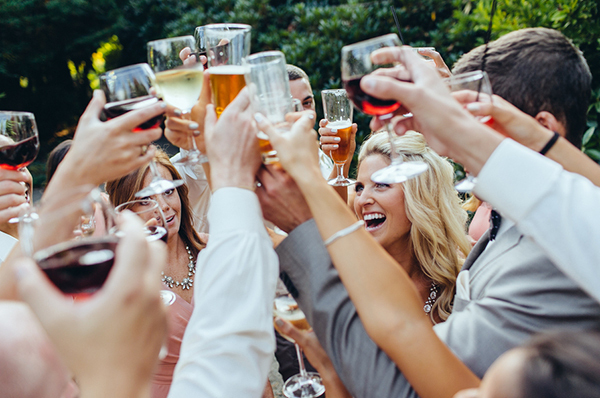 Photo by Maxwell Monty Photography 
At the end of the day, a wedding is a big party with everyone you love most in the world. If you're not having this much fun, then you're just not doing it right. 
Allia and Grant's Sunset Kiss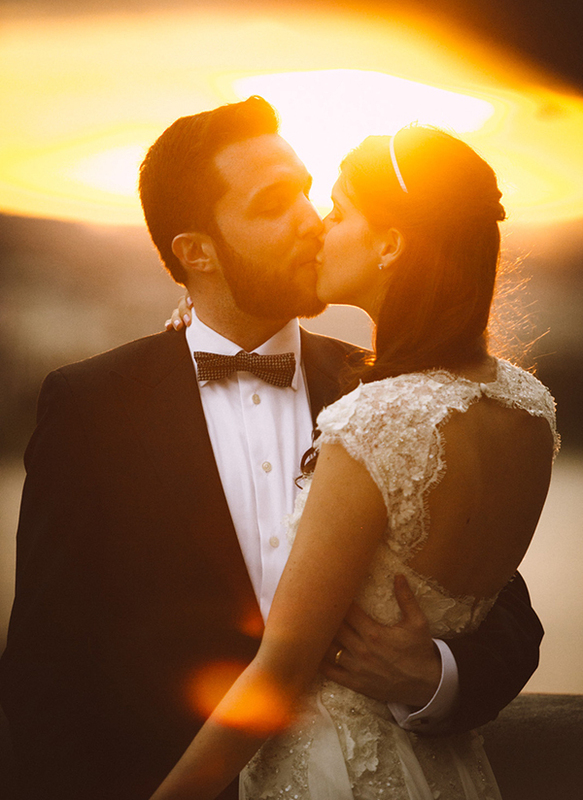 Photo by Joel Bedford Photography
Allia and Grant met as high school students studying abroad in Europe, and fell in love while watching the sunset in Santorini. So it's only fitting that their wedding ended with an equally memorable smooch!  
Tanya and Josh's Sparkler Send-Off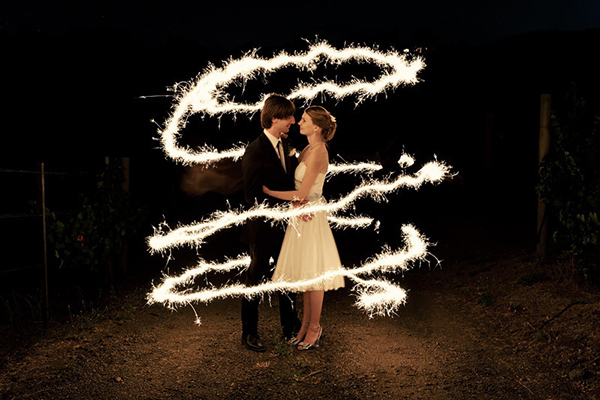 Photo by Josh Goodman Photography 
Does it get any more magical than a couple circled in sparkler lights? Nope, didnt think so. We see plenty of sparkler send-offs here at Project Wedding, but we love how beautifully this shot highlights a still moment of total infatuation between Malibu couple Tanya and Mark.