From September to November, we can't help but notice the crisp air, changing colors of leaves, and fresh harvest. Not to mention the weddings! All these details combined bring together the perfect palette that you can be thankful for. Here's why: 
Photo: Whitney Photo & Video 
Bold Bridesmaid Dresses - Jewel tones are in and pastels are out! Ask each bridesmaid to chose their own dress in order to mix 'n' match.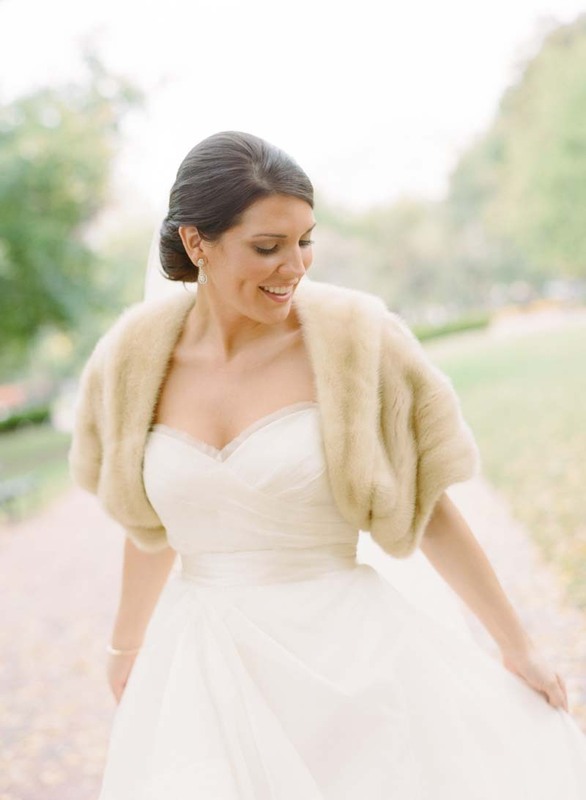 Photo: Abby Jiu Photography
Keeping Warm - Accessorize your wedding gown with a faux fur coat, gift your bridesmaids pashmina shawls, or have a bonfire complete with s'mores.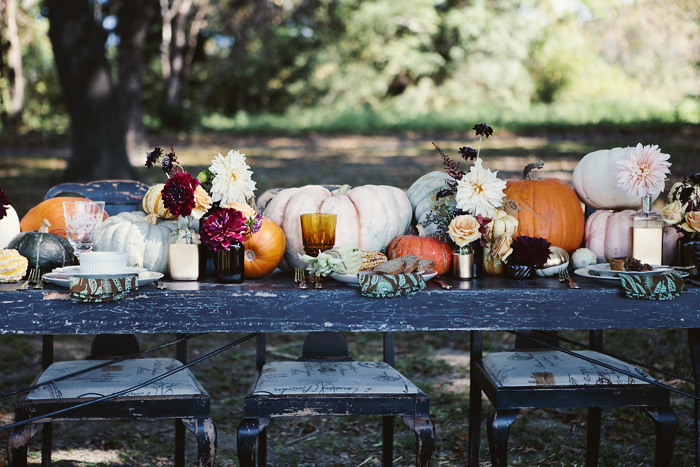 Photo: Heather Hawkins 
Festive Decor - Use organic elements like pumpkins, leaves, apples and feathers to bring a seasonal touch to your aisle markers, tablescapes, stationery displays and food stations.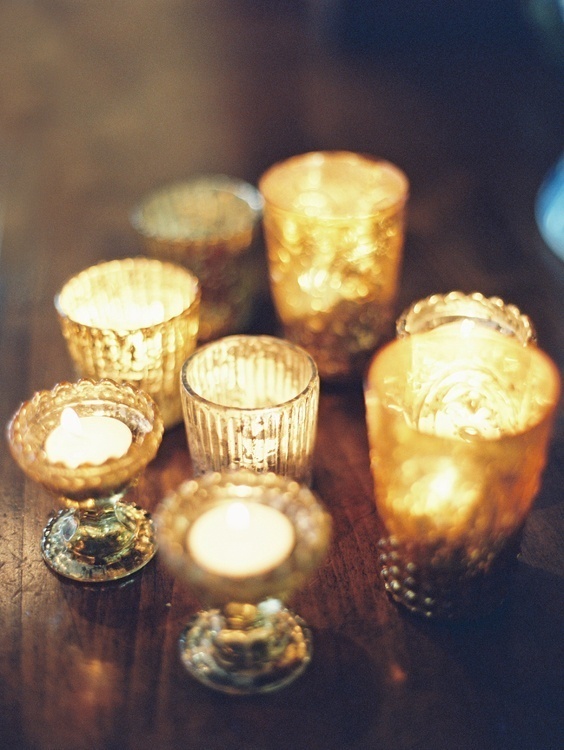 Photo: Landon Jacob Productions 
Twinkling Lights - Create a romantic ambiance with lanterns, floating candles, or sparkler send off.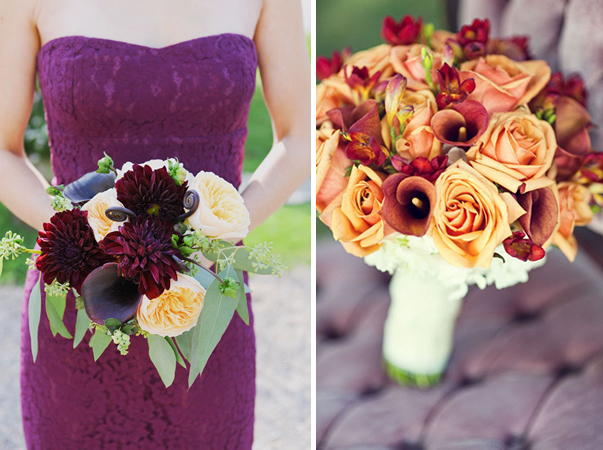 Photos (from left to right): Christa Elyce and Delbarr Moradi
Brilliant Blooms - With their deep, dramatic colors and elaborate textures, fall flowers are simply stunning. Aubergine calla lilies, ruby dahlias, chocolate cosmos and dark pink amaranth are just a few of our favorites.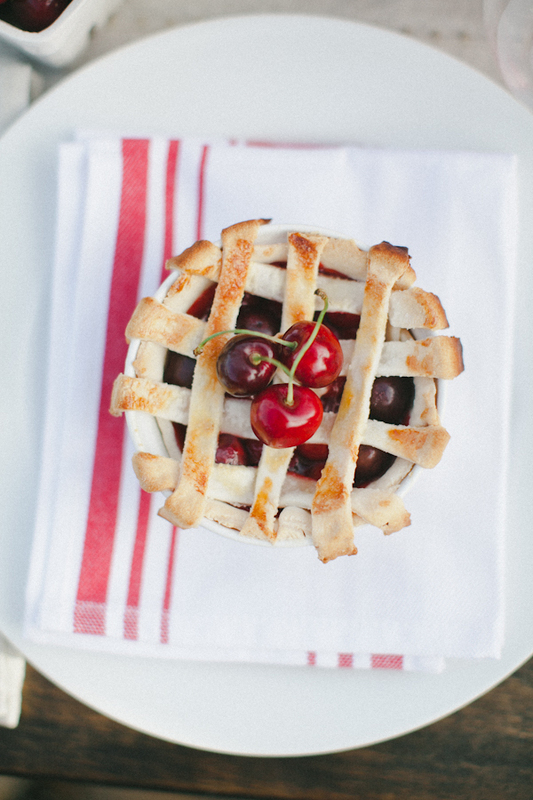 Photo: Caroline Joy
Pies - Who can resist a slice of warm apple pie, pecan pie, cherry pie, or pumpkin pie topped with whipped cream?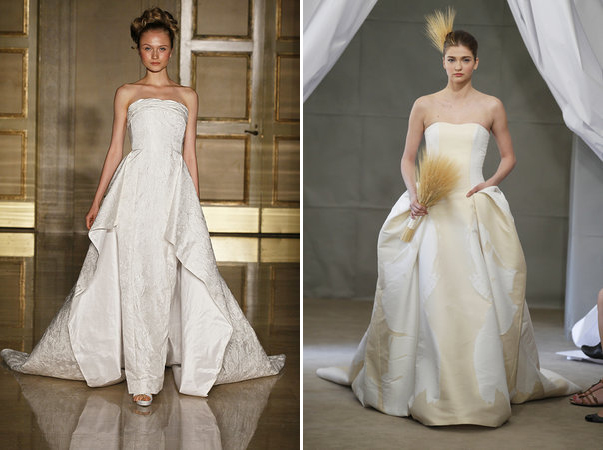 Dress Designers (from left to right): Douglas Hannant and Carolina Herrera;  Photos: Dan Lecca 
Luxe Bridal Gowns - Fall brings a new selection of rich, exquisite bridal fabrics like duchess satin, silk mikado and brocade.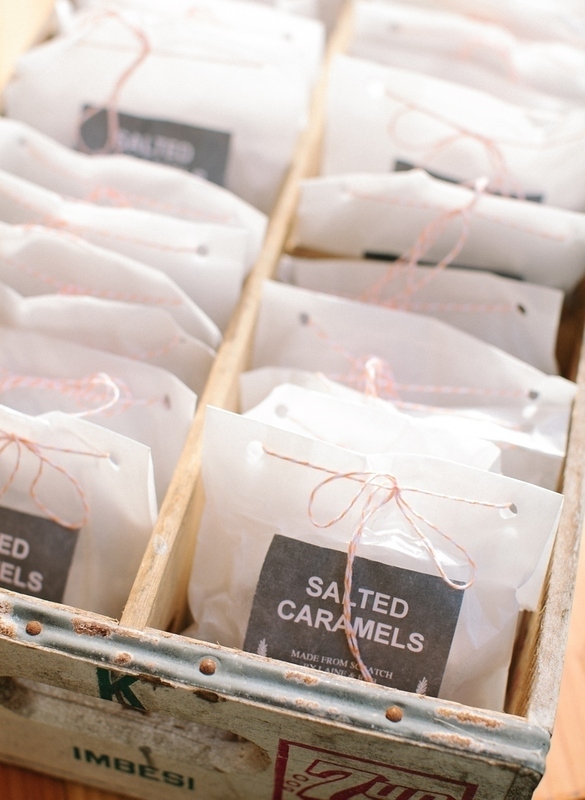 Photo: Jodi Miller Photography
Salted Caramels - Instead of the obvious caramel-covered apples, package bite-size salted caramels as favors.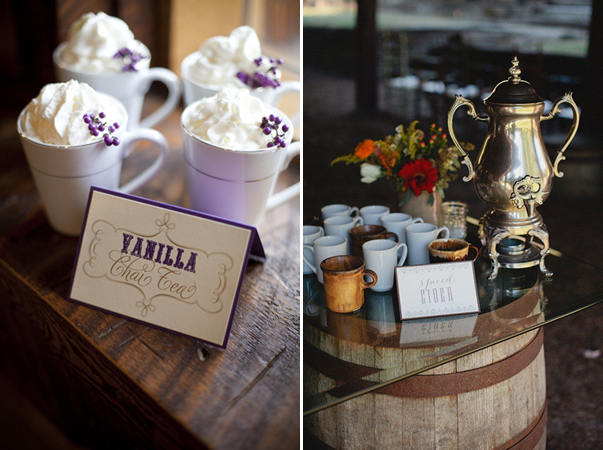 Photos (from left to right): Britt Chundleigh and Kristyn Hogan 
Hot Beverage Stations - Get creative with your signature drinks. Serve up a scrumptious spin on an old favorite like hot cocoa or spiced cider.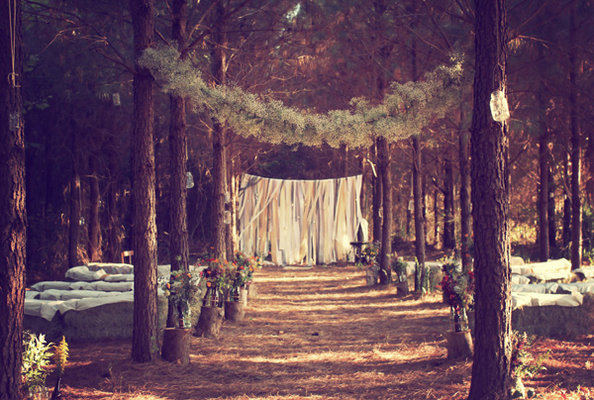 Photo: Twin Hearts Photography
Readymade Rustic - With its brilliant earthy colors and sweet woodsy scent, the season serves as a stunning built-in backdrop for a rustic style wedding.