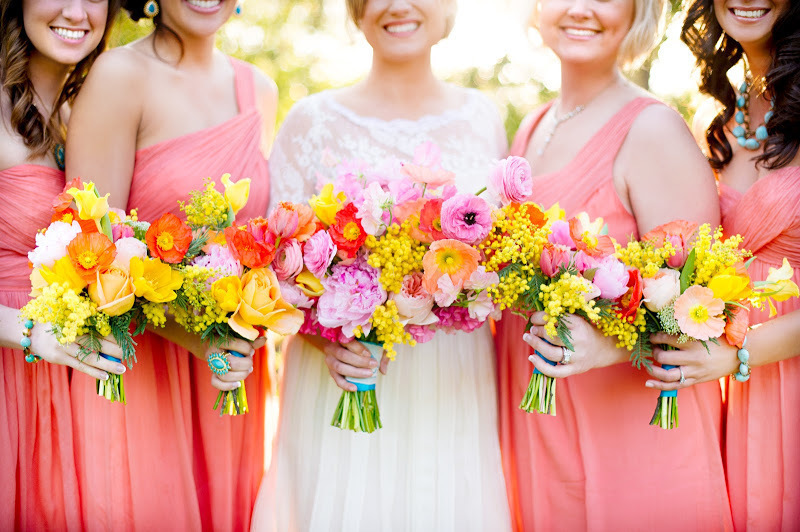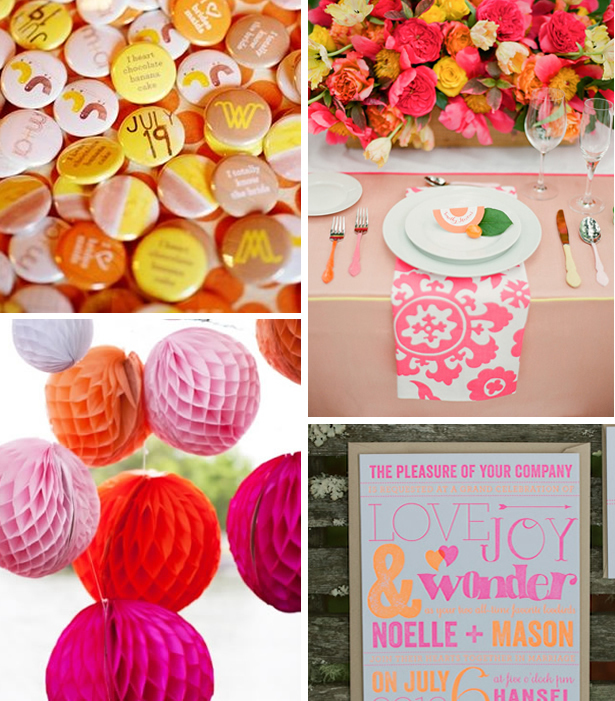 Photos (clockwise from top left): Squaresville Studios, KT Merry, This Modern Romance, Jodi Miller Photography, and Union Photography
Need inspiration for a summer wedding? A few of our editors share their favorites below:
From the Stationery Editor –  Get creative with your invitation wording! Instead of "Mr. and Mrs. (parent's names) request the honor of your presence," use "the pleasure of your company" or "together with our families." Check out more colorful wedding invitations here.
From the Fashion Editor –  Choose a bridesmaid dress color that's bright — coral, hot pink, aqua blue or royal blue. Check out Rachel and Craig's, Amira and Mike's, or Marbella and Frank's bridesmaid dresses for more inspiration.
From the Flowers Editor – Bouquets of hydrangeas, baby's breath, sunflowers, craspedia balls, poppies, and lavender are a must-have. Check out more summer bouquets here.
From the Decor Editor –  Add a whimsical touch to your ceremony arch or arbor with crepe paper honeycombs or streamers and patterned linens on your reception tables. Check out more tablescapesand place settings here.
From the Favors Editor – Customize buttons for your guests to take home as keepsakes. Check out Kaylie and Noah's and Allison and Mark's. (Can you guess which couple had lips and mustaches on theirs?)