Usually, on the night of the rehearsal dinner or early wedding day morning, the exchange of gifts takes place. The bridal party typically receives a token of gratitude, and the bride and groom also give gifts to one another. So, as if shopping for the love of your life wasn't hard enough, what could you possibly get him for his wedding present?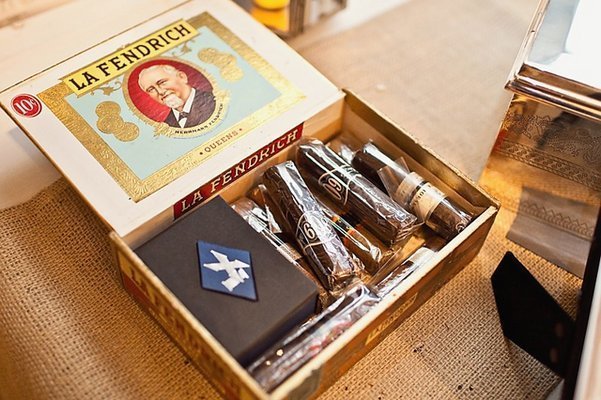 Photography by: Michael Moss
Hopefully, I can shed a bit of light on the subject and get your creative juices flowing.
Wedding Present Brainstorming for Him
Your future husband certainly has interests, which you should take full advantage of when it comes to locating his wedding present. What activities do you see him participating in? Is he completely obsessed when football season rolls around? Perhaps season tickets would be perfect for his wedding present.
Tap Into His Interests
Is your groom a technology fanatic, keeping his eye on all the latest gadgets and constantly tinkering with his iPhone? Take this fascination to heart and seek his wedding present at the local electronics shop, like Best Buy or Apple. Does he like to play video games? Well, then you're just in luck because there is a plethora of gaming accessories and software to consider. Keep a look out to how he reacts when a commercial for a new release is mentioned on TV.
Take Advantage of His Hobbies
Hobbies will come in handy when choosing his wedding present as well. Tap into the kinds of things that make him happy and you'll never go wrong. Perhaps he's a Babe Ruth fan and collects old baseball cards. What about his poker playing with friends over the weekend? Does he like to tune-up classic cars? Do you have a master griller in the house? Then, a new grill, personalized poker set, or vintage rookie cards from eBay might be just the kinds of things to consider for his wedding present.
The Music Man
For the man who enjoys his music, consider the joy of owning an MP3 player or iPod. Today, you can even combine music, movies, and phone use into one by choosing an iPod Touch - a product much similar to the iPhone.
Straight From the Heart
Sometimes, you just want to choose his wedding present because of sentimental reasons. Framed photos of the two of you together; a slideshow consisting of special moments; or a memento from the past can all become touching, heartfelt presents for your groom. Monogrammed or personalized or just plain shiny, a gold money clip is another great way to present your fiancé with a cherished wedding gift.