Your wedding ring is the single most important piece of jewelry you will ever wear.  It's a sign of everlasting love and commitment.  Many grooms and brides have opted to engrave their spouse's wedding ring with a touching phrase, the wedding date or something else that's special to the two of them.  Below you will find some helpful information that will help you determine whether you should engrave your ring.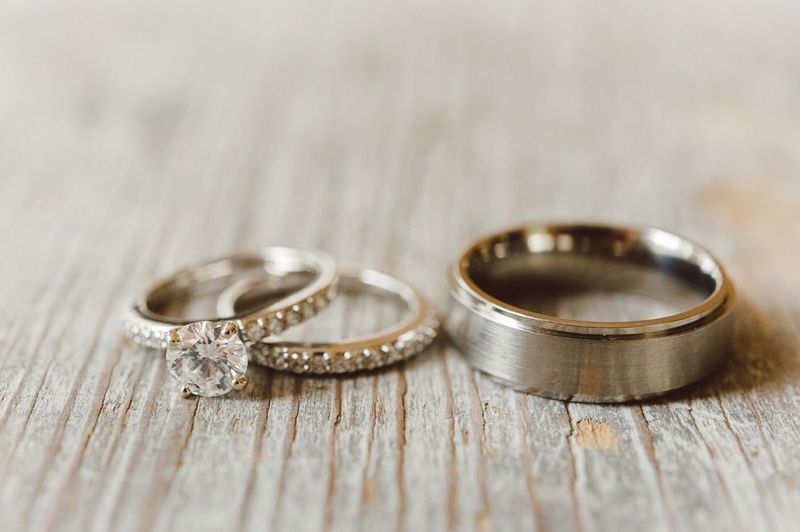 Photo: Jeff Loves Jessica, Jewelry: Bergstrom
Band Width and Type -
Some rings are simply too small to be engraved - that includes rings that are smaller than 3 millimeters.  Between 4 and 6 millimeters is the perfect size for engraving and larger than this creates an opportunity to have two rows of text.  Make sure your ring is large enough to be engraved, or the words may come out illegible and it may not look that great.  Also, think about your wedding ring type. 
If it's gold, you might consider getting it hand engraved by an artist who can provide the lettering you want.  Gold gives way nicely under a hand engraver's tools while Platinum and other metals are more difficult to engrave this way.  For those metals, consider having them laser-engraved.  This is usually done by a machine which can provide several different kinds of lettering and even symbols.
What Will You Say?
If you have decided that you should engrave your ring, there are many different possibilities.  You can stick with the traditional idea of placing your name, your spouse's name and the wedding date - or your can do something a little more personal.  Some individuals place phrases from a favorite song, poem, scripture or something else that means a lot to the couple.  It can be sentimental, funny or however you want it.  Below you will find a few examples of engraved messages:
"I Got You Babe."
"You Are My Sunshine."
"Forever and Always."
"My Other Half."
"Forever My Darling."
"What Have We Done?"
Depending upon your personality and your spouse's personality, you may opt for a funny message that only your spouse would understand and cherish - or something sentimental and sweet.
Important Tips -
There are a few things you should make sure of when you decide to engrave your ring.  First and foremost, ask for samples of the engraver's past work so you can determine whether he or she should be the one to do the work.  Also, ask whether the engraving will be done in house or sent out - and whether it's insured if it is sent out.  Then, determine how long it will take to be completed so you can ensure that it will be done before the ceremony.
An inscription on a ring is sure to be cherished for many years to come.  By going over the basics, you can make sure you actually want to engrave it and that it will be done correctly.