If you have chosen to wear a veil with your wedding dress, selecting the correct one is pretty important.  Before trying on veils, you should choose your wedding dress so you can try the pieces on together in order to determine the overall look and whether you love it or...not so much.  If you're not quite sure which veil to choose, this guide to veil trends will help you determine which type is perfect for you.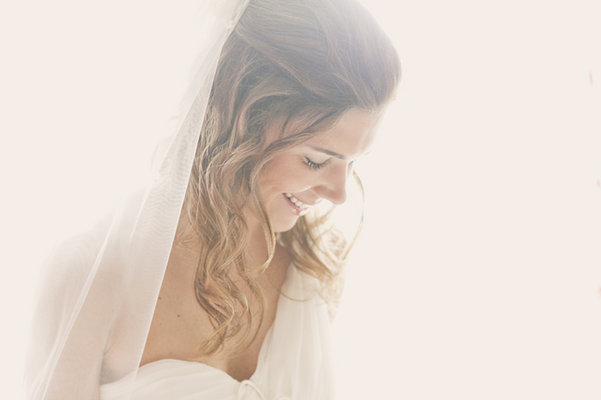 Photo & Event Design by Branco Prata
Birdcage Veil - Get perfect Hollywood look with a birdcage veil. We've seen a huge comeback of this style as incorporating vintage elements continues to be a popular trend. This is also the perfect length if you want something to slightly cover your face, just over your eyes.  
Flyaway Veil - A flyaway veil or shoulder-length veil is less than 20" and usually ends at the shoulders or just above.  This is a perfect veil for summer-type wedding dresses that are knee-length or above.  A flyaway veil can be worn with or without a headpiece.
Blusher Veil - A blusher is the veil which covers the bride's face until she is ready to give her new husband that oh-so-special kiss.  This veil can be any length, from 20" to knee-length.  One important tip with a blusher is to ensure that the length is great enough to allow the veil to be pushed back over the face when the time comes.
Elbow Length Veil - The elbow length veil ends at the bride's elbows, and is one of the most popular veil trends.  This is the perfect veil to wear with any style of wedding dress, but is particularly beautiful with strapless dresses.  This type of veil can be worn with or without a headpiece.
Fingertip Length Veil - The fingertip length veil is another one of the more popular veil trends, and ends at the bride's fingertips.  It is usually around 36" in length and looks very elegant with any style of wedding dress.  One tip to remember whit the fingertip length veil is that it should be very thin or sheer if you want the back of your wedding dress to show.
Ballet Veil - The ballet-style veil usually falls at knee-length and is around 56" long.  This veil is beautiful with full, luxurious wedding dresses but can be worn with any style dress - as long as the dress is not shorter than the veil. 
Chapel Length Veil - This veil brushes the ground as you walk, and usually measures 108" long.  This is a gorgeous and dramatic veil and looks wonderful with full dresses which also brush the ground.  This veil should not be worn with a dress which is any shorter than ground-length.
Cathedral Length Veil - This veil is particularly beautiful for a formal wedding and with a dress which brushes the ground.  It is dramatic and stylish, perfect for a church wedding or other formal wedding.  It should only be worn with dresses which are full length, brushing the ground or longer.
By choosing the veil trends that you love the most and fitting the veil with your dress, you can achieve the perfect bridal look!