Wedding guests typically bring gifts as a way of blessing the bride and groom's marriage and helping to provide household items the couple will need.  These days, many couples already have the basic necessities for the home, but the wedding registry is a great way to receive things you don't have.  If you're not sure what to add to your list, here are some of the most useful registry items.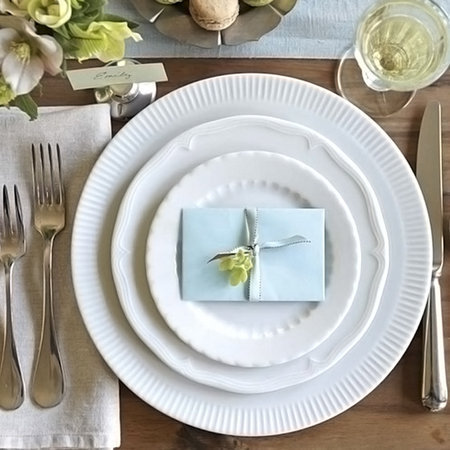 Photo by Williams-Sonoma
Most Useful Kitchen Registry Items -
The kitchen truly is the new living room - families spend time chatting about their day and enjoying each other's company around the table.  Since so much time is spent there, consider the special things you will need to make life easier.  Most brides-to-be will register for a china set - whether it's for special occasions or everyday use.  A few other examples of the most useful registry items for the kitchen include:
A Durable and High Quality Knife Set
Kitchen Appliances - Blender, Coffee Maker or Cappuccino Machine.
Flatware
High Quality Pots and Pans
Most Useful Bed and Bath Registry Items -
The great thing about a wedding registry is that you often receive items you wouldn't think of until you needed them.  Many brides register for luxurious sheet sets, bathroom rugs, towels and décor.  Below are a few other useful registry items for the bed and bath:
Guest Towels
Quilts or Duvet Sets
Scented or Decorative Soaps for the Bath.
Candles
Sheet Sets
Pillows
When registering, remember to include a wide range of gifts so each guest can pick something within their budget.  If you will be registering for a luxurious Egyptian cotton sheet set, also register for small picture frames to grace the bedside tables.  This way, your guests will not feel pressured to purchase something their budget doesn't allow.
Most Useful Household Registry Items -
There are some great registry items that you can list for the house, such as art or wall hangings, drapes and picture frames.  Consider the things you really need to complete your home and add those items to your list.  A few ideas include:
Throw Pillows
Lamps
Shelves
Side Tables
Pottery
By including items you feel as though you really need, you can ensure that every gift you receive will hold a special place in your home.