From gorgeous tablescapes to elegant hanging decor, there's so many ways to make a ballroom wedding look and feel especially glam! Get inspired by these beautiful event spaces, then explore similar ballroom venues in your area. 
1. MODERN GLAM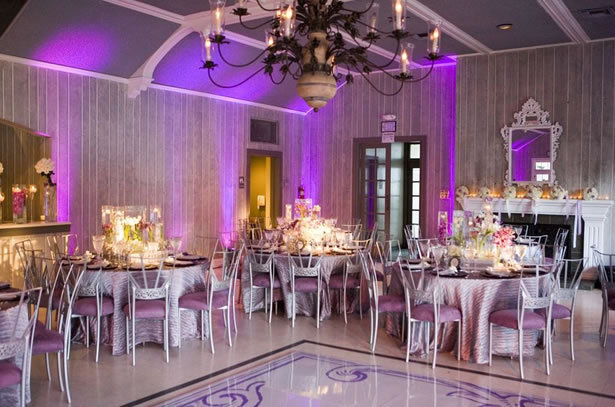 Photo by Skye Blu Photography
The purple and silver color scheme in the ballroom at Malibou Lake Mountain Club is simply stunning! 
2. ROMANTIC RECEPTION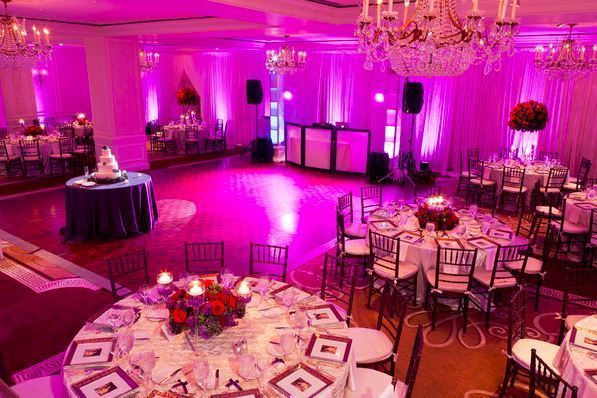 Photo courtesy of Loews Madison Hotel
We think the fuschia uplighting at this Loews Madison Hotel wedding in DC is oh-so-romantic! 
3. RUSTIC BALLROOM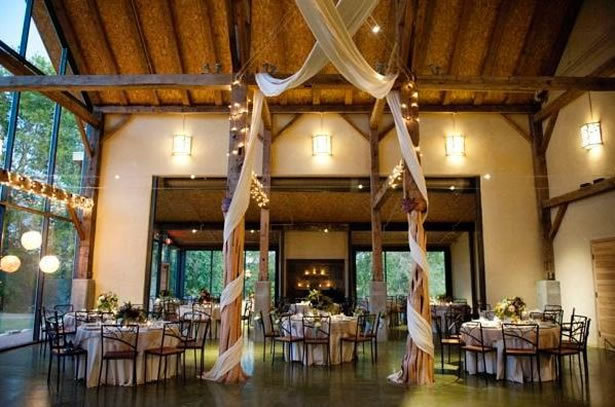 Photo courtesy of Barr Mansion & Artisan Ballroom
Rustic meets glamorous at the Artisan Ballroom in Austin, Texas. The wooden beams and floor-to-ceiling windows make for a great modern reception. 
4. UNIQUE CEREMONY SITE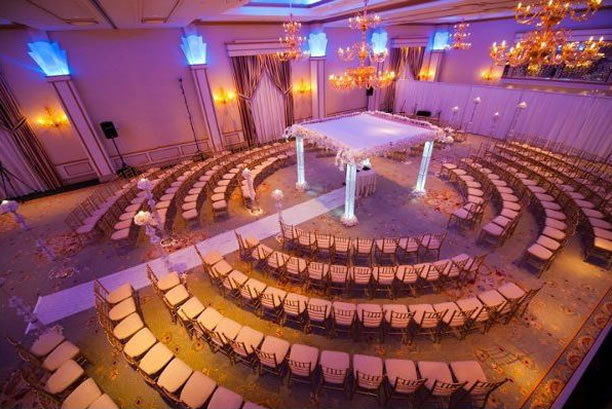 Photo courtesy of The Grove
Beautiful ballrooms aren't just for receptions! We're feeling the clever seating arrangement from this breath-taking wedding at The Grove in Cedar Grove, New Jersey. 
5. OLD HOLLYWOOD GLAM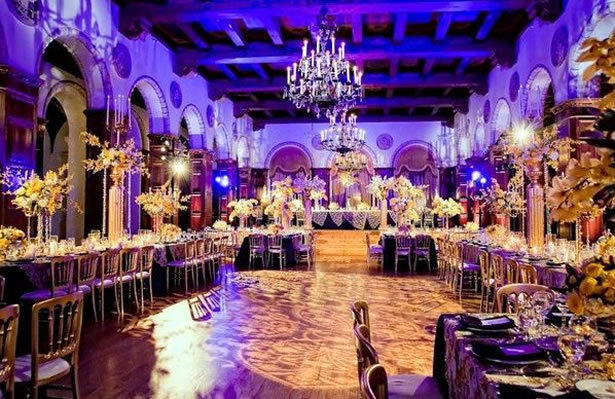 Photo Courtesy of The Legendary Park Plaza
Built in the midst of the roaring 20s, The Legendary Park Plaza in LA is the ideal place to live out your dream of an old Hollywood-inspired wedding. 
6. U-SHAPED RECEPTION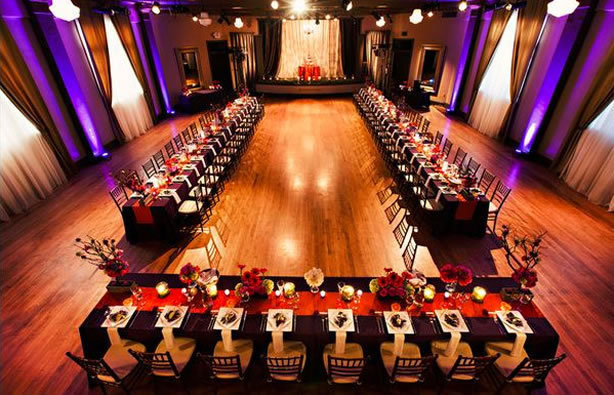 Photo courtesy of The West End Ballroom
The u-shaped table arrangement in The West End Ballroom in Portland, Oregon gives guests more breathing room and makes it easier to mingle! 
7. WATERFRONT CELEBRATION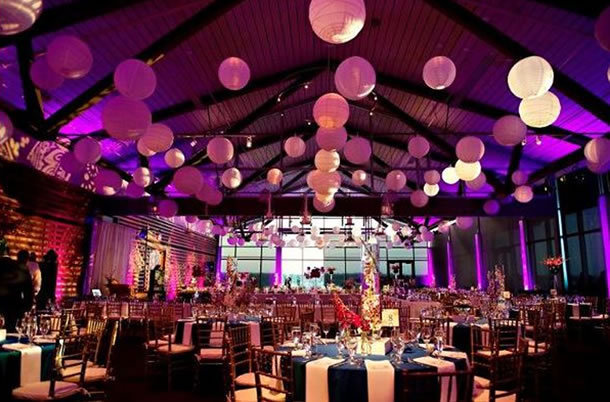 Photo courtesy of Lakeway Resort & Spa
We love this amazing reception space overlooking Lake Travis in Austin, Texas. Lakeway Resort & Spa is perfect for the couple who wants seaside glam! 
8. ELEGANT SPACE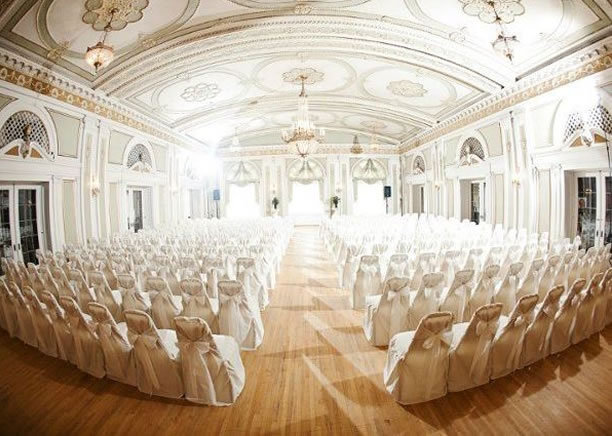 Photo courtesy of Greysolon Ballroom by Black Woods
The historic Greysolon Ballroom by Black Woods in Minnestoa is spacious and filled with elaborate decor, perfect for the couple seeking sophistication. 
9. CLASSIC GLAM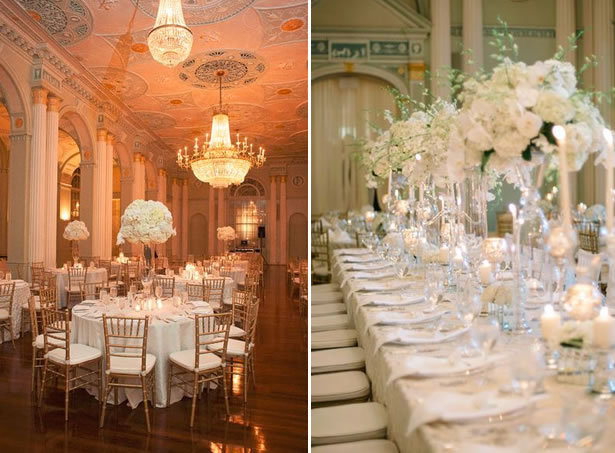 Photo courtesy of Jade Lee Events
Nothing says traditional ballroom like gold chivari chairs and white floral center pieces. Take a hint from this wedding designed by Jade Lee Events in Atlanta, Georgia! 
10. ROYAL RECEPTION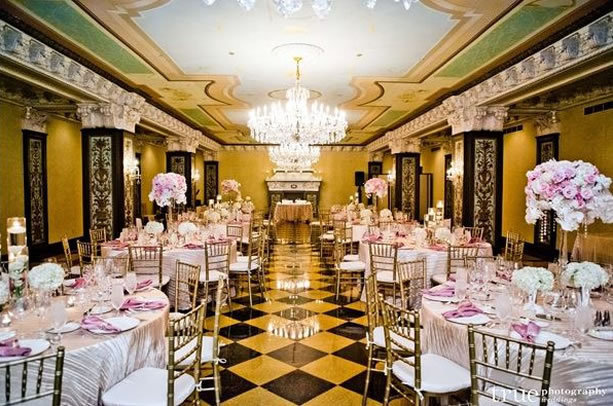 Photo courtesy of The US Grant, a Luxury Collection Hotel
The Crystal Ballroom at The US Grant in San Diego, California epitomizes glamour. From the black and gold travertine floor to the intricate columns, what's not to love?
11. INTIMATE BALLROOM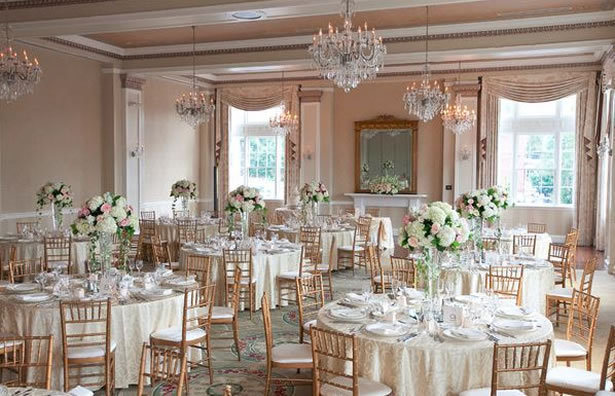 Photo courtesy of The George Washington Hotel- A Wyndham Grand Hotel
If you want to have a cozy wedding reception without sacrificing the glamour of a big one- get inspired by this wedding at The George Washington Hotel in Winchester, Virginia.