The cocktail hour sets the tone for the whole reception, so give your guests a sneak peak of what's to come with some mouth-watering appetizers. Check out some ideas below from real Project Wedding caterers! 
1. CHEESE SPREAD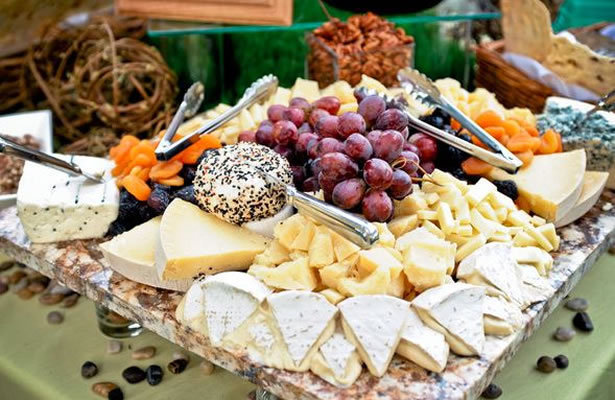 Photo courtesy of Park Avenue Catering
Nothing will please your guests more than an array of assorted cheeses. From brie to cheddar, the more options the better. 
2. SOUP SHOOTERS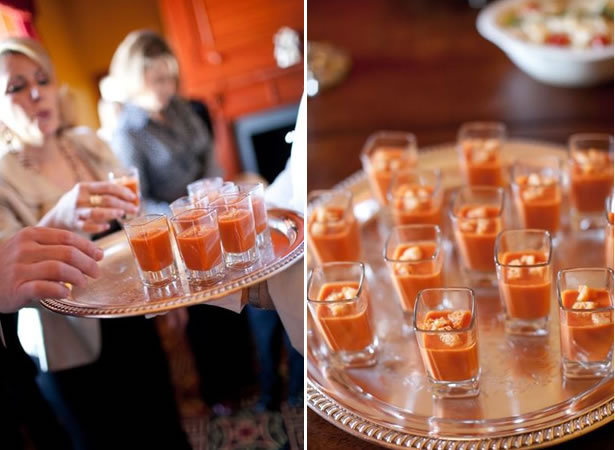 Photos courtesy of Rochelle Meyers Catering- Local and Sustainable Cuisine
Try this fun serving style for soup if you're not having a plated dinner. Guests can satisfy their soup craving in one quick gulp. 
3. PEPPERS & PICKLES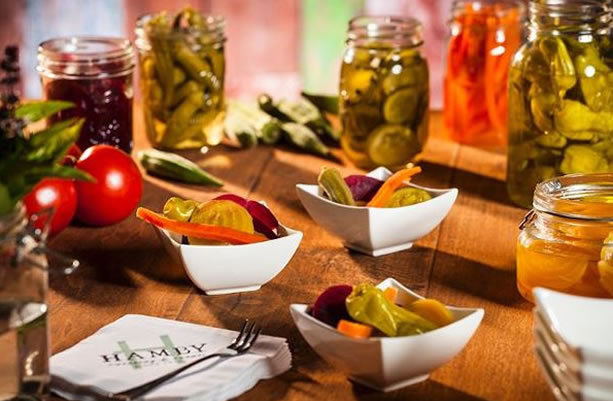 Photo courtesy of Hamby Catering & Events
If guests are seeking appetizers with a kick, set out a few jars of peppers and pickles, among other delicious veggies. 
4. CAVIAR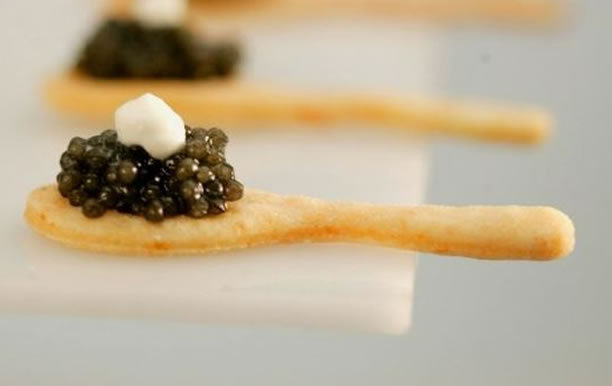 Photo courtesy of Catering by Christine 
For a fancier affair, offer small portions of caviar for those with a more sophisticated palette.
5. SLIDERS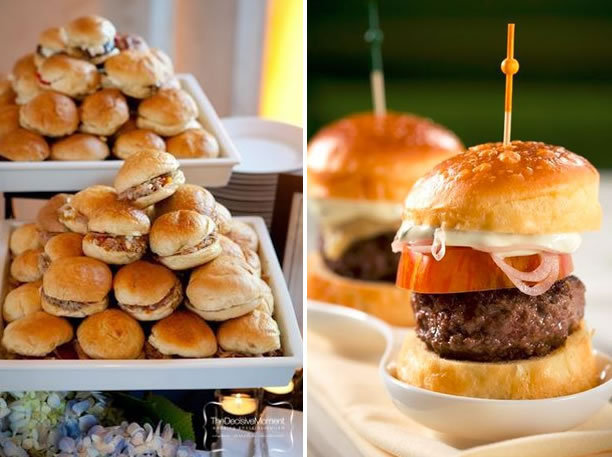 Photos courtesy of Zest Catering and Stephen STARR Events New York
If you're having a more casual reception, this bite-sized version of an all-American classic is the way to go. 
6. SMOKED SALMON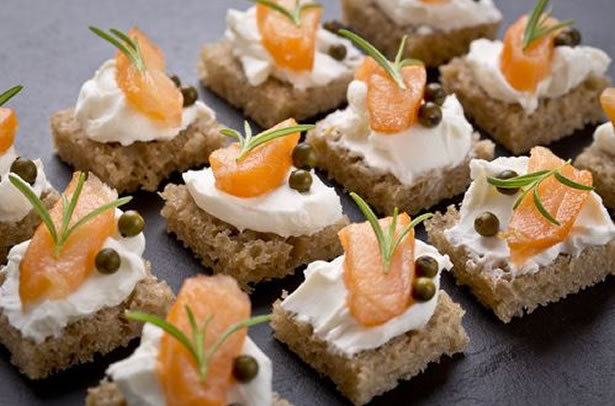 Photo courtesy of Astro Food Catering
Smoked salmon is always a well-received addition to an appetizer line-up. It's a great way to add fish to the menu without spending too much. 
7. CHIPS & DIP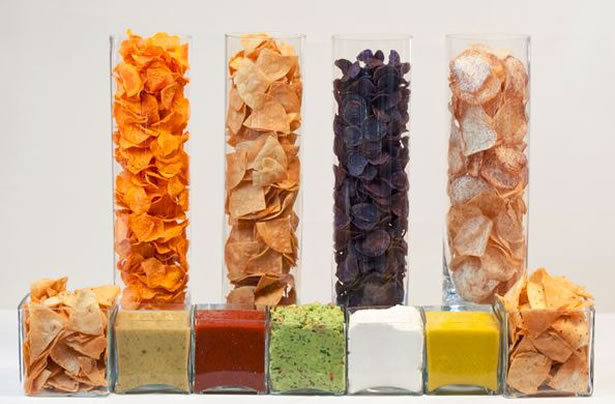 Photo courtesy of Relish Catering 
Your cocktail hour wouldn't be complete without chips and dip, the ultimate munchie for any kind of celebration. We love this creative display! 
8. BACON BITES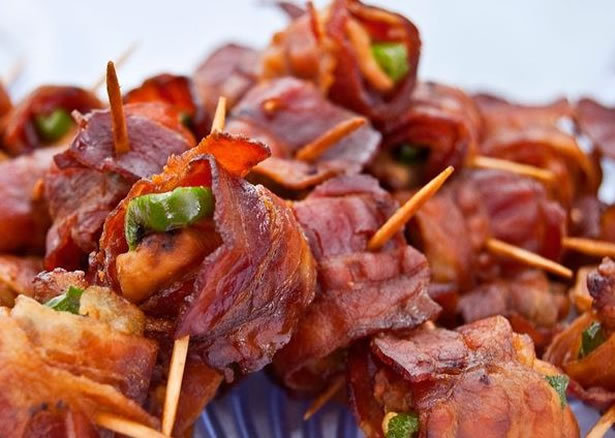 Photo courtesy of Pokejos 
Anything wrapped in bacon is guaranteed to be a crowd-pleaser. Give your guests something delicious to rave about. 
9. VEGGIE SPREAD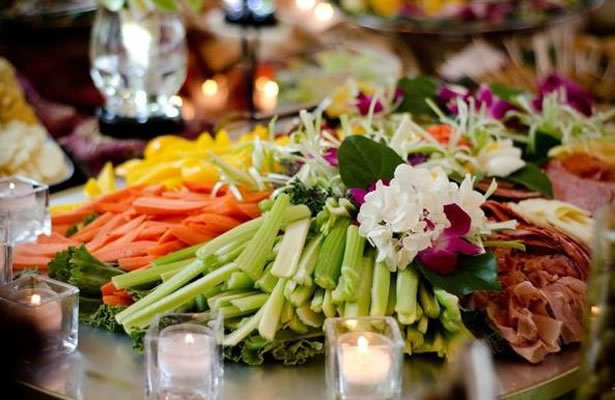 Photo courtesy of My Chef Catering
Crunchy veggies are an ideal choice for health nuts and vegetarians alike.
 10. COCKTAIL SHRIMP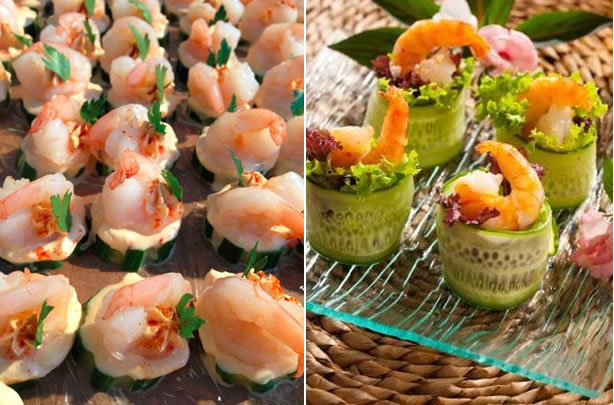 Photos courtesy of Truly Yours Catering and Creative Cuisine Catering
Don't forget the cocktail shrimp, a perfect addition to a summer soiree! Add some veggies for additional flavor.
11. SUMMER SPRING ROLLS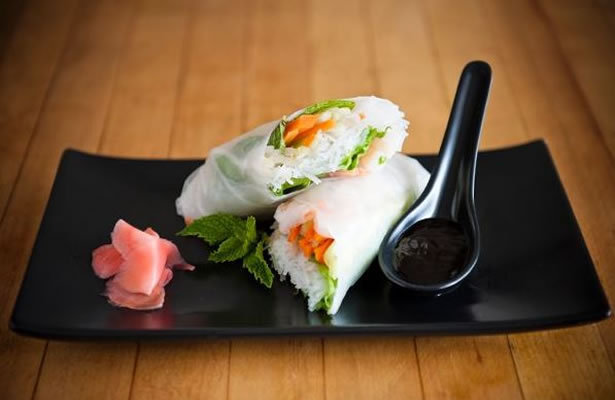 Photo courtesy of Whole World Catering 
Throw some global cuisine into the mix like these Asian-inspired summer spring rolls. They're both light and delicious, perfect appetizer qualities. 
12. TACOS & TEQUILA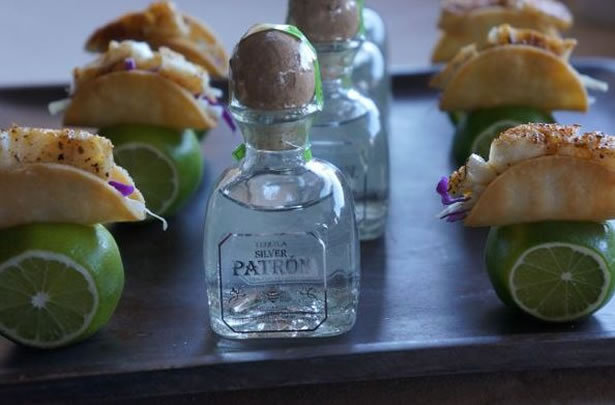 Photo courtesy of Toast Catering
We can't get over how genius this pairing is! Offer guests a mini bottle of tequila to wash down their bite-sized tacos.