If you and your significant other love seeking out new foods and value good quality ingredients, then you (understandably) have high standards for your wedding day grub. These delicious meal ideas from real weddings are sure to have your guests going back for seconds.
1. CHEESE PLATTER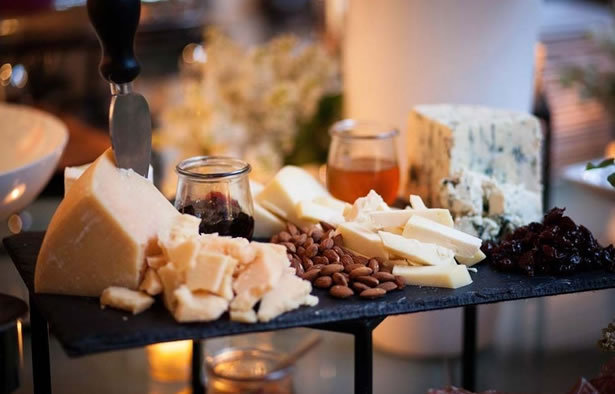 Photo by Cage & Aquarium Productions
Let your guests indulge in various gourmet cheeses! Chances are, they'll be very thankful for your food expertise. 
2. MADE-TO-ORDER CREPES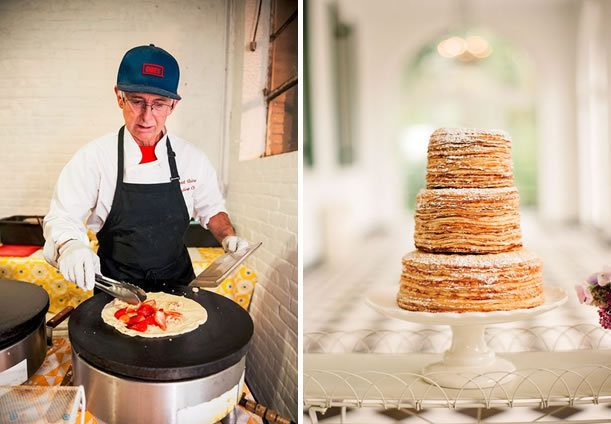 Photos by Viera Photographics and Eric Kelley Photography
Breakfast for dinner anyone? Set up a crepe station so guests can satisfy their sweet tooth early in the night (or serve these instead of cake). 
3. HERB DISPLAY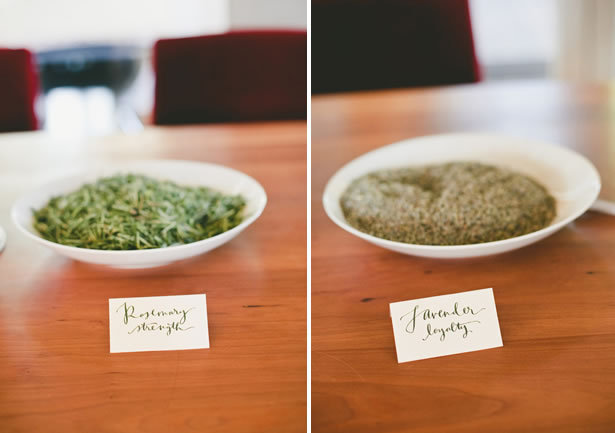 Photos by onelove Photography
Add a kick to the meal by offering a variety of add-on herbs and spices. You can also set small bags or jars by the display and let guests take home a sampling of their favorites as favors! 
4. DESSERT SHOOTERS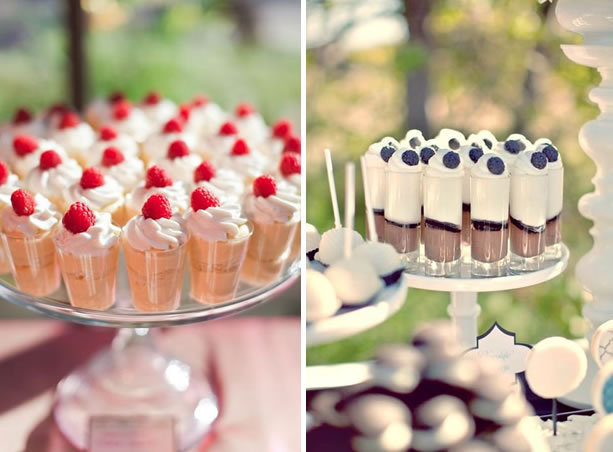 Photos by Sweet and Saucy Shop
Make dessert even more fun by putting your confections in a shot glass!
5. GRILL OUT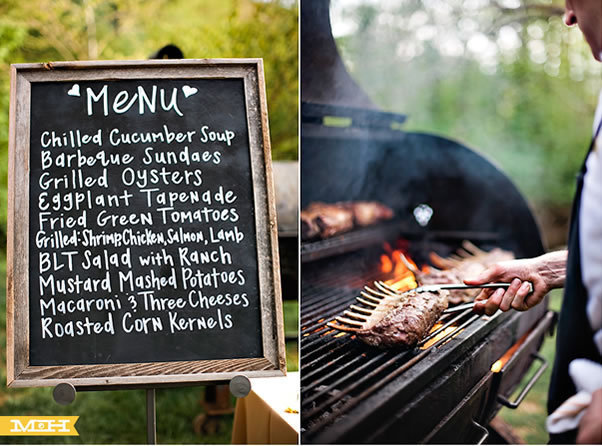 Photos by Millie Holloman Photography
Instead of the traditional fine dining at your reception, opt for something more casual—like a barbeque! 
6. LATE-NIGHT FOOD TRUCK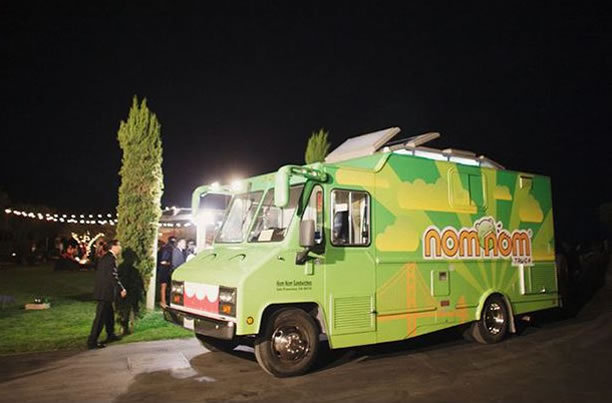 Photo by This Modern Romance
Your guests are bound to get hungry after dancing up a storm, so ask your favorite food truck to make a late-night appearance at your reception!
7. CHEESE CAKE
Photos by Aaron Delesie Photography and Caught the Light
If you and your significant other are lacking a sweet tooth, serve a cheese wheel in lieu of a cake! 
8. CLAM BAKE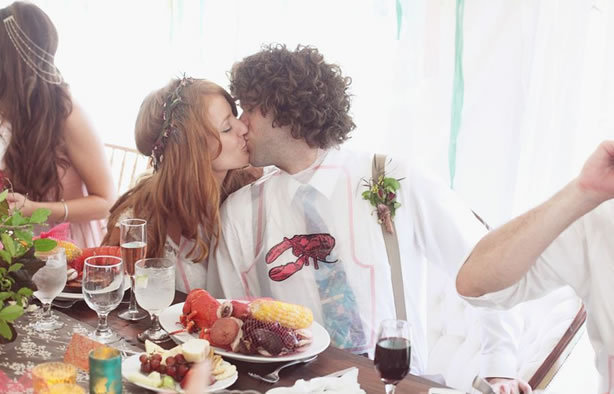 Photo by Dreamlove Photography
A seafood broil is a great idea for an onceanfront reception. 
9. BISCUIT BAR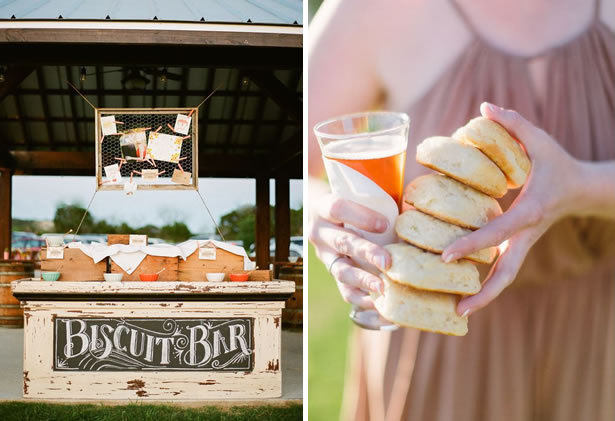 Photos by Taylor Lord Photography
Tying the knot down south? Serve some traditional southern fare! A biscuit bar is just the ticket. 
10. TACO BUFFET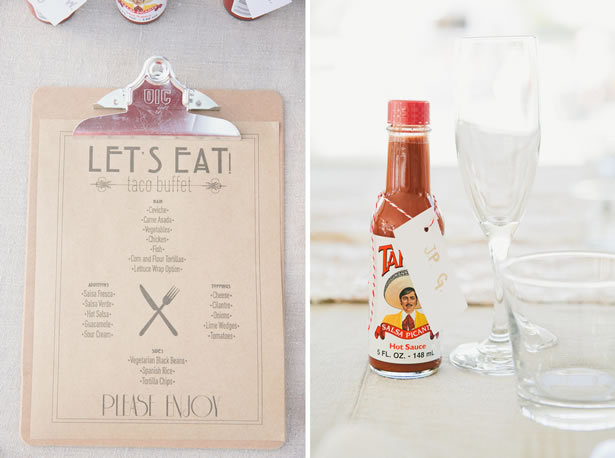 Photos by Onelove PhotographyA 
A build-your-own taco bar is pretty much always a crowd-pleaser. 
11. BRICK-OVEN PIZZA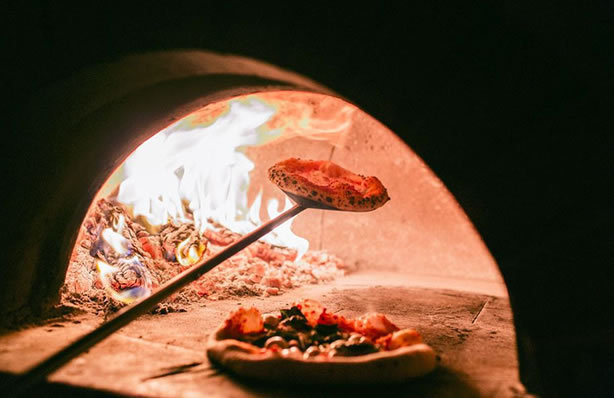 Photo by Sweet Little Photographs
We are totally on board with a brick-oven pizza dinner for your reception. Who doesn't want a cheesy slice of heaven?