There's tons of ways to get creative when it comes to your wedding reception, but what really stands out as unique among the rest? Here's some fun ideas for your celebration that may not have crossed your mind. 
1. KEGS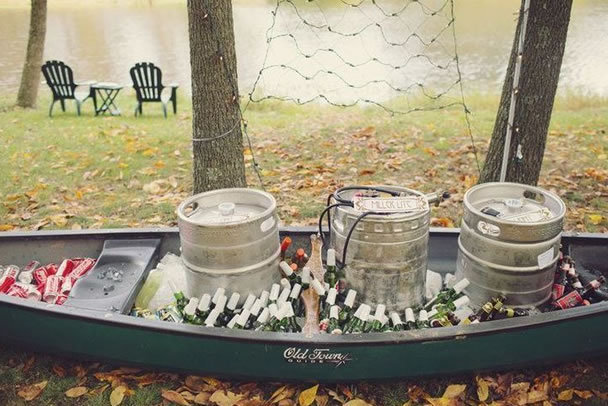 Photo by Our Labor of Love Photography
Yes- we know your wedding isn't a college frat party. But wouldn't it be awfully convenient to have the kegs out so guests could re-fill their own cups?
2. MOSS MONOGRAMS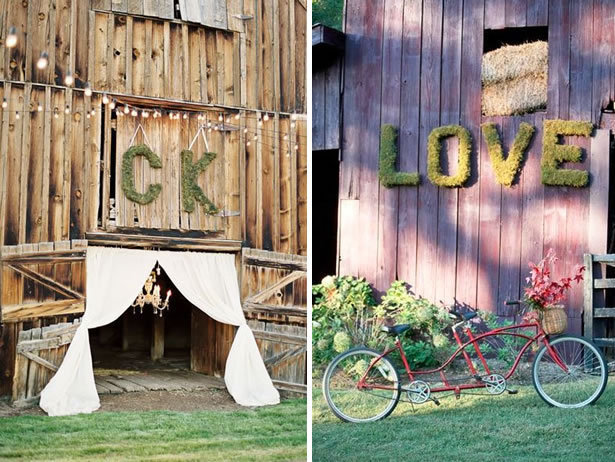 Photos by Jose Villa Photography and Cedarwood 
These are a great idea for any rustic or garden wedding. Use the first letters in both your names to make it more personal.  
3. WINDOW SEATING CHART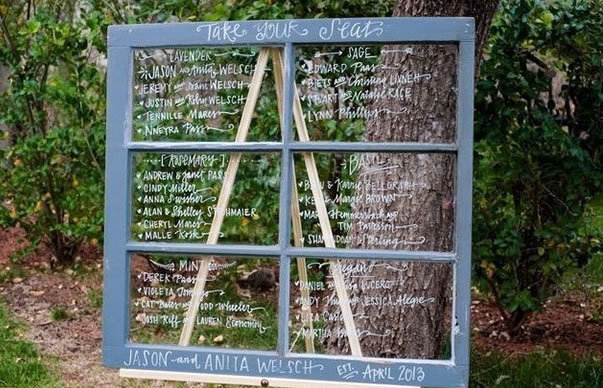 Photo by Jill Lauren Photography
This DIY seating chart is so easy to make, and it will definitely get you creativity points. Tip: get a friend with amazing handwriting to help you out. 
4. WELCOME DESK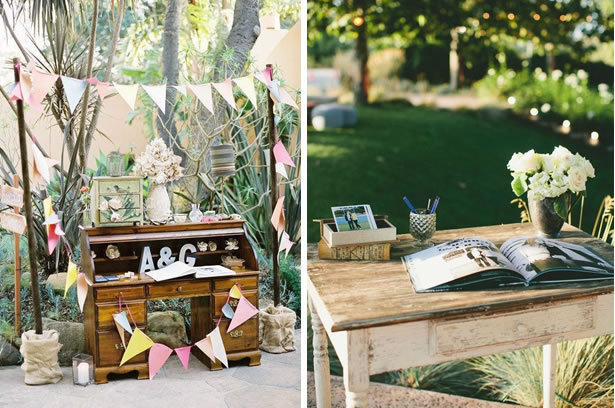 Photos by Linda Chaja Photography and Onelove Photography
Going for a more vintage look? Get ahold of an old desk and use it as your welcome table! It'll add a touch of character to your reception. 
5. SAUCES & SPICES
Photos by Onelove Photography and Krista A. Jones Photography
Give your guests a favor they'll actually use. Everyone appreciates a good bottle of hot sauce, and no nautical wedding is complete without Old Bay seasoning. 
6. WATERING CAN VASES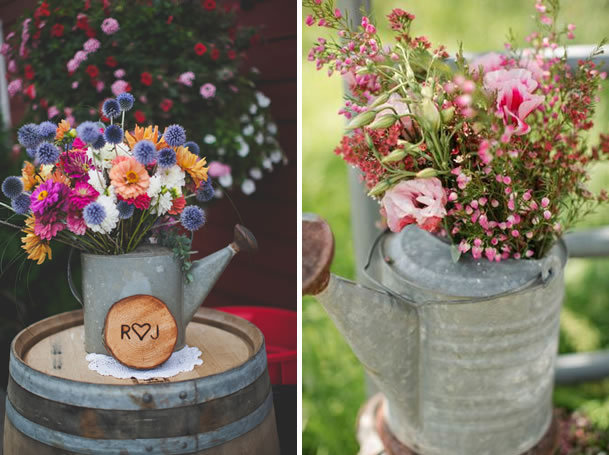 Photos by June Lion Photography and Katelyn James Photography
We think this creative idea for a vase would be perfect at a spring garden wedding! 
7. LIVE ARTIST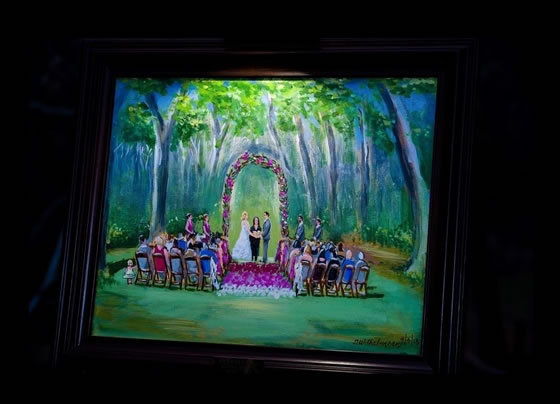 Photo by Jill Lauren Photography
Take a lesson from Antia and Jason's wedding and hire a live artist to paint a portrait of you two at the altar! 
8. PANCAKE WEDDING CAKE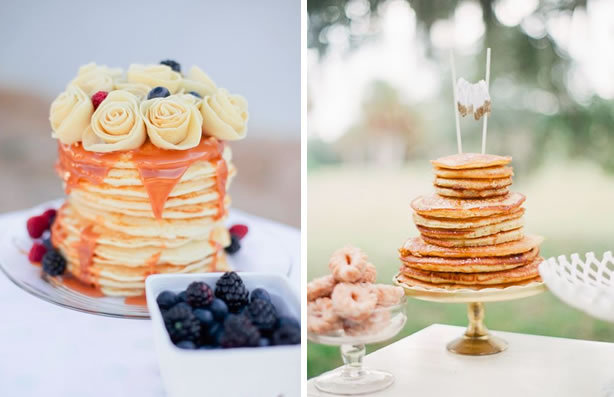 Photos by Sara Lucero Photography and Jessica Lorren Organic Photography 
If you and your fiance are big breakfast people look no further than this creative twist on a wedding cake. 
9. WAGON WHEEL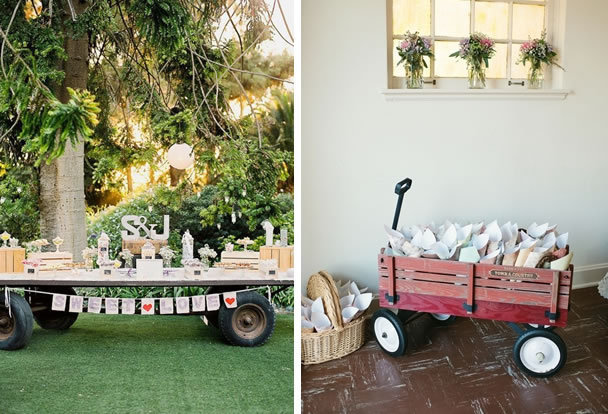 Photos by Daniel Kim Photography and Blue Elephant Photography
Wagons can be used for many things at your wedding celebration. From a dessert display to holding supplies, it's just as fun as it is practical!
10. WINE SIGNING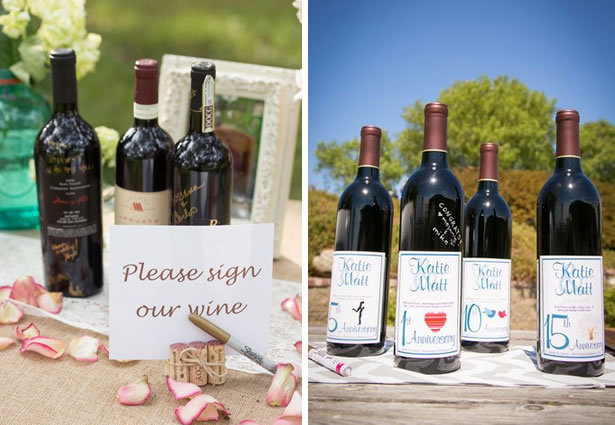 Photos by Jennifer Weems Photography and A. Blake Photography
Have guests sign bottles of wine in lieu of the traditional guest book, then open one each year on your anniversary. Viola! It's the guest book that keeps on giving. 
11. SEASHELL ESCORT CARDS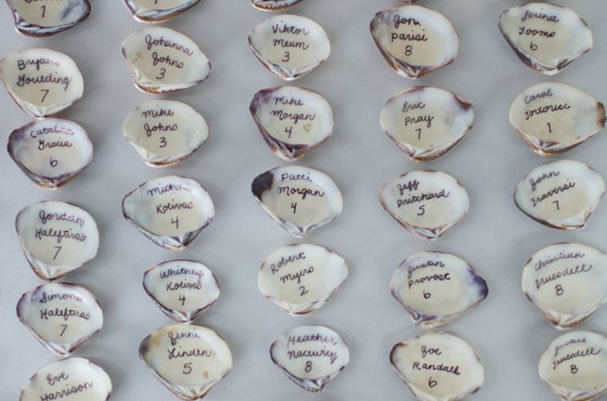 Photo by Natalie Bray Photography
Ditch the stationery and go for something more festive to guide guests to their seats. These seashells couldn't be more appropriate for a beach wedding! 
12. FOOD TRUCK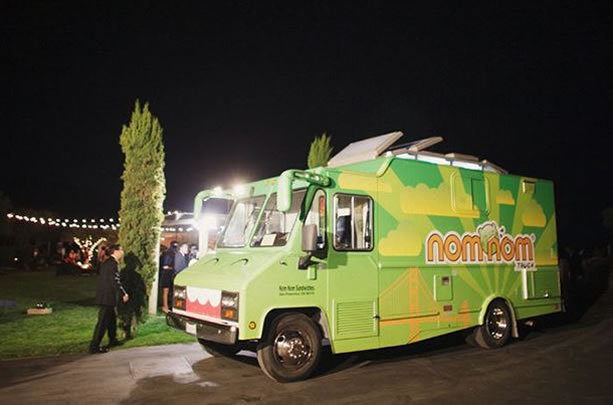 Photo by This Modern Romance 
Surprise your guests with some late-night munchies. They'll definitely appreciate it after a long night of dancing!