Who says your wedding day can't be just like a fairytale? Let your inner princess hold court with these glitzy, glamorous ideas perfect for any ballroom wedding.  For even more inspiration, check out our glam real wedding boards.  
1. DETAILED DRAPING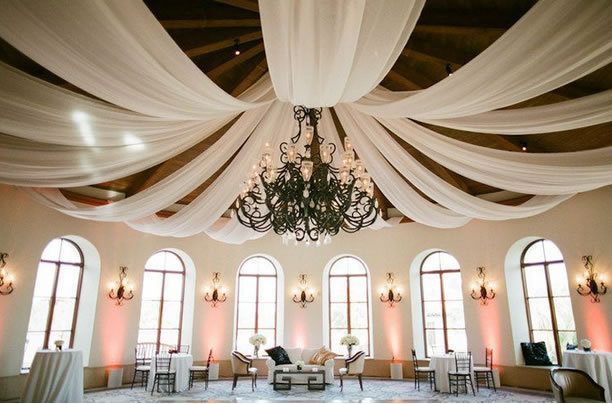 Photo by Michael + Anna Costa Photography
Nothing wows at a reception like gorgeous drapery. With the right lighting your celebration will have a dreamlike ambience. 
2. PRETTY CALLIGRAPHY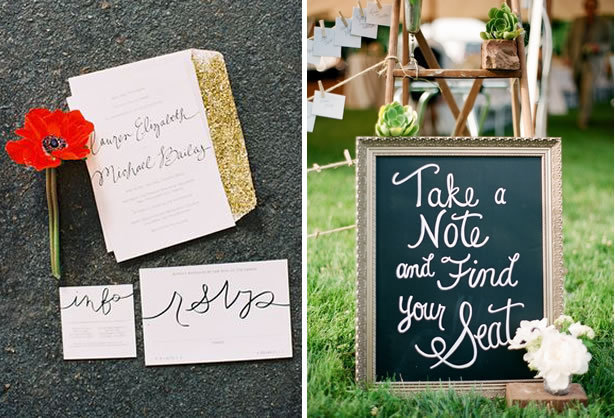 Photos by Landon Jacob Photography and Jodi Miller Photography
A gorgeous script can really take the glam factor to the next level. Set the tone with your invitations, then continue the pretty calligraphy for wedding day signage. 
3. SEQUINED TABLESCAPES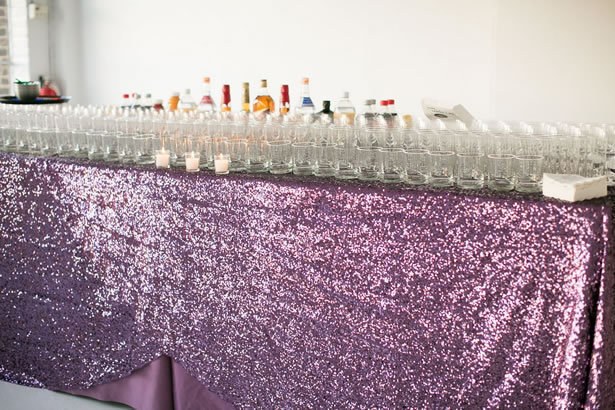 Photo by Carmen Santorelli Photography
No glamorous wedding is complete without sequins. Sit your glassware atop a shimmering tablecloth, or go all out and use one at every reception table. 
4. COCKTAIL HOUR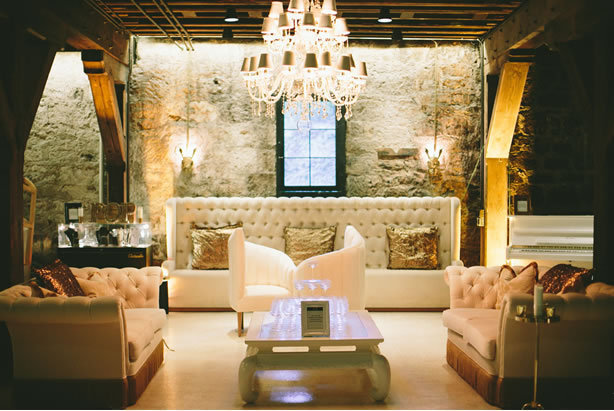 Photo by Onelove Photography
Let your guests feel like royalty by creating an elegant lounge where they can mingle and sip on your signature cocktail. 
5. BACK IN BLACK
Photo by Cyn Kain Photography
Give your gals a more formal look by opting for black bridesmaid dresses. Vary up the ensemble with different lengths and necklines. 
6. GOLDEN CAKE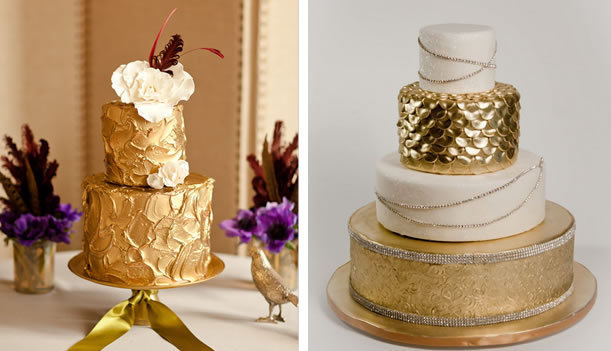 Photos by Katelyn James Photography and Sugar Couture 
Talk about being too pretty to eat! These gilded sweet treats will impress guests with their gorgeous design. 
7.  GHOST CHAIRS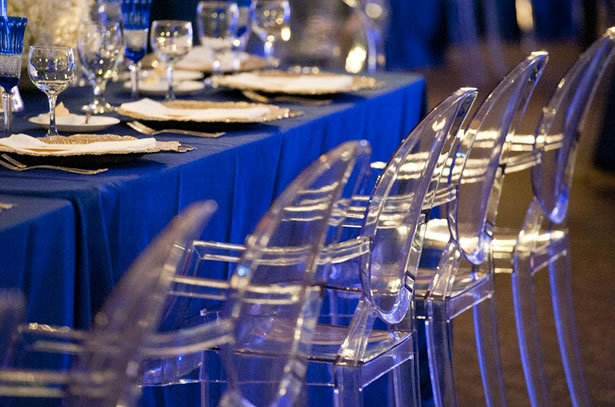 Photo by QWeddings 
These see-through chairs have become a staple for ballroom weddings. 
8. GIRLY BOUQUETS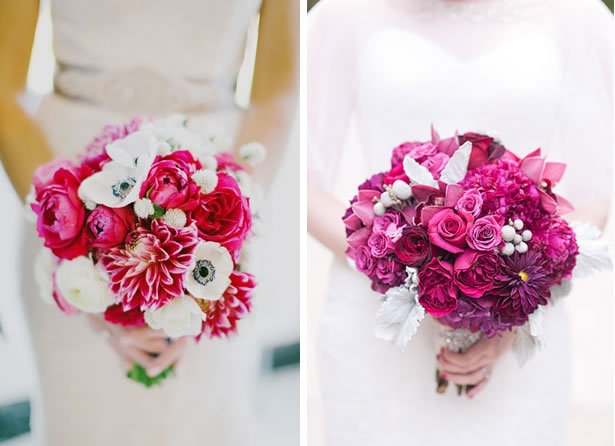 Photos by Milou + Olin Photography and Candice Benjamin Photography
These romantic bouquets are sure to lend an air of romance to your wedding style. From fuschia roses to pink dahlias, you can't go wrong with flowers as breathtaking as these. 
9. SHIMMERING STILETTOS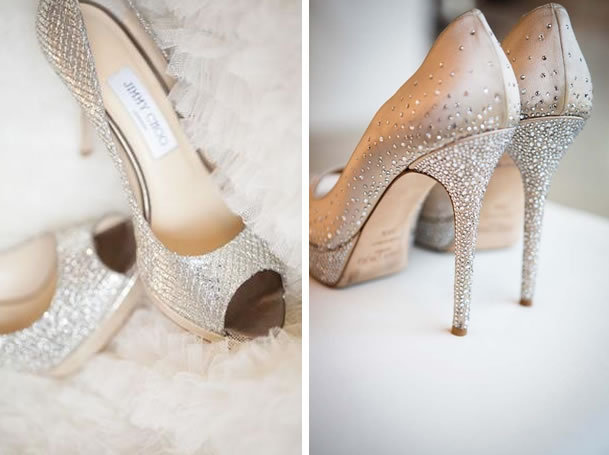 Photos by Ben Q Photography and Cage and Aquarium Photography
There's no better way to strut down the aisle than with a pair of metallic peep-toe pumps. Unleash your inner red-carpet starlet with a pair of sparkly stilettos. 
10. SWEETHEART TABLE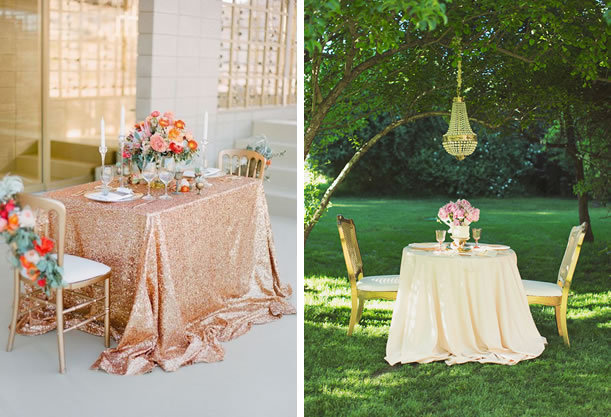 Photos by Jose Villa Photography and Alixann Loosle Photography
Have an private moment with your significant other at a gorgeous and intimate table for two. Add some flowers and elegant linens for a touch of romance.
11.  CANDLEABRAS
Photos by Caroline + Ben Photography and Taylor Lord Photography
Add some natural glow to your reception space by investing in a candleabara, it will create a beautiful ambience and act as a great centerpiece. 
12. BLUSHING BRIDE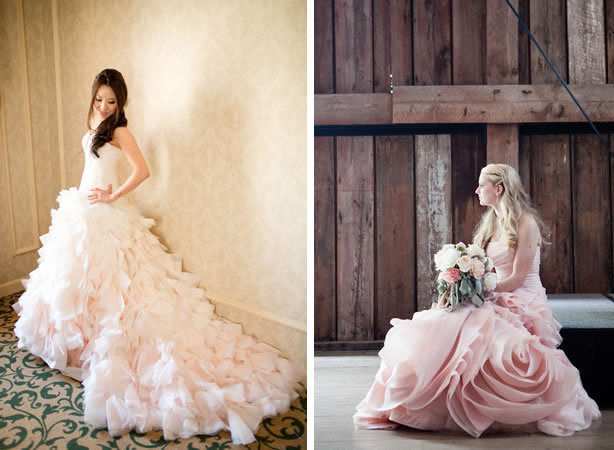 Photos by Katelyn James Photography and Angela & Evan Photography
In this day and age, white wedding dresses are no longer a must—especially for a glam wedding. Get in touch with your inner princess and rock an extravagant pink ballgown dress. C'mon—you know you want to.
 13. CHANDELIERS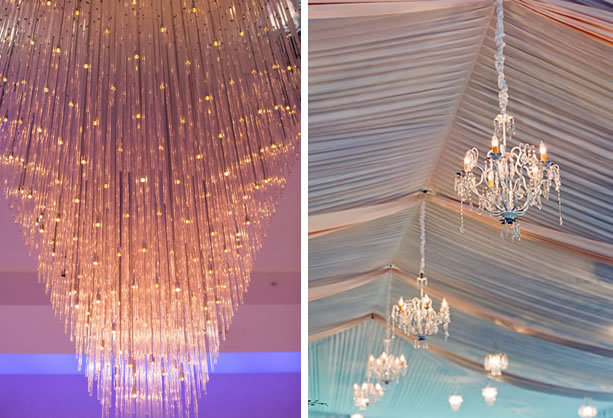 Photos by Palm Beach Photography and Lisa Lefkowitz Photography
Nothing exudes glamour like a hanging chandelier. Whether they're icicle style or more vintage, they're an essential part of any ballroom celebration.