I had finally found the man of my dreams and he had asked me to marry him now what?  WEDDING PLANNING!!!!  But out budget was small and our families were not going to be able to chip in.  What's a girl to do?  VEGAS, baby, Vegas!!!!
I know that a Vegas wedding still has this stigma to it.  "It's tacky."  It's not a REAL wedding."  But that could not be further from the truth.  Sure, you can still get married by Elvis or go through a drive through.  But the great thing about a Las Vegas wedding is that the possibilities are endless now matter the budget.
Our total budget including dress, ceremony, reception, cake, photography, travel...was $8500.
Here are a few things I learned throughout our planning journey that can save money and still make a Las Vegas, or any wedding fabulous!
Tip #1: What happens in Vegas can be so affordable.
Purchasing a package at a beautifully decorated wedding chapel can help keep you from going broke when paying for a Vegas wedding.
Look for a chapel that includes a lot in their wedding packages.  Some of the hotels on the strip have amazing wedding chapels that don't need any decorating.  That's a huge money saver.  Some include photography, yet another money saver.  Some include the officiant's fee, flowers, champagne, and even a room for you wedding night.  Our package at the Excalibur's Canterbury wedding chapel included flowers, photographer and the officiant's fee. Plus the chapel was gorgeous!
Tip #2:  Find an oasis in the desert.
It doesn't really seem like a good place for a reception but you never know.
Don't be afraid to consider unusual reception locations.  Many hotels have large suites that can be rearranged for a small reception of up to 30 people.  Local restaurants can also be great places with wonderful private rooms to host an intimate reception.  Find a place that has some significance to you.  We had our reception in the Bristol Suite at ESPN Zone.  Yes, ESPN Zone.  It was beautiful, the service and food were amazing and it meant something to us because our first date was at an ESPN Zone.
Tip #3: Hit the jackpot by ordering a custom made dress.
Have a dress made especially for you and look better than lady luck.
Find a custom dress maker and have them make the dress of your dreams.  Whether you design it yourself, have elements from different dresses combined or have an exact replica made it will save you money. A custom dress will usually save you major money.   By having a dress made specifically for measurements not only do you save in the initial cost of the dress but also on alterations.  The designer dress I wanted was originally $1200 but my replica dress cost only $500.  Alterations were about $100.  That's $600, half the cost of the designer dress and I got to pick the color and the fabric and make changes to the style.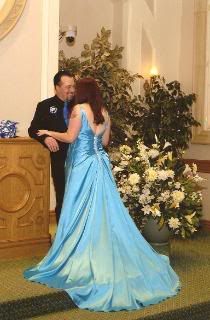 Tip #4: Find your ace in the hole by thinking outside the wedding box.
Look in stores that you would never think would have wedding items. Check out Etsy.com, Ebay.com and Amazon.com.
You never know where your best bridal bargains will come from.  My centerpieces came from the 99 Cent Store.  I had tons of candles, large and small.  I bought the blue smoked glass votive holders for 59 cents each and the tall clear blue candle holders for 99 cents each.  Then I purchased bulk tealights at Michael's.  The total cost for center pieces was about $60. 
SHOES!  I love shoes and wanted amazing shoe shots. I purchased my ceremony shoes for $40 and my reception tennis shoes for $60 on Ebay.
I also purchased out silver wine goblets, already engraved for $25 on Ebay and my chapel length veil and faux fur wrap on Ebay for $25 each.
Also, consider not having flowers.  Candles can be amazing centerpieces and decor.  Also, Etsy.com has some amazing sellers that make gorgeous bouquets out of buttons, fabric and other items.  My three bouquets and two bouts cost about $100.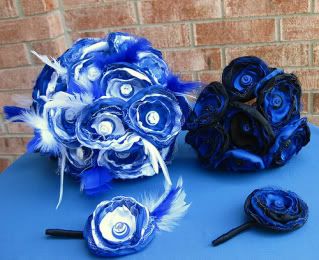 Tip#5: Take a gamble on vendors that are new or not your typical wedding vendors.
Find vendor's that may be off the beaten path.  
Look for vendor's that you may not have thought of before or that aren't on the Strip in Las Vegas.
I found my photographer for my newlywed photos on craigslist.org.  He was a photographer that was transitioning into weddings and I got some amazing photos and we had an amazing time shooting with him for under $200. 
The bakery that made out cake is nowhere near the Las Vegas strip and they are know for cupcakes.  They made the most wonderful wedding cake and groom's cake and delivered it to our reception on the Strip for $250.  It was one of my favorite parts of our wedding.
One of the best ways to save money on your wedding is to think outside the box and find new and unusual ways of doing things.  Sometimes what you think may not work for a wedding is the perfect thing to add a personal touch to your wedding without going broke!