Copy, paste, and edit your article here. The text from the topic is reproduced below for your convenience:
1) What was in your bouquet? (post a pic if you can!)
2) How much was it/will it be? (if you don't mind sharing)
1) It will be ivory/white garden roses, ranunculus and lisianthus, tied with a chocolate bow with my grandmother's rosary around it.  It will also probably have bouquet jewels.
2) As for the cost.. I'm not sure yet.  My friend is getting the flowers for me at wholesale price and then making my (and my BM's) bouquets.  But, I do know that the garden roses are $20 for 10 stems.
1) will be white roses
2) like $10 :)
1.) fake daisies, dogwoods, hydrangeas, and calla lilies.
2.) $15
Mine was white roes with mini cally lillies.
Cost: $150
But keep in mind, I live in the the DC metro area.. pretty expensive
I don't remember how much the bouquet was out of the whole floral budget but it was by far my favorite floral element in the end. The most important elements I wanted in it were the hanging amaranthus and woven bear grass. It also included candy bianca roses (pale pink), ivory ranunculous, and hypericum berries
Mine will have Festiva Maxima Peonies
It'll cost $27.45 but I might get it cheaper at another wholeslae store.
 orchids, roses, fuij flowers
Mine cost $100
I made mine myself (i did all silks for bouquets, corsages and bouts)
It cost under 30$ for all the materials. :)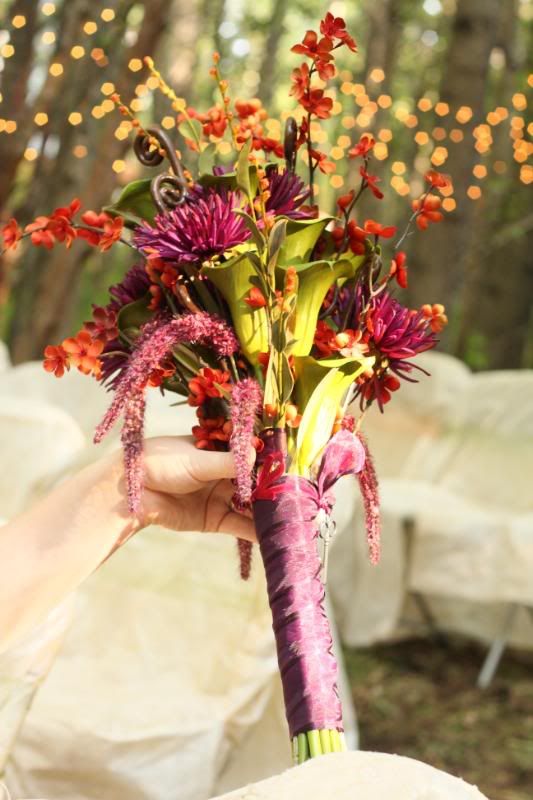 also odessa I LOVE your bouquet!
Here is the one we are using.  It is a rose arm bouquet with peach roses, snowberry, seeded eucalyptus and plumsous.  My FI and I will have identical ones, except that one of them will be set up to be carried on the right arm, and one on the left.  It was $85 for each bouquet.
Mine will be $60- its just pink gingers tied with rafia
mine had peonies, roses, hydrangeas, calla lillies, lilly of the valley, tulips, hyacinths.... and probably something else that I am forgetting..
it was just over $100 - maybe like $125 or something like that.
I honestly don't remember how much mine was - somewhere between 85-125 I think!
Everyone has such lovely bridal bouquets!
This is my inspiration photo and I was quoted between $100 - $125 from two different florists.
Roses, tuberoses, seeded eucalyptus and a bunch of other stuff I don't remember. It was $200.
Mine was $250 and had hydrangea, verbernum, peonies, garden roses, tuberose and calla lilies
I don't remember exactly, but I know it will have peonies, roses, ranuculus
about 150
1) something like this witha  splash of yellow.
2) as of cost yet I don't know but I have my florists qoute, which I loved.
$300
  BROOCHES & FABRIC WITH A TOUCH OF 1940'S
$145, It is all callas
Here's mine... I think it was about $100.  It had roses, garden roses & stephinotis.
Gardenias, white hydrangeas, bouvardias, and some vines. It will look similar to this:
$180.00
$65 - bridal bouquet
Colours: apple green and blue
Shape: Long, and slight cascasding.
Flowers: Spider mums, green mums, blue dephinum orchids, blue iris and greenery.
$75 or so. 
$150... had wine callas, gerbera daisies, some greenery leaves, alstromeria (white and pink).
<--non-pro pic..
1.)
2) Under $30.
peonies, ranunculus, tulips, cream roses
$150
Only about 15 bucks!! 2 dozen roses from Costco adn some feathers form michaels.. My mom threw it together. She's wonderful, we did all DIY flowers.. REally saved a lot there! Oh and the crystal brooch was something borrowed form my fi's grandma that passed away in January..
1. My bouquet will have roses and dahlias
2. $130.00
About $125 for peonies, roses, hydrangea, lisianthus, hypericum berries, and dahlias